Blair positive on World Cup
Skipper happy despite "nasty" group
Last Updated: 02/12/08 6:44pm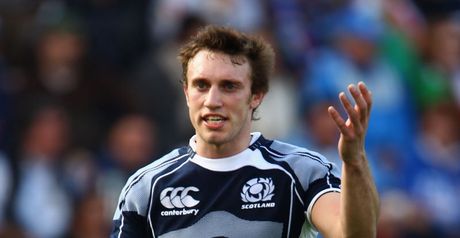 Blair: England await
Scotland captain Mike Blair is already looking forward to the 2011 World Cup pool match against England.
The draw for rugby union's global showpiece in New Zealand was made on Monday and pitted the Scots in a group with Argentina, England and two qualifiers.
Blair was a 10-year-old spectator that last time Scotland faced the "Auld Enemy" at the World Cup back in 1991 - on that occasion England edged a tense semi-final 9-6 at Murrayfield.
The Edinburgh scrum-half admits he can recall little more than brief highlights of what remains the closest his country have come to World Cup glory.
"There was an incredible atmosphere, absolutely incredible," said Blair.
Aggressive
"Scotland were underdogs in the game and I remember it being a really physical, aggressive game. That's pretty much all I remember.
"You didn't realise at the time the opportunity Scotland had to get to a World Cup final and how close we got to achieving that.
"But I certainly remember it being a pretty big day for Scottish rugby.
"I was young at the time, I didn't really know what was going on. I knew that we'd lost but I think there was game of football in the park a little bit later on so it was quickly forgotten."
Blair was grateful that Scotland had managed to avoid the southern hemisphere giants in the World Cup draw.
Satisfied
"We've avoided New Zealand, South Africa and Australia, which is great news," he added.
"It's still a pretty nasty group to be in but, in terms of what it could have been, I think we're fairly satisfied.
"I don't know if ours is the best possible one, but it's a pool that we're happy with.
"It's still a very tough pool to get out of but we're playing against two teams we've actually beaten in the last year, so that's a positive for us.
"However, the World Cup's another three years away so we can't dwell on it too much at the moment."