Boks embrace tough draw
Smit and De Villiers ready to defend World Cup
Last Updated: December 2, 2008 9:51am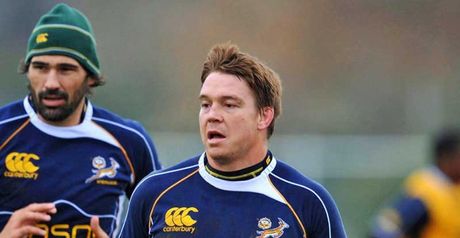 Smit: Up for the challenge
John Smit has welcomed defending champions South Africa's tough draw for the 2011 World Cup.
"You don't want to breeze through your pool and we certainly won't have that luxury."
John Smit Quotes of the week
The Springboks find themselves in the same group as reigning RBS Six Nations champions Wales and Fiji, as well as qualifiers to be confirmed from Oceania and Africa for the tournament.
Having come through a group that featured Tonga, England, Samoa and USA to win the 2007 event captain Smit has no doubt his side can go on to do the same again in New Zealand.
"Last time we were drawn against the top team from Britain - which was then England - and this time we have been drawn against Wales who are the Six Nations champions," he said.
"We also played two teams from the Pacific Islands and this time we have Fiji and an Oceania qualifier, which is very likely to be Samoa.
"The draw has a similar feel to last time and the good thing is that we will be well tested during the competition.
"You don't want to breeze through your pool and we certainly won't have that luxury."
Threat
If South Africa go on to top their pool they will take on the runners-up in Pool C, which will likely be one of Australia, Ireland or Italy, and coach Peter de Villiers has revealed his staff will be watching their competitors closely.
"It's a tough draw and it will be a very physical pool but I'm happy with the it," he added.
"We'll be monitoring these nations progress over the coming months but we know what they are capable of when they are on song.
"Wales will only go from strength to strength and we know the Pacific Islands
produce outstanding players - you only have to look back to last year's World
Cup to know what a threat they can pose."