No doubts for Varndell
Leicester winger happy to extend his deal
By Tony Curtis. Last Updated: 07/05/08 9:40am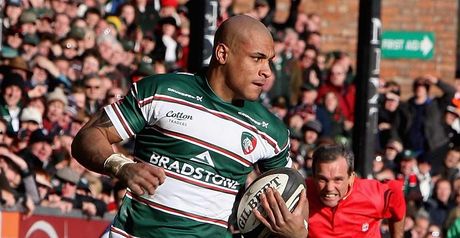 Varndell: New deal
Tom Varndell insists he had no hesitation about committing his future to Leicester Tigers despite the club poor season.
Having won the double last season - and gone close to the treble - Leicester are on the brink of finishing the 2007-08 campaign without any silverware.
But Varndell, the leading try-scorer in the Guinness Premiership, has not doubt the Tigers are still one of the leading club's in Europe.
"I'm very happy to be staying at the club," the 22-year-old winger said. "It's still regarded as one of the best clubs in the country, if not Europe.
"With the fan base and the following that we have, it's an amazing club to be a part of and I'm very happy to be extending my contract.
"When we play good rugby, we're one of the best teams around. There are so many quality players here. I've grown up with guys like Tom Croft and Jordan Crane and I'm looking forward to progressing.
Accomplished
"This is a club that prides itself on being in finals and winning trophies and we're looking forward to doing that again."
Although his own position remains unthread due to Leicester's poor season, coach Marcelo Loffreda believes Varndell's decision to sign is good news for both the player and the club.
He said: "We are really happy that Tom Varndell has signed. He is a very accomplished player. He is a skilful player and he has been working very hard on his game. We welcome that and we think he is going to be a great player.
"He is potentially one of the best players in his position in the country. He has a good attitude to his game and we are delighted he is still with us. He is a great finisher, not potentially - he is one of the best right now.
"Re-signing our young English players is very important for us, for the club and for the England team. This is a club with very strong roots. Players here have a culture of hard work, respect, love for the club and a passion for the game.
"This year has been pretty complicated because of the World Cup and because of the many changes. If we can take advantage of the continuity in the team next season, then I think it will be a very good year for us."