Elsom weighs up Euro move
In-form flanker considering quitting Down Under
By Tony Curtis. Last Updated: March 18, 2008 9:43am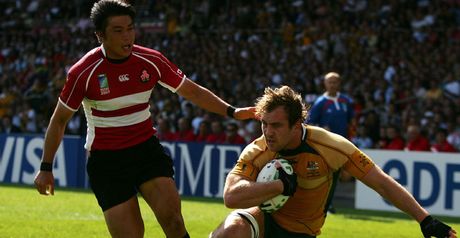 Elsom: Europe bound?
Europe's top clubs will have been alerted to news that in-form Australia flanker Rocky Elsom could be set to leave the Waratahs.
Elsom has been offered a new deal by the Australian Rugby Union, who are desperate to stop the drain of talent away from the country.
However Elsom is keen for a fresh challenge - with Britain or France a likely destination for him.
The ARU, though, are willing to offer Elsom a year-long sabbatical in a bid to accommodate his wishes - with the forward set to make a decision in the next couple of months.
ARU chief executive John O'Neill told the Sydney Morning Herald: "It is not a monetary issue... Rocky is just thinking about life.
Evaluating
"I can categorically say that Rocky said that the offer which is on the table is fine.
"He is just evaluating a number of things, including the possibility of having a break and then coming back. He would continue to play rugby, but maybe in Europe or the UK and then come back after a year. We talked that through.
"I have a lot of time for Rocky. He is a nice young man, and he really had his head screwed on right. He has a lot of leadership ability.
"I just told him to come back to us and let me know what he wanted to do. In the next couple of months, he'll make up his mind.
"But he's playing here until the end of the year, and will be going on the [Wallabies] tour. I'm sure we will retain him, if he decides not to have a break.
"If he wants to have a break, I think we can also accommodate him and bring him back after he's had his time away."