Parisse: Award's no comfort
Man-of-the-match accolade offers little consolation to Italy captain
Last Updated: 11/02/08 9:37am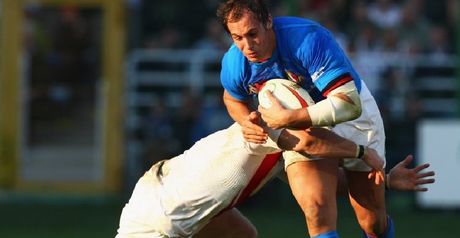 Parisse: Takes on the England defence
Italy captain Sergio Parisse insists being named man-of-the-match against England in Rome on Sunday was little consolation.
The Italians came agonisingly close to a shock victory over England, with their second-half heroics not quite enough as they lost 23-19.
Parisse, who was celebrating his 50th cap, was at the heart of everything for the home side - and deservedly took the accolades.
However, the 24-year-old was left disappointed that the Azzurri could not quite get the victory.
He said: "I would have preferred not to have had such a good game and to have seen my team win.
"To be man of the match when you lose, it's of little comfort.
"At half-time we said to ourselves, 'Let's do the game plan we had hoped to follow and not what we had done in the opening half.
"It had been an open game until the end.
Beautiful
"In the second half we improved, we were more patient, we held possession and we played a more beautiful and effective game.
"After Simone Piccone's try, we realised we could get a result.
"Perhaps had we not made that many mistakes in the last minutes of the game we could have won.
"We made many mistakes in our lineouts and we lost a crucial lineout close to the end which could have been decisive."
Italy now head to the Millennium Stadium to take on Wales on February 23 on the back of narrow defeats to Ireland and England.
And Parisse believes his side must continue to build on their encouraging displays.
"We have a lot to improve," he said.
"We must be humble.
"We have introduced new tactics having a new coach in charge and we must continue to work hard."