Rugby Union Expert & Columnist
Size doesn't matter for 'complete' All Blacks side, says Stuart Barnes
Last Updated: 27/08/14 11:50am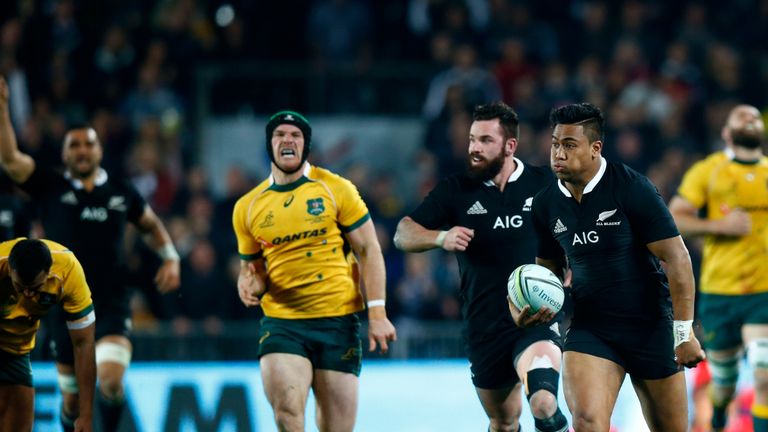 Seventeen more straight wins and New Zealand will break the first tier test record for consecutive victories.
If they play anywhere near as well as they did against Australia at Eden Park they are as good as there. Fortunately for the teams that have the privilege to play them, rugby does not work like that. Such peaks are rarely sustained. The All Blacks played at their favourite venue, the weather did nothing to level the game up and it was wonderfully refereed. Such circumstances tend to favour the more talented team and there is none more talented at the moment than this New Zealand side.
That is the good news for the playing world of rugby. Frankly for those more passive viewing members of the global fraternity it is something of a shame that such a level of performance cannot be maintained match after match. Take your patriotism out of the picture and consider the quality of the sport. This was rugby near its best.
Anyone with the love of the game in their heart should want nothing but this standard of rugby. It was not as if it was the non tackling `basketball' rugby with which some deluded northern hemisphere viewers still regard southern hemisphere's interpretation of the game. It was not a case of defences being bad but attacks excellent as eight tries were scored. New Zealand scored six of them with three from close range forward play and two the result of long range turnovers. If you like your forward play New Zealand did it for you, if you enjoy the fast and loose stuff, this was also your bag; the complete performance.
Take your patriotism out of the picture and consider the quality of the sport. This was rugby near its best.
Stuart Barnes
Having been close up with the All Blacks through the summer on the England tour it is worth reiterating the fact that they are not a physically imposing team. They have greyhounds behind the scrum and a number of lean, muscular forwards who probably cannot bench press anything like as much as their northern hemisphere counterparts.
Rugby Championship - Video Highlights
Size is not everything, in fact New Zealand emphasise that an understanding of the game, an intelligence and a great set of skills eclipses raw bulk just about every time. Look at their win ratio compared to the rest of the world. It is impossible to argue that `the modern game' has changed quite as dramatically as some people would like to think. To watch New Zealand near their best and to think an extra session in the gym is more beneficial than working on skills is to be somewhere close to rugby madness. Alas there is much insanity in the game.
England has been on the fringe most of the last decade but under Stuart Lancaster they have definitely emerged playing a faster and more ambitious brand of rugby. But what is good enough for the Six Nations is nowhere near sufficient for New Zealand. We saw that when the All Blacks finally got a head of steam up in the summer. We saw it when Australia opened the game up Saturday. Long term, New Zealand has the winning formula but against them imitation isn't so much flattery as rugby suicide.
To beat the All Blacks the pitch has to be shrunk in width and the tempo taken out of the game. Either that or they must be off their game. It happens but at the moment the best chance of beating them is by taking the oxygen out of the game. A dynamic driving game is the best hope which leaves Argentina looking more likely conquerors than South Africa.
Pumas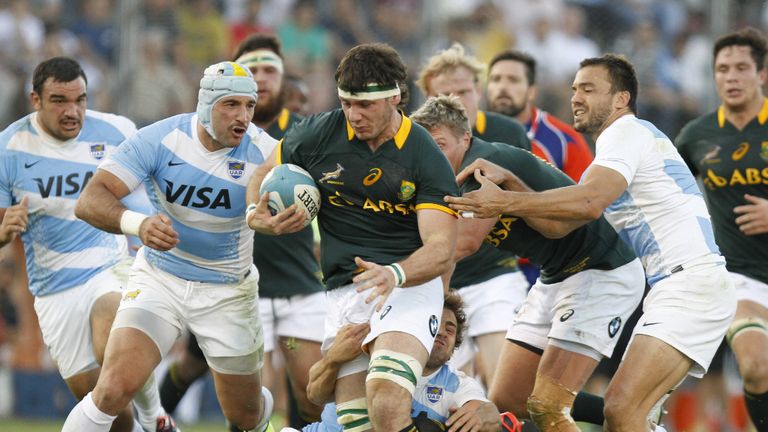 The Pumas did everything but beat the Springboks on Saturday afternoon in Argentina. The better scrum, the better breakdown team, the more likely to make gain line breaks, all this plus Juan Martin Hernandez deeming to remind us how good a rugby player he can be after a few wilderness years. Man for man the home side eclipsed South Africa but the strength of 16 -23 saved the Springboks.
However, in the longer term the variation of Argentina and the improvement from Nicholas Sanchez who is developing into a decent fly half has to be good news for the South American side. South Africa is - short term - in a difficult place with reconstruction on the agenda as players like Handre Pollard is rushed through into the ranks in a bid to be game sharp in 2015. Without the brain of Fourie du Preez (even though Ruan Pienaar is a fine player in his own right) the Springboks look a little rudderless in the tactical stakes.
Juan de Villiers is a fine leader and motivator but the team has to learn to be a lot more street smart if they are not to risk a humbling against New Zealand. Long term they are heading in the right direction but maybe a steadier, older set of hands at half back is required to bring the running power of their pack into play and take out the genius sparked by Aaron Smith and Aaron Cruden on Saturday.
Meanwhile we remain the TV company that home teams do not want to see visit them. In the world of French rugby, where home is spelled `victoire' we have covered three matches with three away wins to date. Toulon must be pleased they escaped our attention against La Rochelle at the weekend.
Stuart answers your emails...
Got a question for Stuart? Email him at skysportsclub@bskyb.com or use the feedback form below.
Hi Stuart, Dylan Hartley says the offseason isn't long enough – especially for the international players -do you agree with this? James F
STUART REPLIES: James, in some ways I am sure he is right, especially taking tours into account but on the flip side they are paid to play and a longer pre season equates to either fewer games (economically that could easily be equated with less money for Hartley and his fellow internationals) or a more congested fixture. There is no such thing as a perfect solution but it might be that a longer pre season would make life harder for everyone....There is no right or wrong to this question.
Can Piri Weepu keep my beloved London Welsh in the Premiership? And is his signing a signal of what's to come at the club? Thanks Stuart – love the column. Jonathan Taggart
 
STUART REPLIES: Jonathan, Piri Weepu has vast experience and a great rugby brain. If he gets himself in test match shape, both physically and mentally he could be one of the signings of the Premiership season, as for the shape of things to come....I suggest you ask the LW management because I have no more idea than you but players like PW don't come cheap.