Under pressure
Stuart Barnes looks at the rugby coaches who have dealt with the pressure and those who have not.
Last Updated: 12/05/14 11:39am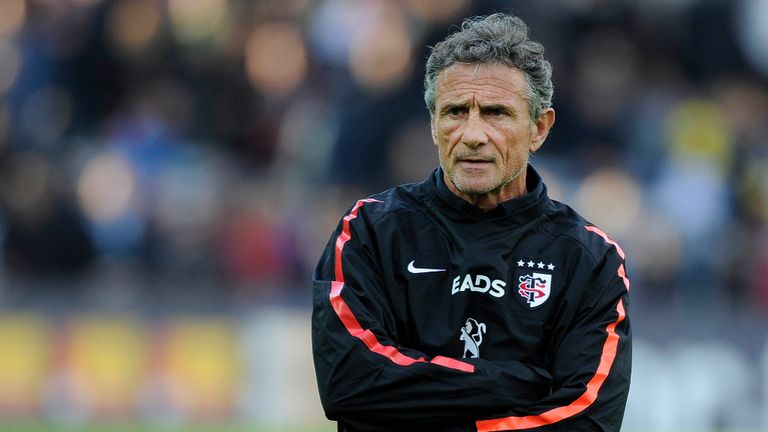 It is time for a coach's column. Events in France forged my brief thoughts for this week.
The pressure on a director of rugby was never more starkly illustrated than the wild reaction of Guy Noves during the play-off game between Toulouse and Racing Metro. His panicky reaction to Florian Fritz's head injury was the mark of a man under pressure. It was probably one of the worst moments in one of France's most famous coach's worst seasons.
An appalling Heineken Cup quarter-final defeat in Ireland was the harbinger of another knockout defeat that leaves the Top 14 without the presence of Toulouse. The French play-offs without Toulouse, is a sentence without a full stop. France's rugby grammarians will be shaking their heads in shock. But the truth is Toulouse's decline has been a long slow one with the quality of performance and motivation slipping gradually but inexorably, year by year.
It is too great a rugby city to stay down for long but whether it is time for Noves to bid adieu is suddenly the question that even the loyal Toulousain has to ask. Another coach whose season collapsed was Vern Cotter. There is no question of Clermont getting rid of him - he is on the road to Scotland - but while his team played a lot more rugby than Toulouse through the course of the season, he joins the Toulouse boss in the list of failed French club coaches.
Castres made it 77 and out when the magnificent home record fell in the play-off game at the weekend. Coming on top of the terrible humiliation of Twickenham, Cotter leaves with Clermont buried beneath the gloomiest of rugby clouds.
Bright star
Brighter by far are the immediate prospects of Fabian Galthie who guided Montpelier into the top two and avoided the danger of the current champions, Castres; after a sticky start to their campaign, Montpelier has hit its stride with some sweeping rugby. The momentum behind the former French scrum-half taking over after Philippe Saint-Andre continues to build (especially as Saint-Andre had a poor year, if not in term of results then certainly performance and any obvious improvement ahead of the looming World Cup).
While we are on the subject of international coaches, praise for Joe Schmidt whose first year title was a fine achievement. Also much kudos to Stuart Lancaster; his ever-accelerating development of his England team is proving his early critics (and here I readily put my hand in the air) wrong. It was not such a good year for Scott Johnson, though.
Back to the domestics and Gregor Townsend is another coach to have caught the eye, as Glasgow repeat their Pro 12 form and head for the play-offs and Munster with some confidence. A casualty of the carnage around the time of Andy Robinson in Scotland, he has retreated to Glasgow and rebuilt his reputation with great alacrity; a fine and quick witted player, he is imbuing those qualities in his teams. On the other side of the world another fabulous former fly-half is moving towards his destiny as an international coach.
Cutting his teeth last season under the rigid structural coaching of Jake White, Stephen Larkham has expanded the attacking game of the Brumbies. Conditions mitigated against too much flash stuff but victory against the Sharks and his old mentor illustrated how well the Brumbies and former great Wallaby ten are going.
Highs and Lowes
At a lower level James Lowes is catching my eye. Every time I watch Leeds Carnegie the intelligence of their attacking game catches my eye. The support lines of his side against London Welsh were first rate. Whether Leeds possesses the strength and the staying power over 160 minutes is another question but the former league international is definitely one for the future.
Another championship head man, Andy Robinson, finds his team under more pressure. The expectation surrounding Bristol is great and with a mere three point lead to take to Rotherham, the heat is on. But Bristol does have a lead and if the bookmakers were pricing this game as a one off, the West Country team would be favourites.
If they fail to win, however, Robinson will join a band of M5 coaches to have endured miserable seasons. Nigel Davies has suffered a sorry season at Gloucester and earlier today he paid the price for the disappointing season with his job, while Dean Ryan's relegated Worcester with just two wins is hardly the stuff of dream coaching comebacks. Ryan has however convinced the media and the management of Worcester that his job is a long term one. Promotion will be expected next season but if Bristol with all their money and ambition lose at Rotherham... it is going to be quite a play-off weekend.
But pride of place has to be the match between Northampton and Leicester. These East Midland rivals could produce a classic at Franklin's Gardens. I think the Saints are coming right at the right time but they'll need to as Leicester chase an amazing ten straight final appearances.
Saracens are overwhelming favourites to reach English and European finals. Saracens supporters might have noticed an absence of mentions for their management. A bit of patience, if they (or Toulon) achieve this rare double a whole column will be required for these respective clubs.
Stuart answers your emails...
Got a question for Stuart? Email him at skysportsclub@bskyb.com or use the feedback form below...
Stuart, I would like you thoughts on what happened in the Top 14 where Florian Fritz was knocked out but allowed to return to the pitch. Apparently Guy Noves was seen urging his medical staff to get him back on the pitch when it looked like he was in no state to continue. I was under the impression that there were new concussion protocols in place that would stop this sort of thing. Who should take responsibility for this? I recently changed my son's club due to a similar incident when I was told it was at the discretion of his coach if he continues after a head knock!
Michael Speller
STUART REPLIES: Michael, I don't think it was Guy Noves' greatest moment. The coach takes responsibility for winning/losing and will therefore have the greatest say but a medic has to be respected. Coach pressure on medics? We have been here before, I think.
Hi Stuart, what do you think of the training squad that Steve Hansen has picked for England? Do you see any of the five uncapped players playing in any of the Test matches? I have been impressed with Malakai Fekitoa and hope he gets a chance.
Richard Baker
STUART REPLIES: Richard, Steve Hansen will filter a few young uns through as NZ always does but I expect a reasonably settled side for England. I like Fekitoa A LOT but the All Blacks are not particularly weak in the centre and Nonu and Smith are going to take some knocking out of the first fifteen.
Hi Stuart, Do you think it's time there were changes to the number of clubs in the Premiership? There always seems to be one club at the bottom that is totally outclassed every season and with all the European and International matches our top players are facing "burnout". By reducing the league by one it could allow a couple of extras weeks for international players to recover and it could also strengthen the remaining clubs with better players. Plus it may allow the rescheduling of the Premiership Final and enable the England Summer Tour to have a full complement of players and avoid the ridiculous situation of playing the World Champions without key personnel.
STUART REPLIES: I think 12 teams is the right number. Burnout is not an issue with player management and when a league drops towards ten or fewer teams the sheer repetition of opposition can become boring. Twelve is fine; it's just that Worcester (and Newcastle) were not. Don't change a format using one or two terrible teams as justification; it is too short term reasoning.
Hi Stuart, What do you think will be more important for England on their Summer NZ Tour, Results or Performance? I think it would be a successful tour if we win 1 test and it will be fascinating to see England's pack go up against NZ.
Chris, London
STUART REPLIES: Chris, If they don't perform they won't beat the best and New Zealand are currently the best so I guess logic says it has to be performance.
Hi Stuart, what did you make of the first round of the Championship play-offs? Would Bristol be happy with a three-point lead heading to Rotherham?
Andrew Williams
STUART REPLIES: Andrew, very exciting and no, far from it but that's not to say Bristol are out of it. Not by a long way.