Stuart Barnes was left stunned by Saracens' demolition defence
Stuart Barnes was left stunned by Saracens' demolition defence that set-up their win over Clermont.
By Stuart Barnes
Last Updated: 30/04/14 12:44pm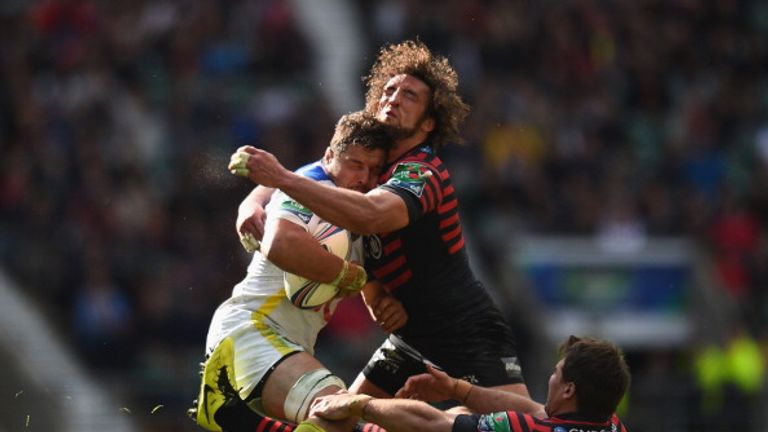 At Twickenham Saracens stunned Clermont Auvergne with a quality of performance that would have tested many a Test team. The defence in particular was staggering. The quantity of the tackles was eclipsed by the quality as the Southern Africans, Schalk Brits and the monumental Jacques Burger flew out of the line to knock Clermont backwards before the gain line.
Usually when a team defends with such aggression a few missed tackles are the consequences but Saracens managed to merge quality and quantity in what I regard as one of, if not the, finest defensive display I have had the fortune to see.
But that was not all. What they did without the ball deserved and garnered the headlines but the ruthless finishing down the short sides was another element of game that was heads and shoulders above anything we have seen in this Hemisphere, certainly by any club but also most international teams.
Grim verdict
Saracens were superb but what about Clermont? The verdict is a grim one. The deliberate knock on by Brock James (as a direct result of the pressure applied by a Mako Vunipola charge down) still looks like one of Nigel Owens poorer decisions every time I see it because the ball was so close to the dead ball line. The probability of a score is highly dubious.
Thereafter the Frenchmen had ten decent minutes. A man down, they would have scored a try to bring them back into the game had Fritz Lee not unnecessarily overrun the ball and taken Owen Farrell out with the fly half in no position to stop a score. Ifs and buts; there are no question marks surrounding their attitude.
Things don't always go a team's way but the great teams' roll up their collective sleeve and fight against ill-fortune.
Clermont, once Farrell scored the third try simply were not up for a fight against a Saracens side that was in ravaging mood.
It is clear why one of the most talented squads in Europe has won so few trophies in the past few years. The heart and the head was no match for the talent. It is time for this fine rugby town to rebuild.
As for Saracens they storm onwards towards the rugby city of Cardiff with no doubts about their resolve and most about their technical capacities answered. If they repeat their semi-final performance even Toulon, with all their global talent will be hard pressed to even stay in touch.
Toulon was not half as inspiring as the surroundings Sunday when two tremendous sets of tribal fans gave their all in the singing and flag waving stakes. And both teams played with pride and commitment but the quality of the previous day was missing.
Better balance
Toulon will, it should be stated, be a better balanced pack with Ali Williams returning from injury to assist a line out that Paul O' Connell and company tested. And Bryan Habana (hopefully his early substitution was only temporary) will be sharper come the final.
Had he had that extra metre acceleration that was lacking there were a couple of occasions in the first ten minutes of the second half when Munster may have had the match taken away from them.
As it was they hung on as Munster has a habit of doing but soft penalties in the first half and an at times ill-judged tactical appreciation of where to test the Toulon defence gave the favourites and Jonny Wilkinson enough penalty kicks unforced to concede both points and territory. The 18-9 first half deficit proved too much despite a brave second half.
Toulon did not need to be terrific to win because while we saw so much of the old Munster spirit, the street wisdom that Ronan O' Gara brought to this team was missing. Diametrically opposed to Clermont in terms of spirit they just lacked the quality to win a game that was at one stage within their grasp.
On the balance of the weekend form there is only one winner but form lines in rugby are not like horse racing lines. The final will be about the mental capacity to handle the extra pressure. Saracens seems to be well set while Toulon with their sprinkling of World Cup winners, are definitely not going to do a 'Clermont' and fold their hand.
The final can combine the quality of Saturday's game with the atmosphere of Sunday's and produce something memorable for both sets of supporters and neutrals alike.
In the Amlin Northampton did a decent job on Harlequins in adverse weather without a few key players in the starting fifteen. They have sufficient power at full tilt to test Saracens and are favourites to beat a Bath team that won at Wasps.
The West Country team have talent from one to fifteen and if it clicks can trouble the best but to date the best have tended to be too strong.
But then again Saracens couldn't beat the best of the French until Saturday... all bets are off for the final weekend of the Heineken Cup.
Stuart answers your emails...
Got a question for Stuart? Email him at skysportsclub@bskyb.com or use the feedback form below...
Hello Stuart. Just how are Toulon going to replace Jonny Wilkinson next season?! The guy is a legend and even at nearly 35 he's still at the heart of their success.
Simon
STUART REPLIES: Simon, nobody is irreplaceable, not even Jonny Wilkinson. If he does leave, Toulon will miss his attitude, his example and unflappable goal kicking temperament but Matt Giteau scores pretty highly on most of these counts.
Stuart, I appreciate the arguments for the policy, but do you ever think performances, such as Delon Armitage's in Toulon's win over Munster, will convince the England team they cannot afford to ignore top English players playing abroad if they seriously want to win the World Cup again? Keep up the good work.
Michael.
STUART REPLIES: Michael, long term it is vital for England to maintain as much control over their players as possible. The short term temptation is there but England should stay firm and use the 'exception' clause if there is a reason the training squad coming together next June. England will be plenty close enough, with or without the odd Armitage.
Stuart, Saracens are in the Heineken Cup final and top of the Premiership - is it now safe to say they're the best team in the Northern Hemisphere?
Cheers, Stephen.
STUART REPLIES: Stephen, how do you work that out. They haven't won anything yet. If they win the Premiership and lose the Heineken final that does not make them Europe's finest. If they do the double, there is not even a debate but such claims are premature on the basis of one incredible performance. Blimey, they were good though, weren't they?