Rugby Union Expert & Columnist
Television Match Official decisions are subjective just like the referees, says Stuart Barnes
Last Updated: 22/04/14 12:07pm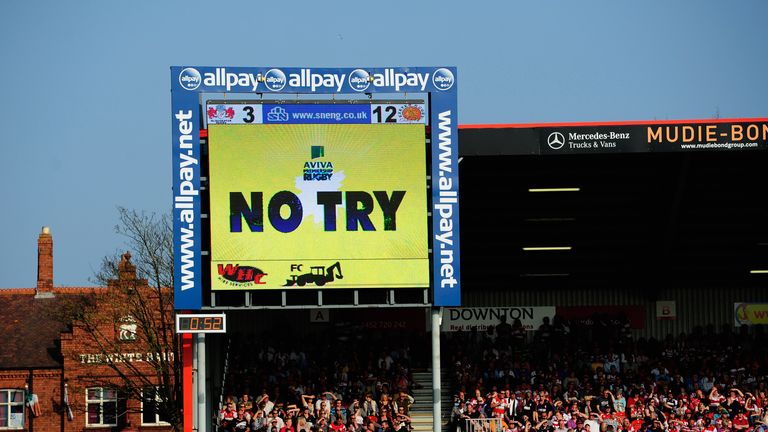 On Friday night Luke Pearce, the referee in the Greene King Championship match between Bristol and London Welsh, bent down low as the ball inched towards the try line through a mass of bodies.
He paused, produced his whistle and blew for the try; no signal for the Television Match Official to check the grounding. The young referee was in an outstanding position, better than any television camera, to see whether the try was scored or not.
I praised the courage of a referee to make his own mind up after a sequence of games – or should that be a season of games – where too often courage has faltered and decisions that could be made there and then were sent `upstairs' to be checked.
Of course, no sooner had I said this than a replay was shown which far from clarified the score. Miles Harrison and I differed in our opinions. I wanted some continuity to a game whereas Miles quite understandably debated the need for accuracy.
But it was not an obsession with not getting it wrong; that's a world apart with wanting to get the big calls right. This obsession is making referees worse because they make their mind up half the time to check with technology even before the try is scored. Frequently referees are on the wrong side of pile ups as the players surge en masse over the try line.
Pearce was perfectly placed and backed his judgement. In hindsight his display is even more pleasing. Even had he been wrong (and I do not think he was) there is a case for praise. There have been countless referrals this season where the Television Match Official has proceeded to get the call wrong; or at least to my eye. And this is the point, TMOs are humans and their decisions are subjective the same as the referee on the ground. Accuracy is not guaranteed but a desperate delay in the rhythm of the game is.
Rhythm
Is accurate officiating more important than the duration of a game? At first glance the answer is an obvious one but when the delays last as long as the eighteen and a half minutes to which a full house at the Rec was subjected to the next day I am not so certain.
There have been countless referrals this season where the Television Match Official has proceeded to get the call wrong; or at least to my eye.
Stuart Barnes
On this occasion the official in charge spent an eternity checking for dangerous play twice. On both occasions the incident involved players being taken out in the air. In both occasions the crowd became restless. The rhythm of the event was disturbed and you could say the referee got the decisions right. Technically speaking George Ford had tackled David Lemi in the air but the ball had bounced off the ground and neither of these lightweight players was in danger at any time. But several checks of the big screen later and Ford was shown the yellow card.
I have deliberately not named the referee because the directive sent to all referees to yellow card any players who take an opponent out in the air and red card them if they land on their head is the prime culprit here. The referee got it right according to the letter of the law but utterly wrong as far as empathy and controlling a game goes. These long periods of inactivity are becoming a plight on the game.
Leap
I trust that neither Nigel Owens nor Wayne Barnes will allow the Heineken Cup semi finals to dither on Saturday. The Welshman is at Wembley as Saracens seek a first final against a Clermont team that was brilliant for thirty five minutes against Leicester and brittle for the final forty five. Away from their seemingly invincible home form they are vulnerable but Saracens have to play the game of their season to win. The last seven seasons, in which only Northampton has represented Premiership clubs, illustrates the leap required for a league that has not produced a team of the vintage of those iron willed Leicester and Wasps teams for so long.
An unbeatable run in England – time and again we have seen – counts for nothing. If Saracens are to win they must sort out their line out from a few weeks ago. Northampton was beaten in all departments but the line out. In the quarter final Leicester had the beating of Clermont in all departments bar the driving line out which Clermont controlled to the extent they were both able to exert sufficient pressure to force penalties and take the occasional time out from a game in danger of running away from them.
Saracens also have to win the breakdown battle. In recent years they have been conclusively beaten there by the big French teams. Frequently the Londoners have said lessons have been learned only to be taught another one. Twickenham is an opportunity to step forward. It will take a tremendous effort and based on form and Saracens French record, the visitors are favourites but if Saracens can stay close I'll take Owen Farrell to put his recent indifferent form with the boot behind him and win the goal kicking battle. Staying close is the key.
Challenge
In Marseilles the next day Munster has a massive challenge against a Toulon team that were tremendous in their second half against Leinster. You left the stadium wondering who is going to stop them. Well, Munster is a good place to start looking for an answer and the first five minutes of their demolition job against a tepid Toulouse team holds the key to their chances.
Munster played with tempo, stretched the French defence and kept the ball. Nothing too fancy just maintenance of ball control. In contrast their Irish rivals lacked any accuracy. Leinster dropped countless passes and missed endless first line tackles. It was a bad day but one that was not enforced by Toulon. Munster, by keeping the possession for large periods, can control the pace of the game and take the sting out of Toulon.
It will not be easy. Men like Matt Giteau and Juan Smith are revitalised forces in the Toulon ranks. They look a better team than they were last season and Marseilles is going to be crackle with atmosphere. But Munster has been here before. They have enjoyed some of their great days in semi finals in France. Like Toulon they too are a better side than last season and they gave Clermont quite a scare at this stage in Montpellier. Of the four semi finalists Munster are the biggest underdogs but big dogs can give a nasty bite. 
Stuart answers your emails...
Got a question for Stuart? Email him at skysportsclub@bskyb.com or use the feedback form below...
Hi Stuart, What are your thoughts on the form of Nathan Hughes at Wasps and should Stuart Lancaster try all he can to convince him to switch his allegiances to England? Thanks, Phil Richards
STUART REPLIES: Phil, Hughes is playing some outstanding rugby but I don't think SL has seen enough to beg another non Englishman to make himself available. 
Stuart, Would you take Danny Cipriani on England's tour of New Zealand this summer? His form would suggest he is worthy of a call up. John
STUART REPLIES: John, He is getting closer but not having worked with the squad makes me think it unlikely although a final with two from Saracens, Saints and Bath makes it a possibility. I don't think Billy Twelvetrees is adequate cover at ten although Stuart Lancaster has said differently in the past.
Do you think Quins have any chance of making it into the play-offs after their win over Leicester? Or are the top four too far ahead? Thanks Rob 
STUART REPLIES: Rob, I think your best hope is Northampton winning at the Rec in round 21 and leaving you a crack at Bath. The odds are against Harlequins making the semis but not by that much.
Hi Stuart, Have you seen enough from Bristol this season to suggest they can compete in the Premiership, provided of course they win the play-offs? Steve Mitchell
STUART REPLIES: I have seen an exciting style of rugby but one that is too often inaccurate and a team incapable of playing at pace for eighty minutes without leaking in defence. There is still work to be done this season. A great deal more is required thereafter....so in a nutshell, not yet.