Rugby Union Expert & Columnist
Toulon show their pedigree but Stuart Barnes is left frustrated by Toulouse after the Heineken Cup quarter-finals
Stuart Barnes says Toulon look like the team to beat after a mixed Heineken Cup play-off weekend.
Last Updated: 08/04/14 12:16pm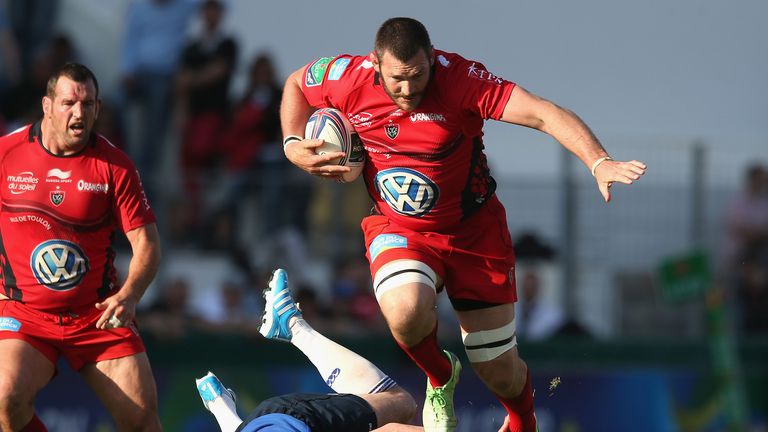 Let's get the rubbish out of the way and start with the heated subject of French managers. I hold up my hand to 40 years plus as an Arsenal fan and frankly, the South of France was the best place for an Arsenal fan to be this weekend (even if Matthew, my Everton supporting son tracked me down to gloat via the wonders of the social network).
Anyway, I digress. And I hear from my Arsenal supporting mother that the fans want Monsieur Wenger out. He cannot be the only august French manager under intense pressure after Toulouse bowed down and accepted their fate in Munster.
Mid-table in the French league, out of Europe and yet overloaded with money and talent - Toulouse has underachieved as a team for many years. Guy Noves is Mr Toulouse but the team looks like it needs to freshen up itself. If they cannot find a flourish in the final weeks in France even the devoted legions of Noves fans in Toulouse might start to wonder quite what is happening.
Given their overall form this season only a fool or a devotee would have fancied their chances of winning in Munster, let alone the tournament, but in Leicester there were shafts of hope heading for Clermont and their three quarters of a century winning run at home.
Tigers do themselves proud
At full-time the Tigers' battered bodies collapsed onto the field, having performed heroics in fighting back from 16-0 down to finish the match close to the Clermont try line and only six points adrift. After 21-15 IN Toulon last season, now 22-16 in Clermont in this quarter-final. It's scant consolation for Tigers fans but they - unlike Toulouse - went down with heads high.
Clermont were wonderful for 40 minutes but once they realised Leicester refused to throw in the towel, the nerves nullified them again. They are good enough to win this tournament and poor enough to lose the semis.
The best team on form heading through the tournament last season, this time around Toulon's second-half demolition of Leinster earns the current Heineken champions that accolade; their second half eclipsed Leinster in Northampton as the standard setting performance of the tournament; they appear a better team than last year and they (with a lot of help from Clermont) won it.
Munster will travel to Marseilles as underdogs but underdogs with a bite.
They cannot be discredited because of Toulouse's failings. They are a great European team and will learn plenty watching the way Toulon dismantled their great rivals at the breakdown. Munster are the outsiders but I, for one, have no intention of dismissing them.
Shattered dreams
The other semi-final sees Saracens face Clermont. Ulster's dream was shattered in the fourth minute with a controversial sending off. I saw the incident the next day and thought it a wrong call but according to the letter of the law it was an understandable decision. But the letter of the law isn't always proof that the verdict is the right one. Down to 14 men for 76 minutes and losing by such a close margin - it is tough not to think their dreams would still be alive had they kept a full quota of players.
That is the weekend's shattered dream but Saracens take their fortune and travel to Twickenham for another showdown with a French giant. Clermont crushed them the season before last in Watford, Toulon bullied them at Twickenham in last season's semi-final while Toulouse have beaten them with something to spare in both this season's pool games.
On that evidence Clermont, schizophrenic as they can be, must be favourites. Saracens will be hoping that four defeats means it is time for a win but they will need to find a level of form that has so far eluded them in Europe.
Nervy Clermont
Clermont are the better team on their day but they are prone to plenty of off days and Saracens have a good chance, if not a favourite's one, of making the final. The odds are on a repeat of last season but let's just say I won't be putting my hand in my pockets to back that eventuality.
In the Amlin, the fundamental flaw to what we believe will be the new European concept is the Amlin/Challenge Cup winner not qualifying for the Heineken/European Cup. Let us hope there is time for a rapid volte face because the weekend showed how badly the non-qualification affects the tournaments quality.
Thursday night's game between Sale and Northampton was nearer a development match than a full-on European quarter-final, while the next night Stade Francais fielded 12 second-team players against Harlequins. What could have been a superb quarter-final ended as a damp squib.
I spoke with Stade's DOR, Gonzalo Quesada, who confirmed the downgrading of the winner's status as qualifiers made his mind up when it came to selection. Brive fielded a shadow 15 at Bath on Sunday. If the people driving European rugby forward truly want to make the second tier tournament a success qualification for the Heineken/European is essential.
I could discuss Steffon Armitage's form, the vibrancy of Toulon, the colour of Clermont and the awful time a group of Welsh officials took to bring Harlequins match from its start to end but maybe you have some thoughts on these subjects. See you on The Rugby Club.
Stuart answers your emails...
Got a question for Stuart? Email him at skysportsclub@bskyb.com or use the feedback form below...
Stuart, We saw two pretty similar incidents of this at the weekend one in Ulster v Saracens and another in Reds v Force. Both incidents are quite similar, two players committed to catching the high ball, one player on course to do so without leaving the ground and the other decides to jump for the ball. In the HEC game the law gives 100 per cent, full protection to the man in the air. This means you are fully responsible for the opposition player if he decides to jump, you must stop your run to take the ball (if you following the ball I'm not certain how your supposed to see the other man coming). In the S15 game a penalty is given to the man in the air. The ref says you have an obligation for the safety of the player jumping, which fair enough you do. However from the replay the TMO and ref can see that both men are committed to catching the ball and really it's an accidental collision. Result penalty and no card. The problem I'm seeing here is that if you don't plan on jumping to contest a high ball you're putting yourself in a position to get a red card despite playing within the rules of the game. Some responsibility has to be shared in this situation as I doubt if either player (in both games) is fully aware of the the opposition player as they are focussed on the ball. It's dangerous and does quite often see players carded despite there being no intent other than to catch the ball without leaving the ground, I ask the ridiculous question should the player be banned for jumping for the ball for their own safety? While that would be a pathetic solution it is the only on I can think of that will consistently stop a player being dumped from the air by someone who didn't even know he was there.
William Clarke
STUART REPLIES: William, There comes a time when we have to accept that a player's safety cannot be guaranteed. Every tackle, every breakdown is potentially dangerous but if you consider how many games of rugby are played every week and how few serious accidents there are, I think maybe we should keep the 'dangerous play' card tucked away in our pockets. Empathetic refereeing and not undue concern for safety every second of every game is the best policy. In Ravenhill I think the referee was influenced by the fall, which is human nature but an understandable (although hugely costly) error that probably cost Ulster the game. But keep jumping boys, thousands are doing it safely every Saturday.
Evening Stuart, just watched James Haskell put in a superb performance for Wasps against Gloucester. Do you think Lancaster has him on the radar for another shot for England? I personally would love to see Steffon Armitage on the plane to New Zealand. Not only was his performance against Leinster superb but his love for the game shine through and he makes me, at the tender age of 52, want to strap on the boots once more time!
Gareth Lee
STUART REPLIES: One swallow does not make a comeback. James Haskell needs plenty more barnstormers before he enters the England equation; as for Steffon Armitage, that is a tougher one to answer. If England had a weakness up front in the Six Nations it was the breakdown work of the back row. The Toulon star was magnificent but Stuart Lancaster has a long term strategy to keep England players in England. In exceptional cases he has stated he will show flexibility. I guess that leaves the million dollar question, how exceptional has Armitage become. Could Lancaster tell him he wants him to travel to New Zealand just for a non-test match against Canterbury to test his willingness? At the least it is a debate and if Steffon Armitage plays like this for the rest of the season in France and Europe it could become a significant one.