Rugby Union Expert & Columnist
Stuart Barnes says club competitions across the globe are heating up
Stuart Barnes toasts the return of club rugby and looks forward to a new European competition.
Last Updated: 24/03/14 3:37pm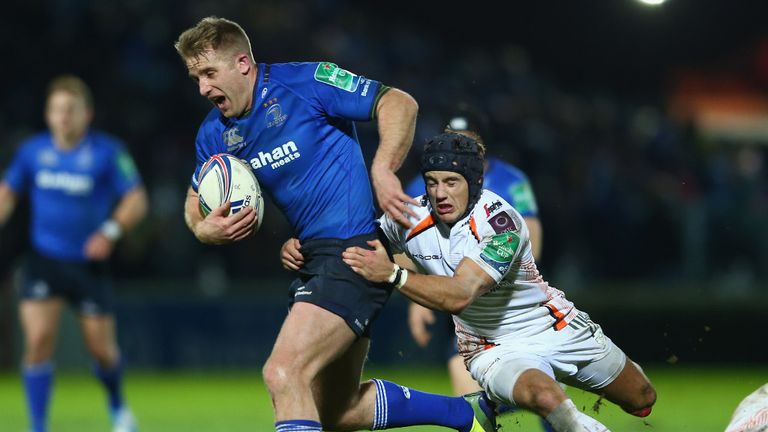 Let's start with the RaboDirect Pro12 and (hopefully) the implications of a European Cup next season with seven qualifiers including one from each nation.
That has to be good news for a competition that has suffered from a lack of competitiveness at the lower end for all the excellence come the play-offs. Five Celtic/Italian teams will also (I add hopefully again) add some colour and variety to the second-tier tournament that is too Anglo-centric this season (although Stade Francais are a formidable Franco hurdle).
The league is utterly dominated by Ireland and a true reflection of the current state of the Celtic-Italian international games with the Big Three dominant. This weekend Ospreys and Glasgow meet in a game crucial in the race for fourth spot but it is the non-guarantee of Heineken Cup rugby that adds an element.
Next weekend Scarlets, sixth and unlikely to make the top four, meet Connacht, seventh and ditto. But from next season these teams will be fighting hard for the all-important sixth and seventh positions. A Scarlets win becomes imperative as does an away win for Pat Lam's team.
That is because eighth-place Edinburgh travel to Treviso where a win could push them into seventh place. In the past a match between the eighth and eleventh-placed team would have, shall we say, limited appeal but suddenly it becomes a game of real significance, especially as the automatic Italian spot is up for grabs with Treviso only two points above bottom-placed Zebre who entertain ninth placed Dragons.
It will make a massive difference (fingers crossed of course) to the Celtic League. The battle for the final place between the teams bottom and bottom-but-one looks harsh on the other teams.
But the need to maintain and develop the European game was an original competition concept and without an Italian team, European and world rugby risks a further slide from a team struggling to hang onto the top tier teams.
Munster play Leinster this weekend in their traditional pre-European fixture with the teams first and second, pride, points and preparation for Europe makes this into its usual big game.
Hammering
In England, the Tigers' hammering of Exeter allied with Sale's strong performance against Northampton highlight the forthcoming game at the Gardens where an away win for Leicester would open up the possibility of a home semi-final. The Saints will have to be much sharper against a Tigers team purring with delight at the hard ground game of Niki Goneva.
Elsewhere Bath at home to Sale is an important match with a Sale win giving them a real shot. A Bath win keeps the West Countrymen travelling in the right direction, steered superbly by George Ford, who is maturing by the minute not to mention kicking his goals. I expect someone will turn this into Ford v Cipriani.
At the other end of the table Newcastle will put Worcester out of their misery if they beat Dean Ryan's team on Sunday. Worcester's last-second loss to Wasps in what I would describe as the worst game of Premiership rugby I have ever seen, combined with Newcastle's two points at Gloucester was probably the final nail but Dean Richards will not rest until the final one is hammered in.
Fascinating things are happening in France as well. Biarritz were relegated at the weekend. Having seen them squander money and talent over the years any tears would only be crocodile.
The club has been badly managed on and off the field. There is no great sadness here. But at the other end of the table Toulouse are fighting like they have not fought for many years to make the top six - let alone the old top four.
Unbelievable
They must travel to Toulon, who are second to Clermont in the table. Defeat for them and victory for Bordeaux Begles against Perpignan could see them slip out of the top six.
Indeed if Racing Metro beat Stade in the Paris derby, Toulouse could finish the weekend in an almost inconceivable eighth place. Monsieur Wenger would not be the only esteemed French sporting figure under pressure should this occur, especially with Munster awaiting them in Limerick.
The Toulouse fight back to draw against Stade on Saturday is a reminder that the talent is there when the mind is right. If the mind is wrong, Toulouse could miss out on the European Cup (assuming the information that has been leaking out is accurate); unbelievable.
On the other side of the world the Super Rugby tournament is at an earlier stage. Thus far the standards have been nothing to frighten the Northern Hemisphere. The Chiefs are nowhere near their last few years' levels so far and the hitherto impressive Sharks lost their unbeaten record against the Bulls.
A few other observations; it is good to see Jerome Kaino back, when he and Stephen Luatua are in tandem the Blues back row will be quite some unit. Kurtley Beale and Israel Folau were my Super Rugby treasure of the week with their delightful combination plays while watching Geo Aplon slash through the fortunate to win Brumbies tells you Grenoble has made quite a signing for next season.
Stuart answers your emails...
Got a question for Stuart? Email him at skysportsclub@bskyb.com or use the feedback form below...
Hi Stuart, it sounds like Jonny Wilkinson is about to call time on his career. Where would you place him in the list for England and in the international game? And do you think he could be an England coach of the future? Thanks,
Jon
STUART REPLIES:Jon, Between his first cap and that drop goal in 2003 he was different class to any other England fly-half. Could he be an England coach of the future? Not before he learns the trade elsewhere, think back to Martin Johnson.
Do you believe that a centre partnership between Sam Burgess and Manu Tuilagi is possible for England? Or have Billy Twelvetrees and Luther Burrell nicely asserted themselves into the starting line up? Regards
Charlie
STUART REPLIES: Charlie, anything is possible but plenty has to go right for your proposed superpower combination and plenty wrong for the incumbent duo who actually looked like a decent international English pair of centres for the first time in a decade... the key phrases here is competition for places. We'll have to wait until Burgess plays before a sensible assessment. At the moment it is no more than conjecture, fascinating conjecture as it is.
Do you think there will be any bolters who could squeeze into the England World Cup 23? Potentially Anthony Watson? Although with Mike Brown in great form and the wings able to cover fullback it will be difficult for him to get a place on the bench, especially with the Manu Tuilagi competing with Luther Burrell in the backs. Being a Wasps fan, I am hoping Christian Wade can replicate his early season form and make the test squad... thoughts? Cheers,
Nick Wade
STUART REPLIES:Nick, Mike Brown should not be considered as wing cover. He offers too much from fifteen. As for Wade, he is a fabulous finisher and England's finishing is still a weaker aspect of their game so if I was the other Stuart I would want to see him before announcing a World Cup squad.
Hi Stuart, if the reports are right, we're on the brink of a new version of the Heineken Cup being agreed. How important is it for all the home nations to be playing in a European competition ahead of next year's World Cup? And what are your hopes for the new competition?
STUART REPLIES: Hugely important. The step from domestic rugby to international is too great and the potential for teams to overrate themselves is all too real. A case in point was Northampton; they were slamming all English opposition in their path and suddenly found themselves outclassed by Leinster. One week later, reality restored, we saw the best Saints performance I have seen as men like Luther Burrell and Courtney Lawes found the requisite levels.
Got a question for Stuart? Email him at skysportsclub@bskyb.com or use the feedback form below...