Stuart Barnes looks at whether England can afford to lose to Wales again
England's Six Nations clash with Wales may have far reaching consequences, says Stuart Barnes.
By Stuart Barnes
Last Updated: 04/03/14 10:11am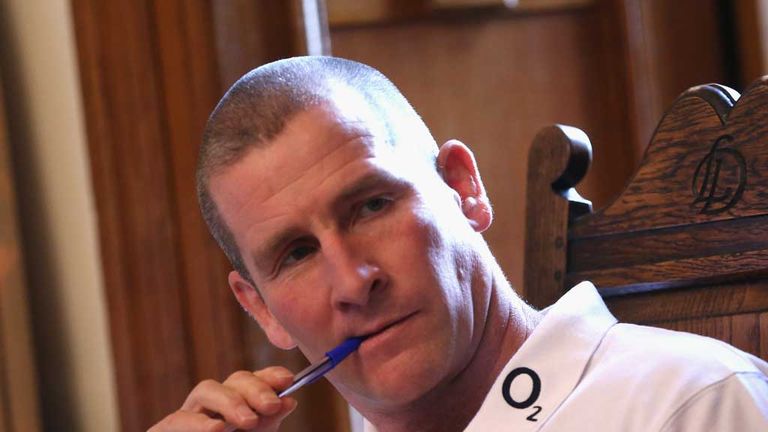 From England and his perspective he may be right but I don't know. If Wales win on Sunday they will have beaten England on their last two visits to Twickenham. If they beat England in next season's Friday night fixture in Cardiff - a game that will be difficult in the extreme for England - that will be five straight wins.
Maybe Stuart Lancaster is mentally tough enough to take each game as it comes and maybe his team will be as well but Wales is a rugby nation of physical talent but an Achilles Heel in the psychological stakes.
Australia's sequence of ten victories in eleven against Wales when they have been suffering and Wales thriving is not a quirk and not just a series of close defeats. It is an illustration of just how important a mental edge is.
Australia believed they would win, believed it deep down while Wales are always waiting for the Wallabies to beat them, someway, somehow and sure enough, time after time Wales find a way to lose, Australia to win.
The results are directly linked to self-belief. It is not a commodity that runs deep through Welsh teams through history. In recent history I remember Martyn Williams, one of the sport's canniest thinkers of recent times, talking up the influence of men like Paul Tito and Xavier Rush to his Cardiff Blues team.
These Kiwis were fine players but not in Williams' class but the Cardiff flanker said their confidence in their ability to win away from Cardiff was crucial to a team packed with Welsh internationals because sometimes Welsh players lacked that belief in their own capacity to win the biggest games. Warren
Gatland plays the role of the confident Kiwi and inspires the self-belief with which they will definitely travel to Twickenham expecting to win.
If Wales manages it and win in Cardiff next year, they travel to Twickenham as firm favourites come the World Cup. If England breaks the run and sneak a win in Cardiff next year, they'll be strong favourites to win the match and given Welsh problems with Australia, that signifies trouble for Wales. First and foremost this is an exciting Six Nations fixture but don't underestimate the even greater long term significance of the game.
Good fortune and scruffiness
One day earlier I shall travel to the dryer winter climes of Scotland to see if France can reignite their Championship prospects after being absolutely outplayed in Cardiff.
That is the official line but I'll be more interested to see if France can find an eighty minute performance to illustrate the team is heading in the right direction.The first two wins were a combination of good fortune and scruffiness. The loss in Cardiff was no shock.
Under Philippe Saint-Andre, France has merged losses with poor performances. It is possible that they could still win the title as Martin Johnson's England did in 2011 but without having a hope of being serious contenders. At the moment they are heading towards a potentially horrific World Cup campaign.
Few will fancy Scotland who has hardly been convincing but the second half fight back in Rome could well be the launch pad to an improved and certainly more confident display. France looks there for the taking and I have a sense that Edinburgh could see 'the shock' of the tournament to date.
In contrast Ireland's form lines are rock solid despite defeat at Twickenham and with Italy capitulating in the second half against Scotland it would only be a surprise to see them fail to rack up a hefty margin of victory to set them up for the title if they can then lay their bogey in Paris.
Domestic matters
Obviously the Six Nations is the focus of the week. But there is a pair of splendid LV Cup semi-finals. The English clubs dominated their Welsh counterparts at pool stage and the best English teams dominated the rest. The tournament has been a fine tribute to the strength in depth of England's leading outfits.
Saturday's semi at Franklin's Garden should be the dress rehearsal for the Premiership semi. Saracens comfortable away win at Bath is a reminder of their power and professionalism.
If there is one team in England capable of beating them it is Northampton who has turned their weakness against the best teams of recent years into a real strength this season with a great record against the top teams in England.
Saints smashed Saracens at the Gardens earlier in the season when both teams had similar sorts of numbers out on international duties as they will have on Saturday. It will take quite an effort for the Saracens to reverse the result but they are not to be underestimated.
The third team in England, some way below the leading duo, is Bath. Saracens reminded them that the West Country team still have a way to go but at least they are heading in the right direction and doing so courtesy of some fine rugby. I shall be flying down from Edinburgh to commentate on Exeter's attempt to break an almost Wales v Australia type bogey at the Rec.
Bath is the only Premiership team Exeter has yet to beat. Matches between them are close but the Chiefs have a psychological wall to break down. Having ended a poor recent run of form with a clear victory over London Irish they will travel with determination but do they have the belief. That is the leading theme of this week's column, belief. Herein ends the sermon, enjoy your week and if I don't see you in Edinburgh or Bath, you'll find me in Cheltenham.
Stuart answers your emails...
Got a question for Stuart? Email him at skysportsclub@bskyb.com or use the feedback form below...
Stuart, while I agree with you that England and Ireland have improved and look capable of beating the big 3 SH teams. I just don't feel Wales or France have improved at all. France have actually regressed and have been very lucky to have two victories. While Wales revival against France was, to say the least questionable. France where so bad it was an embarrassment. Jean-Marc Doussain looked like he wanted to be anywhere but in Cardiff while the powerful French pack let themselves get conned along with the referee, by what is a very average welsh pack imo. How could Gethin Jenkins get MOTM after being binned for not scrummaging for the 2nd time in his last 3-4 games? I just hope that the referee this weekend doesn't get conned.
David Short
STUART REPLIES: David, Not sure if Wales has improved but Wales at best are a challenge for any team in this Hemisphere, as for France they really seem to be stuck in a most regressive rut, they are an unhappy and unattractive team under Philippe Saint-Andre.
Stuart, as an England supporter, even I am finding Owen Farrell's behaviour on the pitch tiresome. I agree that you must have an edge about you, but Farrell's behaviour in the last couple of games has been that of a petulant child. With the question looming of, "who else do we use at stand off?", with Burns out of form, Ford untested, and Flood off to France, when does Lancaster say enough is enough? He is beginning to get a reputation and aside from embarrassing the Rose, rival sides will see his short temper as a weakness and exploit it as they have done with Dylan Hartley and Mike Brown in the not too distant past, both of whom now have put a leash on it and their subsequent aggression channelling has made them better players.
Liam Smith
STUART REPLIES: Liam, it's not as if he actually does anything. It is one big 'look at the size of my handbag' jamboree bar on the very odd occasion. There remain a few technical issues but while I, like you, wish he would focus on the tactical side of his game that's a part of who he is. He'll cool down in time, like the two men you quoted.
Stuart, if you were Warren Gatland would you bring back Jonathan Davies for the England clash? By all accounts he was [pretty good in his first game back but surely he needs a bit more game time at Club level before stepping up?
Mark Feher
STUART REPLIES: Mark, I'd bring him back. North back to the wing, more power wide, more experience at 13, yes, I would bring him back. Davey Wilson did well against Cian Healy off the back of 47 mins. Bring him back!
Stuart, what do you make of France dropping Picamoles for his behaviour towards the ref in France - where I think he clapped hi after being sin-binned - but are happy to re-call Morgan Parra despite his head-butt in a club game? Surely this is just another example of how bad things are in France? What do you think needs to be done to get them sorted?
Adrian Colmber
STUART REPLIES: Adrian, I don't think French thinking is as sharp as it could be. Philippe Saint-Andre is struggling at the moment and seems to need to blame or justify every decision he makes instead of backing himself and getting quietly on with it.