Stuart Barnes believes that Wales, England and Ireland are building nicely for the 2015 World Cup
Stuart Barnes believes Wales, England and Ireland produced performances that could worry the Tri-Nations.
By Stuart Barnes
Last Updated: 24/02/14 2:23pm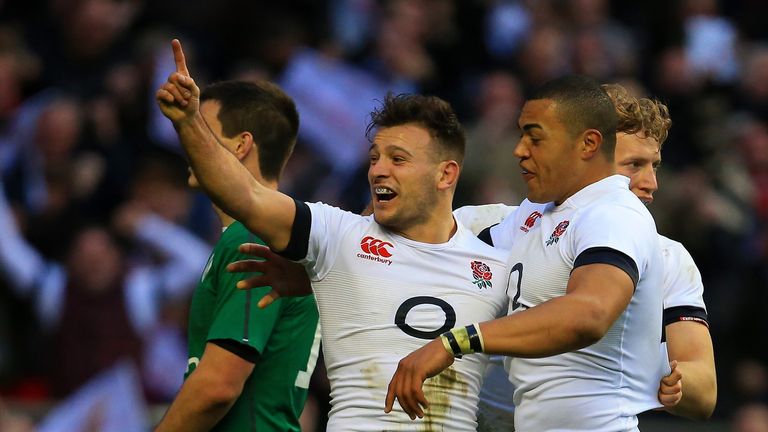 Points difference favours an Ireland team with two convincing wins and a narrow loss. Italy, with morale possibly damaged by the nature of a home defeat to Scotland, should only boost that advantage with England and Wales meeting each other and France having to pick itself up after a sluggish performance in Cardiff against Scotland, at home and buoyed.
Yet Ireland has still to negotiate a trip to Paris where Irish wins are rare. It would be a fitting place for them to win a title, rounding off Brian O'Driscoll's epic career with victory in the place where he truly burst onto the world scene with a hat-trick so many years ago. France may roll over or they may be packed with a whole host of new names and faces and come up with one of those French performances no one sees coming out of the bright Parisian blue skies.
Wide open
Only one of England or Wales can win at Twickenham in a little under a fortnight. It has never been so wide open. So much for the race for the title; what about the more important undercurrents, the quality of performance which relates to the development of the team with 2015 looming on the horizon?
First it is fair to say that of the four teams level on points, France has the least impressive sequence of performances. Lucky against England, indolent for seventy minutes against Italy in Paris and apathetic in Cardiff; they went into last Friday's match with two wins but anything other than a Welsh win would have surprised me despite Wales's own travails in Ireland.
Problems for France
France are going nowhere under Philippe Saint-Andre. Performances have been consistently poor in his time in charge and results have generally been awful. The team played as if they would rather be somewhere else. Discord between the national team and their clubs is not helping but for the French manager to consistently blame the clubs for his team's performances is disingenuous at best.
His facility to criticise clubs rather than deign to undertake diplomacy and bring club and country together is only another aspect of what looks like a failing enterprise. France could yet win four games, France could yet win the title but under this stewardship they have absolutely no chance of winning the World Cup. France has too many fine players to be in this mess.
When Stuart Lancaster took charge of England he too had a mess in terms of relations between club and country. The clubs were unimpressed with the previous Martin Johnson regime but Lancaster worked assiduously to bring club and country together. The relationship is not perfect but it is good enough for England to feel happy with the way things are progressing.
The win at Twickenham was arguably their best win. It was probably not their best performance with ball in hand, that award goes to the win against New Zealand in 2012. But this was a better win in that Ireland was on its game and England showed huge character to come back from ten wonderful minutes of Irish rugby from the 40th to 50th minute and not just retake the lead with Danny Care's try, but then show the iron resolve, discipline and game management that they lacked when they lost in Paris.
A step forward
They are far from the finished article but the core of a World Cup squad is in place and maybe now the ridiculous itch to get rid of the captain is finally laid to rest. This was one of the best Six Nations games seen for a while and victory is undoubtedly significant.
But let us head back to the theme of results and performances. This was a tight affair. Had the match been played in Dublin there is a better than evens chance the result would have gone the other way. A defeat with an almost identical performance would have several members of her majesty's press berating a win record of one from three while Ireland would be hailed as superheroes marching towards Paris for a Grand Slam. Ireland is not a poorer team for the result and England not better (although they will have learned much).
The most important element of the game once the adrenaline stops pulsing is the quality of the event. It stands both teams in a good position as the preparation for 2015 builds beneath the surface. Given the far less experienced nature of the England team, the fact that Ireland has some rebuilding to do before the World Cup and that the competition is in England (where I have Ireland down as a possible semi-finalist), England gained an edge over Ireland.
They will not want to let Twickenham fall against a Wales team who were back near their Six Nations best on Friday. From the first to last charge, Jamie Roberts was an immense presence in the midfield while Sam Warburton played one of his finest games in a Welsh shirt. The wide margin of victory has rekindled hopes of three titles in a row but it is the ability to play at the level we saw Friday that excites me more than the backyard battle.
Win or lose Wales, England and Ireland played at a pitch where they could give the Tri-Nations plenty of trouble. With the World Cup coming our way this, and not who claims the title, is what has grabbed my interest in the 2014 Six Nations.
Stuart answers your emails...
Got a question for Stuart? Email him at skysportsclub@bskyb.com or use the feedback form below...
Hi Stuart, Clive Woodward has called England's win over Ireland a defining moment in their development and can now go and become something special. I'm delighted that England got the win and was impressed with some of their players - especially Launchbury - but could we not hold off all the 'we are going to win the world cup' cheerleading until we have won the 6n and returned from the summer tour with a series win over NZ?
Michael Dawes
STUART REPLIES: Michael, England don't need to win the Six Nations or win a series in New Zealand to win the World Cup. What they need is a game capable of living with the best. That seems to be developing, hence Woodward (and my) growing interest in what England are trying to put together.
Stuart, great win for England but they still making far too many errors of judgement, why try to bulldoze your way through when you have an overlap?. I also feel that Jonny May is making too many mistakes. I can see why he is in the team but he is far from reaching his potential and, in my opinion, offers less than other available wingers. Do you think his place will be in jeopardy when Yarde and Wade return?
Christine Tolson
STUART REPLIES: Christine, May's ability to open a field on the counter attack is a priceless weapon in this era of organised defence. He missed a glaring chance but when you watch him finish for Gloucester you know this is not a long term problem. England's battle for wings is competitive but if Yarde and Wade are to slip back in when fit it is probably Jack Nowell - who does have to prove he can finish - who is the more vulnerable of the two.
Stuart, do you think winning the championship on points scored difference is just a bit underwhelming and anti-climatic? Surely the sooner they bring in bonus points the better?
Jean Tagger
STUART REPLIES: Jean, I agree 100% with you.
I'm not sure if you will agree with me Stuart but I know you don't get caught up with all the media hype! It was an absorbing weekend but I felt it was lacking in quality at times. I thought Wales and France were both dross - when the MoM has been sent to sin bin for not being able to do his job says something! England crept home, but should have scored more.
James Owens
STUART REPLIES: James, I think you are harsh here. Wales were splendidly powerful (with Roberts and Warburton my subjective pick of MOTM) and the England-Ireland game a pulsating contrast of styles. England are not a World Cup winning team by a long way but they are definitely heading in the right direction at a fair old rate and that is something I have not said for over a decade...