Stuart Barnes: England v Ireland will be a ferocious and brutal game of chess
Stuart Barnes says England and Wales will severely test Irish and French Grand Slam aspirations.
By Stuart Barnes
Last Updated: 17/02/14 10:23am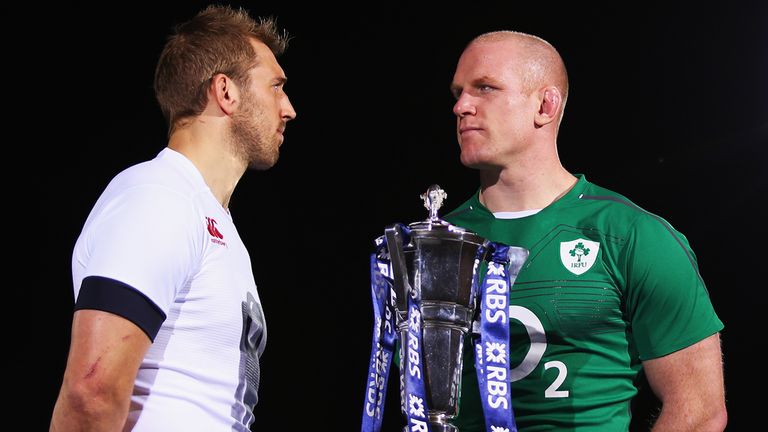 France's Friday night collision with Wales in Cardiff is set to be quite a test of their credentials while Joe Schmidt is busy telling the rugby world that England at Twickenham represents the severest barrier to dreams of a Grand Slam in his first year in charge.
He is probably right. England are definitely improving. Stuart Lancaster's team are playing with greater tempo and, with the extra zip to their game, are getting onto the gain line with far more frequency. Owen Farrell has played with some degree of threat on that line while looking tentative controlling a game from deep.
Where he plays will be crucial to the result. If he drops deep Ireland will have succeeded in slowing England down. If the pace of the home side's game is checked the chances of Danny Care being as effective as he has for the first two games diminishes and with it the improving England game.
The Irish coach has a reputation for assembling teams with great passing skills. He did it when backs coach at Clermont Auvergne and he did it with spectacular success at Leinster. But Schmidt's greatest asset is his capacity to cover every angle of a game. If Ireland need to keep it tight, drive some lineouts and apply their trademark choke tackle so they will.
Their first two games have been dominated by the capacity of the forwards to control the flow and speed of possession and their excellent half-backs to put them in the right place with the boot. In contrast, England's attacking game has been the sharp and inventive element of greatest note. On Saturday they will need to roll up their sleeves and fight for every bit of quick ball against an experienced Ireland pack. If they manage this, Ireland will possibly send Jonny Sexton flatter and introduce that exquisite passing game rather more than we have seen to date.
Compelling clash
So much for the light and shade; the personal confrontations are fascinating. Ireland will hope for an injury-free week and afternoon for Cian Healy. The loose head is playing just about as well as anyone in Europe at the moment. His usual excellence in the loose is being matched by an added edge in the tight. A fit Dan Cole might have struggled, and presumably it will be Bath's Davey Wilson tasked with shouldering the critical burden of guaranteeing a solid England scrum.
At hooker Dylan Hartley and Rory Best will be doing their part to influence the front-row battle. Both men are in fine form with Hartley, in particular, bordering now on world class. He might need to be because Best has left his Lions malaise well and truly behind him.
Behind them is arguably the most compelling clash of them all. Paul O'Connell is playing some superb stuff, bringing all his test match experience to bear. He faces Courtney Lawes, who is fulfilling his potential as the finest English second row since Martin Johnson. The Saint has the edge in dynamism, the Munster man the know-how. Their battle alone will be worth the heady Twickenham ticket prices.
Behind the scrum Conor Murray's power and growing maturity meets the razor sharp and also maturing game of Care while Sexton seeks to show Farrell that the master/apprentice relationship of the Lions remains the same. Beyond them in the backs there is another clash of the ages with the venerable Brian O'Driscoll bringing all his tricks and defensive wiles to London to combat the raw power of Luther Burrell. Behind them all Mike Brown and Rob Kearney are two of the best full-backs around.
Sexton, in particular, given the right platform, is bound to test the inexperience of the exciting English wings which means Brown will be busier than usual - and that is normally worker bee busy. England are improving, physically powerful around the park and at Twickenham. Ireland are more experienced, the form team in the tournament to date and have fewer seeming match-losing weaknesses.
Don't write off Wales
On Friday Wales must bounce back from their drubbing at Irish hands. They did it last season, not losing after Ireland won in Cardiff on the opening day. I would not be in any hurry to write off Wales. They have plenty of power and are a determination to deliver a performance in front of what is always a wonderful home crowd. There are signs of ageing and worries ahead with the World Cup looming but this team has a performance in them this week, if not next year.
Mike Phillips needs to find the game he brought to Cardiff against England while Sam Warburton and Warren Gatland will be desperately hoping that an extra match at the weekend for the Blues will have stripped the captain fitter after being comprehensively outpointed by the Ireland back row.
I travel to Cardiff on Friday with high hopes of seeing George North tearing into France. I would love to see him still on the wing but with the power obsession of Wales's management it is likely that he will play 13 in the absence of Scott Williams and James Hook will remain on the bench. It was not so many years ago Hook cut open England from 13 but he is out of favour and coaches are like teachers, remembering and forgetting what they want.
France will have to remember to play at some sort of pace. For ten minutes against Italy they were electric, for seventy a funereal. They were a threat to England when the pace of their game was raised but more often than not they have dropped the tempo required to bring an exciting set of backs into play. France have a big pack but it is a lumpy one and Wales will back themselves to move it around, keep the ball in play and run them off their feet - aka 'Gatland-ball'.
Wooden Spoon
Less dramatic but no less important for the teams involved, the likely battle for the Wooden Spoon will be fought out in Rome between Italy and Scotland. On a form line Italy are clear favourites. They played well against Wales and were able to go toe-to-toe with France for most of the game in Paris. Scotland, in contrast, were hammered by both Ireland and England.
Scotland may have played the best two teams in the tournament, however, which makes the form line a less simplistic reading. I would love to see Stuart Hogg in full flight as he has been in years past against Italy but in a weekend where results are not easy, I venture from the fence just the once in this column to tip Italy to win.
Stuart answers your emails...
Got a question for Stuart? Email him at skysportsclub@bskyb.com or use the feedback form below...
Stuart, Do you think Sam Burgess has any chance of breaking into the England squad ahead of the World Cup, as he says he wants to? I just can't see it. Where would he even fit into the Bath backline? And if the reports are right, what do you make of the RFU's policy of putting up the cash for a Premiership team to sign a player such as him - surely unfair on the rest of the Prem sides? Thanks.
Phil Dean
STUART REPLIES: Phil, forget the back row... it is centre or nowhere as far as 2015 goes. Having said that it would be hard on Kyle Eastmond if Bath dropped a fast improving ex-league man for another of a very different style, they could actually be a tasty partnership in time. As for Bath being funded, I think my old club has quite enough money but the RFU would clearly like some degree of control over Burgess. On a slightly different subject, if this deal goes through it further illustrates the gap growing between the rich clubs and the rest.....
Stuart, do you think Ireland's lineout and maul can be as effective against England and the thoughtful planning of the English coaching team?
John Kean
STUART REPLIES: John, maybe it will, maybe it won't. The key for Ireland (and any smart attack) is to keep England guessing. Maybe they won't even attack through the lineout, rather commit England's pack with the threat and play Sexton on and over the gain line. This is a right old game of chess ahead of us.
Hi Stuart, at what point do you think Tom Young's throwing into the lineout becomes a real issue and the coaches think of dropping him from the matchday squad? And can England win the Six Nations now Dan Cole has been ruled out?
Steve Norman
STUART REPLIES: England can win the Six Nations with or without Cole, the title is in their own and Welsh hands. As for TY I think he is lucky to stay ahead of Rob Webber on the bench because his set-piece work has let England down at crucial moments. I would keep Hartley on for 80 if his legs and lungs take him all the way at Twickenham.
Hi Stuart, the French press over here are waxing lyrically about France winning the Grand Slam (and they might), but after watching their first two games they really seems to be no game plan, or leadership. Individual performances (Fofana, Nyanga) are one thing but they seem lacking in any collective creativity and go forward...any thoughts?
STUART REPLIES: I am not yet impressed. Much more is needed on Friday.