Stuart Barnes: Ireland's trip to Twickenham to take on England is shaping up to be a Six Nations classic
Stuart Barnes is highly impressed with Ireland and cannot wait for their trip to Twickenham.
Last Updated: 10/02/14 5:44pm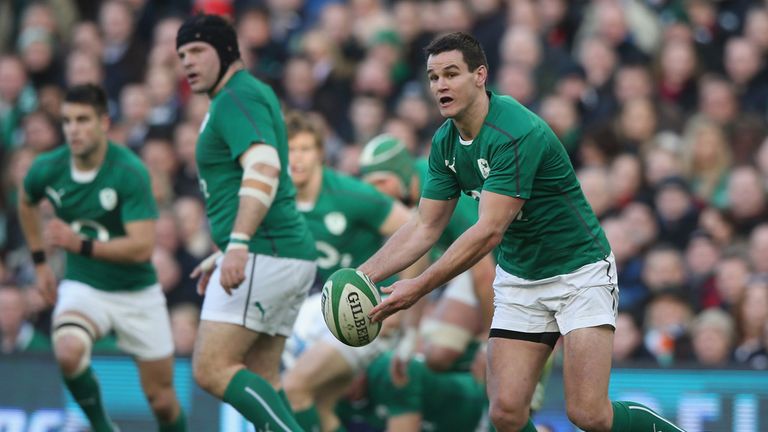 Having been so comprehensively outpointed in Dublin the chances of Wales winning the title are slim indeed, especially having only beaten Italy at home by eight points. Wales and their core of winning Lions looks a weary outfit but a Friday night with the roof down and the pressure on is likely to ignite whatever they have left in their locker.
It is most improbable that Wales will win the Championship again but with France and England to face they still have a major say in the team that would take their crown. It will be a heavyweight collision in Wales but the most fascinating game of the weekend has to be the England match with Ireland at Twickenham.
Both these teams will be pleased with much of what they achieved on the weekend. Ireland in particular appears to be finding a complete game under the magnificent rugby mind of Joe Schmidt. To twenty point margins of victory is a fine consolidation on the excellence of their gut wrenching defeat against New Zealand. It is some time since Ireland has produced three such consistent and well balanced efforts.
The technical skill of the Leinster game is merging with the muscle and nous of the Munster men while Ulster is also bringing plenty to the party. Suddenly the fusing of these three powerhouses is looking far from the problem in seemed for Declan Kidney.
Masterful Sexton
It is epitomised by the half back partnership of Conor Murray and Johnny Sexton. In particular the fly-half has left his struggling French form behind. His control of the field had been masterful so far. Back in tandem with Schmidt he is playing every bit like the outstanding fly half in Europe that he is. Murray's pass is sharp, his box kicking game is accurate and the constant physical threat he brings to the fringes is always there. He has left Mike Phillips behind. If the Lions played the All Blacks tomorrow these would be the half backs.
There would be a few Irishmen in the front five as well, notably Cian Healy and Paul O' Connell. The loose head is as good as any player in the world in his position while O' Connell was magnificent for the fifty four minutes he was on the field. Ireland are the more experienced team and the one playing with the greatest assurance but ending a run of consecutive defeats against England is going to be far from easy at Twickenham.
After the match in Murrayfield, the Scottish manager, Scott Johnson decided to sit on the fence when asked about the likely result when these teams meet. He observed that Ireland would cause problems if the game broke up but if it was closed down England's driving game would pose problems.
I would suggest that Johnson's assertion is wide of the mark. Ireland's forward game blew Wales away as assuredly as they had Scotland a week earlier. The backs are, if anything the back- up boys to the pack with the half backs tactical excellence the very core of the team.
Attacking England?
England's conversely has a solid pack but it is the increased tempo of the attacking game that is the most prominent aspect of their season to date. There is - at last - attacking improvement from a team that has defended well but done little constructive for the best part of a decade.
Chances were blown that against Ireland need be taken but chances are being made. Before the Calcutta Cup much was made of the difficulty England has had in Edinburgh in recent years. The story was peddled that the savagery of the rivalry levelled the game. Well on Saturday we saw the truth. Scotland are no worse or better than they have been for years but England with a determination to attack were able to beat Scotland with the ease that New Zealand manage time after time.
England's barren rugby of the last decade is being revealed by the pursuit of a positive and winning style of play. Possession is no longer something to be treasured to the point of it never being risked. The breakdown now aims at quick ball, not safe ball and that gives the attack a split second more in which to attack. It requires a scrum-half to get to the breakdown rapidly or risk turnovers but with Danny Care whizzing around they are not afraid to take the odd risk; therein lies the possibility of dangerous ball, not slow, secure and ultimately average possession.
Care managed the game well. Owen Farrell was off-key and the scrum-half took control of the game management. Behind him Luther Burrell was powerful, Johnnie May has an unorthodox element to his game that challenges any defence and Mike Brown was fabulous in horrendous conditions.
Ireland is playing the best and most mature rugby but England are capable of much improvement with a fortnight preparation to the game. Having home advantage also aids their cause. It should be quite some game, one to savour but not one to wager upon. Round Two was interesting, round three will be fantastic, some of the best quality Six Nations rugby we will have seen in some years.
Stuart answers your emails...
Got a question for Stuart? Email him at skysportsclub@bskyb.com or use the feedback form below...
Stuart, I've just watched the France game and would like your take on the red cards. Do you believe Rabah Slimani's crime was befitting of equal punishment to Michele Rizzo? And what about the yellow card for Sebastien Vahaamahina? That seemed harsh.
Fred
STUART REPLIES: Fred, I always feel sorry for the person who reacts in such a situation. As we saw on Sunday there is such a thing a human nature and what Slimani did was a classic example. Having said that, a butt is an automatic red card offence but the authorities should definitely err on the side of leniency for the Frenchman who reacted. As for the yellow card, I actually think there is no place for petulance in the sport and fully endorse the referee Jaco Peyper's decision in that instance.
Stuart, England's back-line look like they're improving and I was really impressed with Jonny May's pace and inventiveness and he and Jack Nowell are always looking for the ball while Billy Twelvetrees and Luther Burrell seem to have a good understanding. Do you think this means that Manu Tuilagi could be switched to the left wing when he comes back from injury?
Jack
STUART REPLIES: Jack, I agree that this is the most ambitious England attacking game we have seen for many years, the forwards are trying to win quick ball and Danny Care is getting his midfield on the front foot. Without these foundations forget wider attacking rugby and these foundations have not been in place for a long time. Now England have them they look more threatening, there is balance in the centre and there is a determination to get involved out wide. In Jonny May's case he also possesses that ability to do something unstructured which so panics opposing defence coaches and makes him an interesting long-term contender when everybody is fit. As for Tuilagi he will re-enter the equation in New Zealand but with three more games of Six Nations rugby it may be too early to even worry about the exact position.
Stuart, What's going wrong for Wales?
Luke
STUART REPLIES:
Saturday wasn't so much what went wrong with Wales as what went right with Ireland. Wales may be suffering 'Lions-lag' but in Dublin it was the mental sharpness of the opponent that was the key factor; Joe Schmidt simply outsmarted Warren Gatland. As Wales play such a similar style of rugby year after year in the Six Nations there was bound to be a time when the opposition caught them up, Saturday may just have heralded that day in Europe.