Stuart Lancaster should have free reign with squad selection, says Stuart Barnes
Stuart Lancaster must have free reign with selection until after the World Cup, says Stuart Barnes.
Last Updated: 06/01/14 11:12am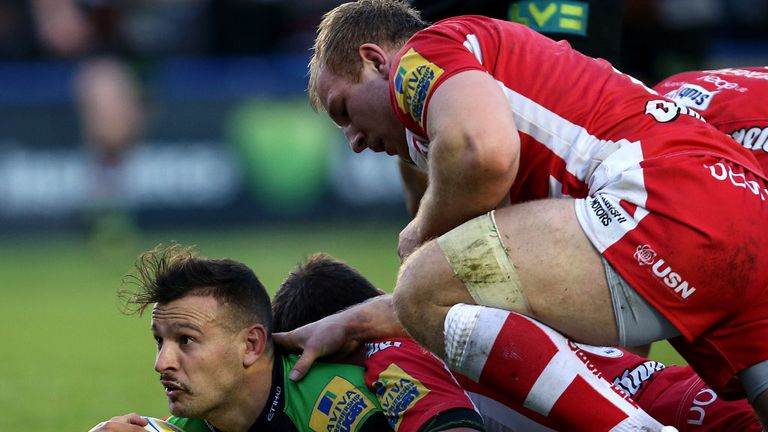 But the EPS will include players who could be fit for the New Zealand tour, players who are injured and out of action so men like Tom Croft will be named in the EPS this week only to be omitted when the Six Nations squad is announced next week.
That allows him some flexibility to name certain players in the Saxons squad but shift them into the full squad a week later; certain flexibility but not the total flexibility which comes from having the freedom to pick the squad as and when.
The clubs will understandably argue that complete freedom is a step too far away from their ability to plan the season in terms of players availability or otherwise. They have a point but with the World Cup next year it would have made sense to allow Lancaster free reign from the start of this season until the end of the World Cup.
It is not the end of the world for the manager but it is a disadvantage compared to the freedom teams like New Zealand and South Africa have in planning their long term campaigns.
I guess the English model is the inevitable result of the clubs taking control of the professional players back in the 1990s and the Southern Hemisphere teams centrally contracting their professionals.
The one system works primarily in favour of club, the other country. The pair works in favour of the employer. It does not work in favour of Stuart Lancaster.
It seems ridiculous that so many players, whose best form yardstick is going to be measured in the pressurised Heineken Cup fixtures ahead in round five - give or take a little selection fiddling here and there - will know their international destiny three days before matches that will reveal massive amounts to the England management, either good or bad.
Fortunate?
Danny Care might well be a beneficiary. His Harlequins team will be up against it when Clermont Auvergne comes to London. Clermont has a habit of cracking when the pressure is at its maximum but in terms of survival maximum pressure is heaped on the home team. If Clermont choose not to crumble it is going to take one of Harlequins finest efforts to prevail, even with home advantage.
The extra power of Northampton revealed a few cracks in the Harlequins make up no matter how much Conor O' Shea deflected the concerns onto the referee (it must be said that the decision not to send George Pisi off for his high tackle on Matt Hopper was astonishing). Clermont are another team whose power can light up a small town. The away team are favourites and Care could be on the back foot.
So why could Care be fortunate? Because Saracens meet another immense French pack in the shape of Toulouse. The speed and shape of this team is dwindling away under Guy Noves static management but this remains a formidable challenge and if Richard Wigglesworth starts and performs at the level he has often reached this season (I am thinking especially of the Saracens devastation of Leicester over Christmas) he could easily topple Care and Ben Youngs as EPS choices.
The likelihood is that he will play for the Saxons and be slipped into the EPS if Lancaster feels he is in contention but this is deeply dissatisfactory. For the record, Saracens should forget about Toulouse's record and head their expecting a win.
They are playing with aggression and accuracy enough to revenge the Wembley loss and take control of the pool, setting themselves up for a home quarter final.
Miracles
Gloucester is another team loaded with men Lancaster needs to see. Freddie Burns might actually need the game if he is NOT to drop into the Saxons. Jonny May, Matt Kvesic and Henry Trinder are others whose selection could and probably should be decided one way or another after Munster arrives in Kingsholm.
Gloucester was the victims of 'the miracle match' in Munster when the Irishmen scored four tries back in 2003 and won by exactly the right - and huge - margin to steal the Heineken Cup pool. On the basis of the Englishmen's form it will be an even bigger miracle should Gloucester win, Kingsholm or not. The Cherry and Whites are in a dreadful state.
Do not be fooled by the fact that the Saracens defeat was preceded by a pair of Premiership wins. On Saturday my newspaper round took me to Reading where those conquests met one another. Worcester, who Gloucester beat at Kingsholm by 6 points and London Irish, who they edged past by just three in Reading.
It was 12th versus 11th it was diabolical versus plain rotten. Munster is not playing brilliantly but they know how to win. Another away win looks likely at 6pm on Saturday night. Finding a home win to go with three significant away tips, I'll stick with Ulster at home to Montpellier but the fascination in that pool could revolve around bonus points with Leicester looking to keep the pressure on with a full tally in Treviso.
On the subject of Leicester, George Ford and Anthony Watson have surely sealed their elevation into the EPS, especially if Toby Flood is heading for France next season. If London Irish and Worcester was a PR disaster for the Premiership, this was an excellent advert.
Happy New Year everyone, hope you'll be glued to the European action this weekend, I know I will.
Stuart answers your emails...
Got a question for Stuart? Email him at skysportsclub@bskyb.com or use the feedback form below...
Hi Stuart, what do you make of the rumours that WRU considering centrally contracting several Wales players (including Warburton, AWJ, Halfpenny) and loaning them to teams in England? Sounds a bit desperate to me and something that would be totally detrimental to the game in Wales, Cerith Jones
STUART REPLIES Cerith, I think that sounds like another of the many rumours that will amount to nothing. However, word on the street suggests Leigh Halfpenny is heading to Toulon and with the attrition and slow nature of weekly French rugby I reckon every Welsh star that heads to France weakens the national team.
Stuart, do you think that more clubs should be looking at going down the artificial pitch route like Sarries and do you think their pitch has had an impact on how they play and where they are on the table at the moment? Gavin Magdan
STUART REPLIES: Gavin, None of us want to see the game played on bogs and if the alternative is say, Paris or Cardiff, I am all for it but rugby is a game of seasons and I prefer a well kept pitch that will range in texture from firm to soft and enable teams with big packs to have an advantage in some conditions and teams with great backs to benefit in others. As Saracens are the only English team with such a surface it must be an advantage but given the form of Saracens they would be top two in England whatever the surface. I fancy them strongly next Sunday.
Happy New Year, Stuart, I was wondering what your thoughts were on Kyle Eastmond and what happened to him at Bath? It does look like he has sorted it all out and I do hope he now has the support that he needs to develop - not only on the pitch but in general life too. Do you think that clubs need to take more responsibility of player welfare? Many thanks, Charles Paulos
STUART REPLIES Charles, I'll comment about players on the field but private affairs are something I keep out of. I don't know the details of his life and if I did I really believe it would be beyond my brief to comment. I truly have no idea whether Bath are outstanding in their efforts towards player welfare or neglibable, therefore, no comment.
Stuart, every time Sale do well I open up a paper or click on a website to see headlines like 'Will Lancaster take a chance on Danny Cipriani' or 'Cipriani back in the England running'. Seriously? While I have enjoyed watching him play and believe he is doing great for Sale, he is not the future for England and it annoys me that we see these type of headlines. We should be bigging up players like Ford and Burns and I was wondering why so many 'journos' seem to jump on the same bandwagon? Any insights into the minds of your esteemed colleagues? Norman Dellar
STUART REPLIES: Norman, I am with you on the Cipriani angle; wrote just such an article in the Sunday Times over Xmas and said the same on the Rugby Club. The more men on the bandwagon the less chance of you being exposed. The easy life can find its way into the hardest working and most conscientious of men.....not sure that Freddie needs 'bigging up' at the moment. We'll be lucky to hold off the consistency of Myler and the potential of Ford.