Stuart Barnes blogs on Quade Cooper and European nations' failings
Quade Cooper was 'majestic' for ever-improving Australia in their win over Wales, says Stuart Barnes.
By Stuart Barnes
Last Updated: 03/12/13 1:23pm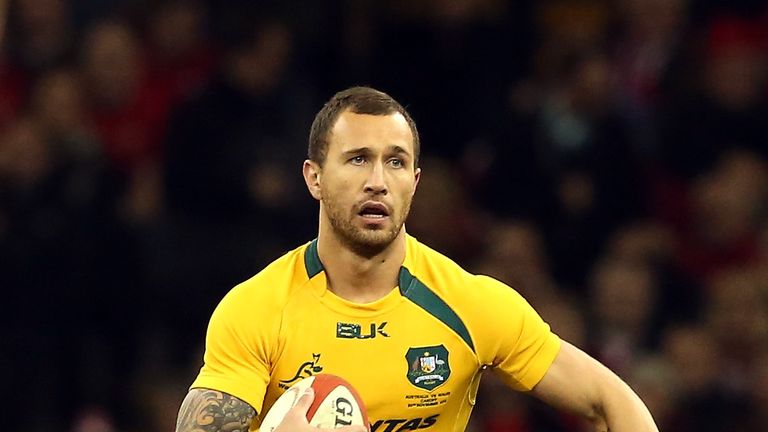 Wales went down to a ninth straight defeat against the Wallabies - so much for the psychological importance of the Lions' series victory for the Northern Hemisphere.
The big three suffered just the one defeat on away territory as the gap between the north and south remains as great as ever. Already I have heard the excuses trotted out.
Warren Gatland's criticism of Wayne Barnes and the inference that he would have refereed the All Blacks differently was cheap, and as for the explanation that the Southern Hemisphere teams have been together for months, well, that is true but they were away and when their season starts and our nations travel to the Southern Hemisphere, just look at the results and records.
At the moment the best three teams in the world appear to be New Zealand, South Africa and Australia. England did beat the Wallabies narrowly at Twickenham but the quality of Ewen McKenzie's team's performances in Dublin and Cardiff was high indeed.
The icing on the Australian comeback cake has to be Quade Cooper. Cooper answered his global array of critics with one of the most majestic and magical fly-half performances we have witnessed for years.
The sleight of hand, the positioning and angles he took up. The fabulous footwork and the unerring accuracy of his tactical judgement, was inspiring.
This was a rare performance, a great performance. Cooper played with conviction and wit all tour but this effort was off the scale. For rugby fans it was the perfect ending to November.
For Australians it was a gigantic boost. It is not just the losing streak Australia suffered before winning their last four Tests. It is the way they played.
Under Robbie Deans and the early nervous days of McKenzie, they were turgid. They kicked a lot - nothing wrong with that - but they kicked aimlessly. The Queensland Red coach has changed the style both quickly and impressively.
Distant
This style is one familiar to Australian Union fans. No longer predicated on Deans' conservative Test style of keeping ball for its own sake, the speed of Australia's game has gone rapidly through the gears.
And here we get to the bottom of the reason why European rugby remains a distant second best. During the series I heard former European Test coaches talk endlessly about the need for processes whatever they are and going through the phases. What twaddle!
European rugby looks, predominantly, to secure quantity of possession, whereas the Southern Hemisphere most values quality of possession and quality means quick ball. Australia and Cooper could not have mesmerised as they did with the speed of ball Deans' teams had been producing.
The All Blacks' record almost went in Dublin because a clever Kiwi coach had his team throw everything into the breakdown and produced the quick possession that no defence in the world finds easy to defend against.
They, along with Wales and England, showed some glimpses but the challenge in the Six Nations is to accelerate the game, not settle for a slower safer game as Wales have done for a few years and England most certainly did last season.
By the time they went to Cardiff in March their game was almost slow motion, focused on being harder to beat than impossible to stop. Mindset is a word that weighs heavy in the England camp, the difference between being stopped and stopping others is a whole rugby ideology.
Occasion
Staying on the international theme, it is Heineken Cup time again and there is no doubt where the centre of attention is this weekend.
Northampton versus Leinster will be a marvellous occasion and there is reason to think the game can match the occasion. The best of Ireland against New Zealand revolved around the hard running, big hitting and tactically clever Leinster forwards.
Cian Healy, for one, arrives in Northampton looking to remind the Saints fans there is more than one world class loose head in Europe. Northampton's charging back will be met with the fire of Sean O' Brien and Jamie Heaslip looks to be in top form, too.
The two sides produced one of the great finals in Cardiff when the Saints pack blew the Irish team away for 40 minutes but ran out of puff, inspiration, call it what you will, as Jonny Sexton and company delivered an attacking master class in the second half.
This time there is no Sexton and no Joe Schmidt. Under Matt O'Connor, Leinster's defensive knowhow comes more to the fore as they showed when closing the Ospreys down in Swansea.
The Saints will take some closing down. The pack are as strong as ever in the tight and their play in the loose is exceptional with Courtney Lawes, Dylan Hartley and Samu Manoa as belligerent a trio of runners as a team could wish to have in their ranks.
Alex King has added balance behind and if George North can maintain his form from the weekend it will take a champions' performance to stop the Saints with their crowd behind them.
Fate
All the pressure is on the Saints. If they lose this game they have to win in Dublin and hope Leinster lose in Castres. If they win, they will still probably still have to win at Lansdowne Road but at least they would be in control of their fate. It promises much.
Leicester versus Montpellier is an intriguing East Midlands Sunday game. The French were flattened by Ulster in France. Will they have the fight and if they do will scrum supremacy and the kickable penalties that brings be enough against a team with a potentially powerful scrum of its own?
The Tigers cannot afford another slip now Ulster have that French win under their belts. And then there is Exeter and Toulon.
Exeter have lost a few games recently and many will write them off for that reason but Rob Baxter's team are no strangers to raising their game and a quick viewing of Toulon's dismal effort against Stade Francais will remind the team that this is not a Europeach champions team to fear.
The weekend starts at Worcester on Thursday before the Heineken action begins with Cardiff Blues versus Glasgow. That is the Exeter and Toulon pool where all four sides have won one game - there is plenty to play for.
I'll be glued to the television on Friday before a weekend in the East Midlands, if you cannot get to a game join me on the box...
PS. For those who wondered about the Bob Dylan Albert Hall gigs, let's just say they were on a par with Cooper's level of performance.
Stuart answers your emails...
Got a question for Stuart? Email him at skysportsclub@bskyb.com or use the feedback form below...
Stuart, Do you think Wayne Barnes was right in deciding that Australia's third try against Wales was in fact a try and not a forward pass? Do you also think that he should have let George North play on and score the try and then refer it to the video ref?
Aran Lirds
STUART REPLIES: Aran, The hands went backwards. Warren Gatland knows the rules and is taking the headlines away from his terrible record against the Australians. As he was right for the George North try I see no problem with blowing early. It was a superb match, the deserving team won and Barnes was excellent. What is the problem other than the same old broken record from losing coaches (not just Gatland, the English criticism of the referee after losing 30-3 in Cardiff was different league cringe-worthy).
Seeing Quade Cooper running fast to get involved in the attack as soon as turnover was won which led to a try for Australia, illustrated to me why England won't win big games against the Southern Hemisphere teams with Owen Farrell's lack of attacking threat or his ability to make a great pass. Don't get me wrong, he's a good player but not what England need to beat the SH teams consistently.
Marc Plumpton
STUART REPLIES: Marc, It's more than Farrell, it is a way of thinking about the game. It's why British and Irish win ratios against the best SH teams is so bad. We look to stop others and convert all penalties into three points. If we were not stuck in our patriotic ways those with a love for the sport would cherish the teams that try for tries being the best.
Stuart, What do you think of the growing trend of coaches and players of blaming refs for results going awry? We've seen Rowntree, Gatland, McKenzie and Hansen all have pops in the last 12 months. Should they be allowed to openly question people like this while ignoring their own shortcomings? Heyneke Meyer never whinged about the sending off of Bismark du Plessis, so why do these other coaches whinge?
Len Sutton
STUART REPLIES: Len, I do wish refereeing societies in all sports would come clean when errors are made. This failure gives coaches some small degree of justification in going public but only small. I have addressed this elsewhere and like you, I think Heyneke Meyer sets a fine example. Good post.
Hi Stuart, How do you think Tonga, Samoa, and Fiji, who often show good traits in games, can test the major nations on a more consistent basis? Would placing them in The Rugby Championship be a good idea or make little difference to their progression?
Simon Thorp
STUART REPLIES: The ideal place for them is Super Rugby but with so many of their players starring for those teams this is unlikely. I fear economic reality will prevent them having the chance to develop like the world's larger rugby nations. As for joining The Rugby Championship, the tournament would be too big and unwieldy unless there were two divisions (as there should be in The Six Nations without doubt) but the chances of this happening are slim for the immediate future.