Stuart Barnes: England will need more than mental strength to beat New Zealand
Stuart Barnes says England's performance against Australia won't have worried New Zealand.
Last Updated: 11/11/13 9:39am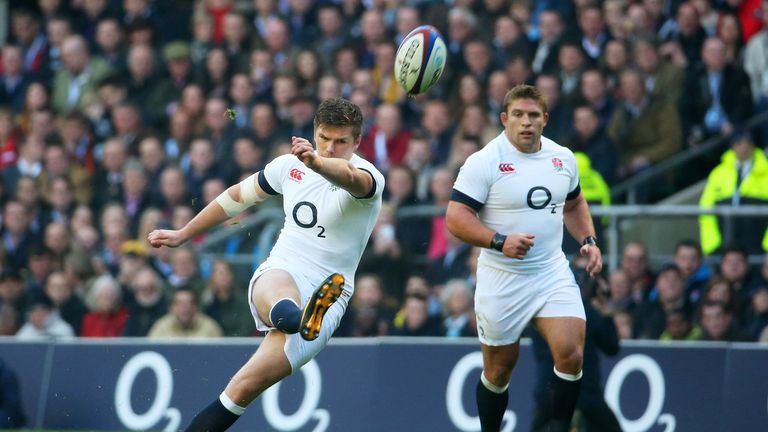 A repeat performance next Saturday will take them close to winning with something to spare against an Argentine team hammered by the loss of Juan Martin Fernandez Lobbe but a New Zealand ravenous for revenge would tear this sort of English effort to pieces. So would South Africa and Wales for that matter.
That is the bad news but there is plenty of good too. You have to poke beneath the ashes of this eminently forgettable game but they are smouldering.
In the rubble of an English middle that keeps collapsing under the slightest pressure the temperament of Owen Farrell stands out. There can be debate regarding the technical merits of his game but the bloke has an iron temperament. His mental ability to forget a first half that was less than average in all aspects and produce a strong second half is great news. He is not yet a great fly half but he is a winner and any side needs a few of those.
Average as England was offensively it was defensively potent around the fringes. Tom Wood was outstanding and Chris Robshaw was not far behind. The defensive work rate of Joe Launchbury and Courtney Lawes was very good too.
Billy Vunipola is another good news story. He was more effective for England than he has so far been for Saracens which is a fine sign. In a team struggling for the front foot he was the one forward with the combination of raw power and subtle footwork to get England over the gain line.
The other individual to emerge with credit is Mike Brown. The Twickenham crowd was subdued for most of the game (and understandably so) but every time Brown sniffed an opportunity to counter attack he took the game to the Wallabies and the crowd responded. Of all the players he was the one playing the role of Guy Fawkes and trying to ignite a patriotic crowd but one that knows enough to recognise a damp display.
Brown turned the game with a counter attack from his own line that ended with Marland Yarde bundled into touch by a majestic Adam Ashley Cooper tackle. Australia messed the line out up and Will Genia, enduring a nightmare afternoon, was charged down. Robshaw's reactions were quickest, he touched down, England were level and had the momentum to take control, which they did in a decent final quarter.
Well played Brown; not so well played Dudley Phillips who missed the fact that Brown's feet were just in touch. Australia should have been in position to launch a potentially try scoring attacking line out. Instead England took advantage of their incoherent effort to clear their lines a full ninety metres downfield. Games turn on decisions like these.
But the fact remains that Australia had the clearance in their hands and fumbled the ball and time to come back and yet they fumbled the game.
England, in contrast, rode their luck and ran out the winners and better team. Australia were weak mentally, England were strong.
Tick another box because this was the first full scale test match since the calamity in Cardiff and England found the belief to steer a leaky ship to safety.
Help from the bench
Lancaster also benefitted from a fine effort from the bench. It came into play in the second half and made a real difference. Ben Youngs injected a missing spark. Dylan Hartley added accuracy and edge in the line out. Both these men deserve an opportunity to start against Argentina to build a case for inclusion against New Zealand. Fifty minutes from the start and a half hour effort from Lee Dickson and Tom Youngs should enable Lancaster to select his optimum team for New Zealand.
The only other change foreseeable has to be in the messy midfield where Billy Twelvetrees poor club form with Gloucester translated into a scrappy international effort. His selection was based upon the potential to unlock an attacking game with his fusion of classy passing and hard angles. As it was the only classy passing came from the hands of Quade Cooper who at least produced a few useful tricks for the crowd.
Luther Burrell, if fit, is so far ahead of the Gloucester man on current form that he must start. Argentina is a perfect opportunity to breathe in test match air before the rare air of taking on New Zealand.
To summate a bad game, an average performance but a good result with plenty of positives lurking. A schoolmaster might say, 'far more dynamism and pace required in the future' in fact even a rugby broadcaster and journalist might say it. Much more needed but capable of improvement and undoubtedly these hard working grafters are willing to learn. The outcome of Saturday could prove better than the journey.
Stuart answers your emails...
Got a question for Stuart? Email him at skysportsclub@bskyb.com or use the feedback form below...
Stuart, Do you think England should field three different teams for the QBE matches to balance winning essential games with testing the last few 'possible' players who will strengthen the squad for the RWC? The players I am thinking about are David Ewers, Henry Thomas, George Ford, Jonny May, Luther Burrell, Kyle Eastmond, Henry Trinder and Elliot Daly.
Michael Ward
STUART REPLIES: Michael, Three teams is pushing it. Continuity is a key word and England will not - and should should not - treat the QBE games as trials. After the weekend Luther Burrell would be the newcomer from your list I would hope and expect to enter the equation with Bath's Anthony Watson my dark horse for some game time as Mike Brown's back up in the Six Nations. Trinder would have been my pick for this autumn but injury set him back and I don't believe it helps or is fair to someone like Joel Tomkins to make a debut without much happening around him and then being rested/dropped. I am a big fan of Ford's potential and am hopeful he too could nudge his way into the 2014 picture. Maybe Christian Wade is close to a start too.
Hi Stuart, I thought Joel Tomkins had a strong debut for England but do you think he has enough attacking potential to lift an invariably laboured England midfield? I'm not convinced he is the answer. Sarries aren't the most lethal backline and a potential three-quarters of Farrell, Barrett and Tomkins for England will scarcely strike fear into opponents.
David Peters
STUART REPLIES: David, I am not convinced either and am not quite so sure where his game was strong but see my point above. That is a midfield made to tackle, not one to win a World Cup.
With the World Cup just two years away, would any of the current England squad make it into the 2003 team, Stuart? I can't think of one that would. While they are relatively young and things can look differently when a team gets on a roll, is this not still a worry for England? As the Lions showed, man for man they're still a long away from having the best players in the world.
Thanks, Jim
STUART REPLIES:Jim. Good question. Alex Corbisiero would be pushing. Ben Kay would be coming under pressure from a few locks and that would be about it. But that is, as you write, more of a concern about the readiness of this squad than an indictment of these players. It is hard to see them developing into the stature of the 2003 team but players grow as teams mature. It is a worry but there is two years until the WC and hope is far from lost for England fans despite a rather dull game on Saturday!
Stuart which player are you most looking forward to watching this autumn?
Phil Warner
STUART REPLIES:Anyone wearing a black shirt and anyone wearing a white shirt against them that day...will New Zealand ignite England again? Away from Twickenham Eben Etzebeth is growing into one of the world's best players. I love to watch him and if Gael Fickou gets a chance for France he's another to watch out for.