England v Australia: Stuart Barnes says game is biggest in world on Saturday
Is the clash with Australia a no-win game for England? Stuart Barnes states the case for both sides.
Last Updated: 03/11/13 12:56pm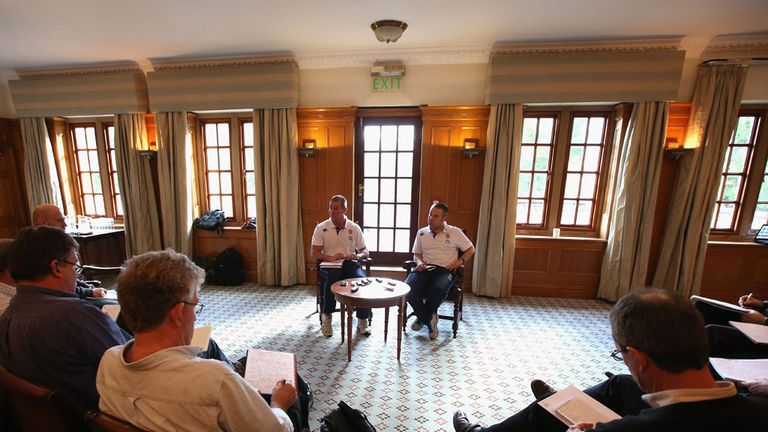 It's all a little bit imperial - confusing the British and Irish Lions with England. Israel Folau has been talking about revenge and several members of Her Majesty's Press were raising the subject of dishes best served cold when Stuart Lancaster addressed Monday's press conference.
We have been here before. Much of the media is portraying this game as one England cannot afford to lose, citing the Lions and Australia's win record of three from 10 this calendar year. Australia's legendary weak scrum and home advantage for England; nope, whatever the England manager says this is something of a no-win scenario for England.
Here's the case as addressed by Lancaster this Monday lunchtime. Australia beat England last season so know how to win in Twickenham - both true. They are improving - also true and their scrum is much better than we in the media reckon. Proof cited was the way they recently handled the powerful Argentine scrum in South America.
Add that George Clancy has no history as a hardcore scrum referee. By this I mean he has a habit of blowing his whistle at the scrum until there is parity or any advantage is negligible. Starting to sound worrying for England?
Well, don't forget Corbisiero is injured - but is expected to be available a week later - and Mako Vunipola had a tough time in the set piece in the Lions second Test in Melbourne... I am wondering by now how many points favourites the Wallabies are going to be?
And remember, they have been together since the Lions and in Ewen McKenzie possess a coach they want to play for.
They scored 50 points IN Argentina against the Pumas' full team and 33 in the defeat against the All Blacks in Dunedin. Panicking yet?
Don't give up on England quite yet. The scrum is not great; Argentina played a game of tactical ineptitude and while the All Blacks were majestic with ball in hand in Dunedin they were more lax than usual without it. It might just be that Australia was flattered by the respective scores in their last two games.
Psychological advantage
And England should have a major advantage with Twickenham being the venue. With the World Cup two years away its time to clatter on about that good old cliché, 'the fortress'; as Australia faces England here at the pool stage this is a game where some small degree of psychological advantage can be gained.
And, call me a cynic but what Mr Lancaster says to the public and what he says to the team are likely to be two different things. I actually would love him to say he expects to beat an Australian team that has a lowly 30% win rate this season but maybe a Grand Slam and a series win in New Zealand will be required to turn him into that sort of manager.
As it is he must expect them to win; this England team lacks Australia's experience (another reason to panic, folks) but the squad looks likely to have a lot of young talents in top nick.
I fully expect Courtney Lawes to be selected and would love to see Joe Launchbury alongside him. The young Wasp was taught a salutary lesson in Cardiff and will be the better for it. Long term this is a second-row combination to live with the All Blacks.
Tom Youngs and Dylan Hartley will give him 80 aggressive minutes at hooker and Dave Wilson and Dan Cole are capable of raising each other's game as the Bath man pushes hard for a Test berth.
Tom Wood's form is nice and aggressive and Chris Robshaw will enjoy a break from taking the rap for the stuttering boys from the Stoop. If the pack wins the front foot we might see the potential of Billy Vuniploa unleashed. This is potentially a good 80 minutes pack.
Imponderables
Behind the scrum there are a few more imponderables. One thing we do know is that Owen Farrell will not sit back and let Quade Cooper have the run of Twickenham. This contrasting clash of tens will be great viewing as will the attempt to squeeze Australia's world-class Will Genia. Now that sanity is restored and McKenzie has him starting nine England has to think how to neuter his presence.
Ben Youngs has some top Test match form against Australia but is currently way off his best so it could be that the Northampton terrier, Lee Dickson, will start. Dickson will also chivvy the pack which could weigh heavily in selection as England are not going to throw caution to the wind and go wide from the first to 80th minute - I presume.
Luther Burrell has the form at 12 but Twelvetrees has the distribution and experience which will count for plenty with a debutant 13. Trinder has been the best outside centre in England but has not played for something approaching a month. He only began training flat out this week.
So Joel Tomkins is bound to be 13 with Mike Brown deservedly back at his true position of full-back. Chris Ashton and Marlon Yarde are the nailed-on wingers. How will they handle Folau's kick catch game?
It is an exciting few weeks of international rugby with Europe trying to prove it can live with the Big Two. England has Australia and Argentina to handle before New Zealand. One step at a time, there's a cliché to end this column.
If you cannot get to Twickenham on Saturday watch it on Sky, even though New Zealand plays the same day it is the biggest match in the world that day, sorry Japan but I just don't see them beating the All Blacks as they did Wales in the summer... no, Twickenham is the centre of the rugby world Saturday.
I hope you are looking forward to it as much as I am.
Stuart answers your emails...
Got a question for Stuart? Email him at skysportsclub@bskyb.com or use the feedback form below...
For the kind attention of Stuart Barnes. Hi Stuart - given Kieran Read is widely being described as the best number eight in the world, how many other current New Zealand players do you think would be rated as the best in the world in their respective positions? Paul.
STUART REPLIES: Paul, first of all let's state that New Zealand individuals are at an advantage because of the quality of the team around them, or is the team so good because the individuals are brilliant... anyway, I'd have Retallick, Read, McCaw, Carter, C Smith and Ben Smith in my world fifteen to take on Mars with plenty of Kiwi cover on the bench.
I am a little confused in regard to the policing of the maul, especially when the choke tackle is used. Why do mauls almost always drop straight away during an effective choke tackle? Is it because the attacking side feel there may be a slim chance of retrieving the ball? Or because the defending side know that by dropping the maul, the referee will not penalise them and allow them the turnover? Should referees be looking to penalise a dropped maul, given that there is no reason for a maul to ever collapse in a heap? Dirk
STUART REPLIES: Dirk. The former, held up means turnover so get down on that floor. If the tackled man gets to the floor the carriers will argue that no infringement of the law has occurred. A good choke tackle never sees the tackling team collapsing said maul.
Well, we have now had time to evaluate these and I don't know if you agree, but for me they are an absolute shambles. I watched the recent Leinster v Connacht Pro 12 game, and was amazed to see that the referee was quite OK with Leinster pushing in the scrum BEFORE the ball was put in. Ultimately, of course, two Connacht players were sent off and a penalty try awarded the game to Leinster - or should I say GIFTED the game to them. So the team which obeyed the law and did not start pushing until the ball was in, by which time the tsunami of the Leinster pack already had an unstoppable momentum, are penalised - how can this be right? Since the new laws have come in, I have seen some referees award free kicks for early pushing, others with the behaviour outlined above, and yet others seemingly putting a finger in the air as to a decision on who to penalise. What I have not seen is an overall improvement in the success rate of scrums. Back to the drawing board? Brian
STUART REPLIES: Brian, I disagree. The laws are fine. If there remains a problem the fault lies with cheating teams and indecisive refereeing (that was polite!) When two teams want to scrum and the men with the whistle knows what he is doing the scrum situation has been much improved.
I have been a huge fan of watching Southern Hemisphere rugby for the last 20 years and I am still trying to come up with an answer as to why the All Blacks are SO much better at the game than anyone else in the world? Like in South Africa (and unlike Australia, England, France etc) it is the Kiwi's national sport but just watching them in last month's decider against the Boks - were they ever going to actually lose the game!? I can't remember a game like that where the Boks were actually favourites to go and roll the All Blacks over, but their performance in the cauldron that is Ellis Park was something to behold - would we ever have confidence in an English team to go and get a result like that at Millennium Stadium or Paris? And also if you could give me your quick reaction to the All Blacks recruiting Benji Marshall in time for the next World Cup, probably the most creative player to ever grace the NRL. James Gibbons
STUART REPLIES: New Zealand has a passion for the game, a culture that sees them in a different league to the rest of the world when it comes to understanding the game and doing the basics. As for England, never say never but it's a while away yet. As for B Marshall, sorry but I'm not qualified to say who is the best ever at anything as I've not been around forever and NRL is something I see now and then but hey, James, I need a life of sorts away from sport.