Stuart Barnes on the RaboDirect Pro12, the Premiership and the Rugby Championship
Stuart Barnes celebrates Zebre's maiden win in the PRO12 and reflects on the rest of the weekend's action.
Last Updated: 23/09/13 10:54am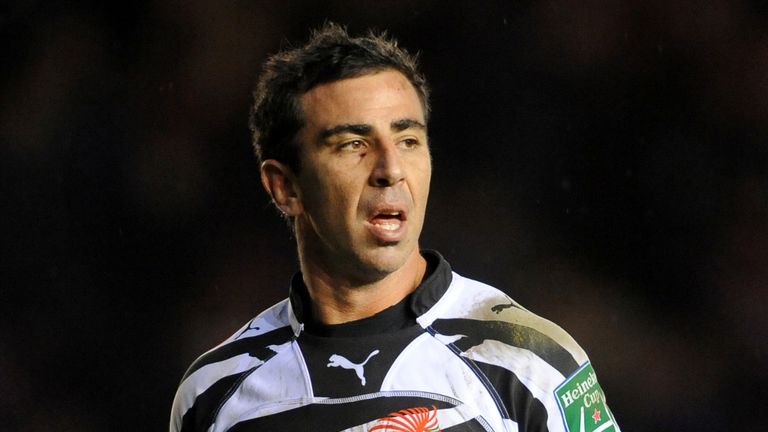 Outside of France, European rugby raised their glasses of Italy's exquisite reds to the fly-half and his inspiring muse. But sport's Gods are fickle and the next game the hero was stripped of his magic and looked a leaden rookie as Scotland crushed Italy with the fly-half throwing vital intercept passes into Scottish hands, missing kicks and generally enduring the sort of existence that do not happen outside of nightmares.
He blazed and disappeared and that was assumed to be that. On Friday night however he returned to the limelight in Cardiff. A very fine fly-half by the name of Rhys Patchell is supposed to rule over the new synthetic Cardiff Arms Park pitch but beneath the lights it was Orquera who starred again. He kicked his goals and drove his un-regarded Zebre team to victory against the Blues. 25-30 was the score line. It was one no Zebre fan will ever forget. Their first win; victory has eluded them in either the Rabo12 or Europe until this night. The weekend belonged to them.
If they were the club of the weekend, Italy was the European nation with most to celebrate. Their only other top-class team, Treviso, claimed the scalp of Munster on home soil. Treviso had a good season last year but 29-19 at home to Munster is up there amongst their finest efforts. As the European action - as opposed to the agonising talk - moves into view, the Italian teams suddenly look a not quite so obvious route to the best-placed runners up positions.
Friday was also kind to the other underdog nation of European rugby, Scotland. Glasgow beat the reigning Rabo12 and Amlin champions, Leinster, by 12-6. It could and should have been by a far wider margin. Glasgow demolished Leinster around the fringes and seems intent on maintaining their high standards of last season.
As for Leinster, shorn of several of their star players, there will be no panic but there should be concern. It was not so much the quality of individual as the manner of team performance that undid them. The new management has big boots to fill and on Friday's evidence they are not yet the right fit. There is the time and talent to sort these problems out but keep an eye on Leinster. Without Joe Schmidt they might just be vulnerable to teams other than Clermont this season.
Nightmare
Friday night was a nightmare night for another new manager as well. Dean Ryan suffered a terrible hammering at the hands of an impressive Harlequins team. The players may not be of the quality he would like but a similar squad of faces rarely took beatings line this under the man who recruited most of them, Richard Hill. Again, early days and no time for hysterics but Ryan has to find a lot more than we have yet seen from Worcester.
Harlequins DID show much more than we have seen to date with Nick Easter a star in the second row. What a fine footballer he is. The question is whether Worcester made it easy for them to revel in their off-loading antics. The weekend was rounded off at Saracens where the home sign displayed real intent at the breakdown and in the tackle. Bath were wiped out at contact in a first half that put the game to bed. Bath suffered a waking nightmare of their own making as they leaked thirty plus points.
They 'won' the second half but the damage was done as Saracens slipped their big men from the field. Even so, one has to wonder what would have happened had Dave Attwood, Matt Garvey, George Ford, Peter Stringer, Jonathon Joseph and Paul James all started.
When I saw the Bath team it struck me that the management had dismissed the chances of getting a result at one of the league's toughest venues; it was disappointing (not least since I had already written a George Ford piece for the Sunday Times that had to be torn up and started again) but in a league where qualification for the top four merges with a fully fit squad for the play offs, rotation is one of the key words in the world of selection.
Whatever the reasons for play offs - and the best is that international rugby clashes with the club game and leaves the best teams the most weakened, therefore the play-off system is a safety net for those who give most to the international cause - the fact is football's Premier League leaves both Union and League's version for dead because every game counts massively.
Bath are better than they looked and Saracens looked very good; good enough to be up there fighting on two fronts. They were eclipsed by the Saints and Toulon at the breakdown last season. They have been quick to address that problem. Keep an eye on Luciano Orquera, keep an eye on Saracens.
Overhaul
This weekend New Zealand face Argentina in South America and South Africa meet Australia on home soil. The favourites will fancy their chances but a four try bonus point win is a very large sub plot in the battle for the Rugby Championship.
If New Zealand gain an extra point over South Africa, it is hard to see the Springboks overhauling them but if Argentina resist and Australia crumble, it would only take a South African victory for them to claim the title...'only' and beating the All Blacks do not go well together but the venue is Ellis Park and the Springboks are smarting...all very exciting for those rugby union played at its summit.
Meanwhile Luciano continues to rise and fall and rise and so it goes, wonderful.
Stuart answers your emails...
Got a question for Stuart? Email him at skysportsclub@bskyb.com or use the feedback form below...
Stuart, what do you make of the latest James O'Connor drama? Why do these players think they can get away with beahviour like this and what would you say to him?Gavin Hess
STUART REPLIES: Gavin, I was never averse to a drink myself back in the days but there is a time and a place. Alas, professionalism demands the time is less and less available due to the demands of fitness and the place is certainly not public. A few players are letting Australia down with their behaviour and Ewen McKenzie has little choice but to drop O'Connor as he has. The egos have escaped at the very time when there is nothing for Australian players to celebrate. Individuals are a vital part of a rounded team but individuals and arrogance are two different things. I reckon that will be something along the lines of what McKenzie told O'Connor and possibly the whole squad behind closed doors.
Hi Stuart, some great results for Italian clubs - what do you make of Zebre's win over Cardiff and Trevison beating Munster and does that bode well for Italy rugby?
STUART REPLIES: The highlight of the weekend for me. I have addressed the subject in my column. Swallows and summers and all that comes as a warning amidst the deserved celebrations for Italian fans.
Stuart, On form who do you think is in contention for the England backrow? Michael Bell
STUART REPLIES: Form and selection are not always the bedfellows managers have you believe. Form is a tricky one after just a month. Robshaw was good on Friday, Billy Vunipola was excellent against Bath and Tom Wood is playing ok. The loss of Tom Croft and the slow start by Ben Morgan and Matt Kvesic is a slight concern but Stuart Lancaster will have his plans and form might not affect them.
Hi Stuart another sick Saints fan here! Do you think there's be a danger (as with the recent Ashes cricket) that rugby refs may have become too big a part of the news, rather than the players and the game itself - either by being seen to be sub-standard on TMO replays or just by being too intrusive in the game? Also do you think that we suffered not having Alex Corbisiero up front? And finally discipline aside, what are the key areas that Saints should be looking to improve? David Hill
STUART REPLIES: David, I think the TMO is an improvement but it is currently also a part of the problem because referees are not trusting their judgement often enough. The protocol of some of the questions and narrow band of answers available to them are teething problems but problems they are. It is an irony that refereeing standards slip as technology grows. It seemed to blight the Ashes (although I was in Australia for the first two tests, so quietly enjoyed cricket's problems!)
But the Saints issue was not about technology. How the officials missed the players offside from the kick-off I do not know, but two things here; how often do they look and none of the off side players 'interfered' in the kick-off action. Rather like an offside player who does not interfere with a defender and is therefore not penalised, could this explain the non actions of Mr Fox?
The failure to see the ball pop out of the scrums however; no possible explanation other than bad refereeing. It was tough on the Saints but Jim Mallinder was right to focus on what the Saints - not the refs must do. AC was a big loss and Gloucester arguably were just about the better team but that does not impact upon your team. No side will win every game. Kahn Fotuali'i has been a slow starter. He will broaden the variety of the Saints game when he finds his feet. No panic required just yet.