A nagging fear
Mounting injuries are making Stuart Barnes worry about the hopes of the Lions Down Under.
Last Updated: 17/06/13 2:45pm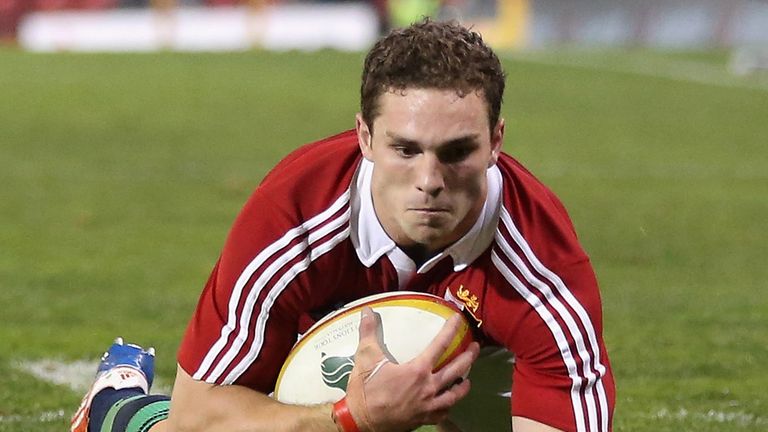 The gasp was audible; Sunday morning in the refined old world atmosphere of the Royal Automobile Club in Sydney and Andy Irvine read the Lions team sheet out, "Shane Williams." I swear he looked sheepish as he named the two years internationally retired Welsh legend's name.
His selection for Tuesday's game against the Brumbies (they appeared very impressive in training Monday afternoon) was the crowning moment of the 'injury crisis' story that has been simmering away.
Yet twenty four hours after the astonishing selection the Lions doctor, James Robson, was scotching the idea that the physicality of the game was at an uncontrollable, runaway level. The good doctor (whose daughter, Emma will be 15 on the day of the first test - Happy Birthday, Emma) made a few telling points. Firstly that the medical team are working no harder in Australia than they did in South Africa.
He also stressed that the fundamental reason for the raft of recent call ups is not necessarily due to injuries so much as the wear and tear of two games a week. A niggle suffered by a player whose team perform weekly is easier to treat than one whose role might be to back up a doubtful first team starter. The back-up ends up running himself into the ground and if the first choice is injured, finds himself in no position to deliver a test standard effort come the weekend.
Some of the perceived niggles are no more than flat batteries. Sean Maitland is a case in point: the bloke needs a rest. In these circumstances the strange story of Shane Williams reads a little less surreal. A little.
By the time some of you read this column the match with the Brumbies will be over. The biggest question for the Lions generally will be whether they can solve the conundrum of their inadequate wide channel defence. They have gone to the States and a recuperating Brad Barritt for the answer.
He and Billy Twelvetrees combined superbly for England against Scotland although this Brumbies team - even missing half their personnel appear a tougher prospect than Scotland. On Saturday, with Jamie Roberts "a grave doubt" to quote the doctor on Monday, the centre pairing must be Brian O' Driscoll and Jonathan Davies. The Welshman has played his way ahead of Manu Tuilagi despite the Englishman being a more like for like replacement should Roberts miss out.
O' Driscoll, like Barritt on Tuesday, should defend the 13 channel where his experience has more chance of checking the Wallabies out wide. In attack he can move to 12 and create for Davies outside him. George North is reported to be in with a "great chance" of making the test which would do something to offset the loss of Roberts's power.
The rest of the back line looks after itself. It is up front where selection could play a gigantic role in whether the Lions are leading or chasing come the second test.
Mako Vunipola has been superb in the loose but his scrum is suspect and his inexperience could become an exploitable weakness. Bring him on to change the game with twenty left when legs are going wobbly and the game is breaking up but do not start with him and allow the Australian team a soft lead via a few set piece penalties. Alex Corbisiero is the man to start.
The hooking position is another conundrum with none of the hookers finding their range apart from Tom Youngs on Saturday. But he did not try and throw long and that is his Achilles Heel. There is a lot of support for Youngs from the camp followers and I hear Clive Woodward but Richard Hibbard's power, experience and relationship with fellow Osprey, Adam Jones makes him the man that should begin the series.
Dilemma
If there are major selection headaches in the front row, there is a case of migraine for Warren Gatland in the back row. The centre of the dilemma is Sam Warburton. A notable rugby figure of great renown said to me during the Brumbies training run, "Hooper will be a second ahead of him every time." The Lions, uncertain to date at the breakdown, will be in trouble should this prophecy be fulfilled.
Is Warburton ready to lead the Lions? We will not know until after the match given the non chances for Justin Tipuric and Sean O' Brien to shine against meaningful opposition until Tuesday's game.
If Warburton is struggling there will be implications for the rest of back row selection. In order to assist the skipper, I guess Gatland will play someone whose game enhances the captain's. But should Tom Croft be left out? He is in the form to win a test but Dan Lydiate's constant tackling could liberate Warburton to play his game to best effect. Yet if his form is not good enough and a possible match winner is sacrificed and the open side is still out-played...it could be the call to make or break the series.
These choices are terribly difficult and the plus side is that most of the back row is in good nick but are the Lions in good enough form all round to prevail?
The half full glass says power, individual excellence and extra game time compared to the Wallabies will see them home; the half empty Barnes glass keeps muttering "they haven't played a Super 15 team at even half strength yet and defensively they are struggling and the breakdown is an issue".
There is a nagging fear and on a cold night in Canberra I cannot shake it off. Maybe a performance with real shape against the Brumbies will clear this doubt up...maybe the fact that I went on Australian TV and stated that the Wallabies will not win with James O' Connor at fly half will convince me Robbie Deans has a tougher set of decisions to make and is likelier to get them wrong.
Tuesday night's game will be thrilling for the tabloid and purist fans for myriad reasons. Don't obsess solely on tests. This brings me finally back to the first test! James O' Connor plays fly half and the Lions win. Or do they? Have a little faith, Stuart...it's minus a few degrees here in Canberra but the metaphorical temperature is rising fast.
Stuart answers your emails...
Got a question for Stuart? Email him at skysportsclub@bskyb.com or use the feedback form below...
Stuart, Do you think the Lions' tour matches have given them enough preparation before the first test? I think they may be in for a bit of a shock when they collide with Australia on Saturday!
Simon Clarke
STUART REPLIES: No, I do not but it's better than Australia's preparation.
Stuart, What impact do you expect Shane Williams will have on the young players in the Lions squad?
Steve Colefield
STUART REPLIES: If Shane handles the ominous Heny Speight he will have set a magnificent example but if the great Welsh winger gets out of Canberra with honour in tact that'll do nicely.
Hi Stuart, Marland Yarde was superb against Argentina - but we've seen plenty of wingers burst onto the scene and then fail to match their promise over the years. Do you think Yarde can be a long-term success for England? Cheers,
Jon Moore
STUART REPLIES: Jon, I do, but so could Wade, May and youngsters like Anthony Watson could make a mark. But as you say, numerous start well, can they take it onto the next level....let's see what Wade does tomorrow and whatever it is, avoid the hype...promise I'll try guys.
Stuart, What's the mood like down under? Do you get the impression the Aussie public getting fired up and excited about the upcoming test series?
Ben Walker
STUART REPLIES: Ben, Slow burning fuse, nothing crazy but the Brits and Irish fans are arriving and the sport is getting nearer the back pages. It'll be smoking by Friday...
Come on, union, give the other Aussie sporting obsessions a bloody nose (but not by being brilliant, although if they are, credit where it is due...)Stuart, Do you think Saracens method of playing Farell at 12 could work against the Lions? I think having Sexton, Farell and Tuilagi on the same pitch could seriously rip up the Aussies, not only would it give you two excellent footballers it would also give you a more expansive and open game plan... exactly what is needed to win in Australia. I am intrigued on your thoughts on this.
Blair Somerville
STUART REPLIES: Blair, I think it could work against the Lions but is that what you meant? My biggest concern is that Owen Farrell is finding the same kind of form at the end of this season as he did at the end of the last season. Did you watch him when he switched to 12 on Sunday? I would imagine Dan Biggar felt pretty hacked off.
Stuart, I believe too much has been made of the Roberts/O' Driscoll partnership. In South Africa in '09, bok coach Pieter de Villiers had to pick Jacobs as 12 - a good player but no Jean De Villers or Jacque Fourie who when he came on and was in tandem with JdV got the better of the Lions pair. Just saying, what worked in '09 might may have been exaggerated by the circumstances of the starting opposition at the time. Plan B for the centres may become an issue in Australia?
Ed O'Callaghan
STUART REPLIES: O' Driscoll's injury after smashing (illegally but inspirationally all the same) Danie Rossouw was the factor that swung the battle away from the Lions...I have mentioned this because the soft hands and bludgeon is a good balance in midfield. It worked well in SA and could work in Australia. Of course, BOD is four years older and who knows but I reckon Gatland will give it a go.
Stuart, what do you make of Argentina apparently 'resting' some of their big names for England's tour? Do you think that this should not in fact be a Saxons tour, a chance for both side to test some players out while giving the established some time off to recuperate and recover for a bigger future fight?
Ray Galpen
STUART REPLIES: Call it what you will. Argentina will have plenty of home grown talent and England has some bright things too. It's lovely for the players to win caps but in the scheme of 2015 (and that is the overriding role of this tour) it's not the name of the teams but the quality of the play that counts. Both teams are resting players but that doesn't mean the guys that take the field cannot be capped.
Stuart, why are no Exeter players picked for England? They have some great prospects and finished sixth on the table. Surely that should count for something?
Alex Smith
STUART REPLIES: Tom Johnson is an Exeter player and he is on tour; who else should tour? Hayden Thomas could play against the Barbarians but wouldn't be one for the future which leaves your uncapped Irishman at fly half; Gareth Steenson has been superb in the second half of the season but does he want to represent England? It is taking the badge of convenience slightly too far, don't you think. You also have to remember that Exeter's great strength is as a team which explains why they have done so brilliantly - and why your outstanding coach is - indeed - selected for Argentina.
Regards to you all,
Stuart