Stuart Barnes reflects on the Heineken Cup semi finals
Stuart Barnes reflects on the Heineken Cup action and says Jonny Wilkinson should tour with the Lions.
Last Updated: 30/04/13 11:21am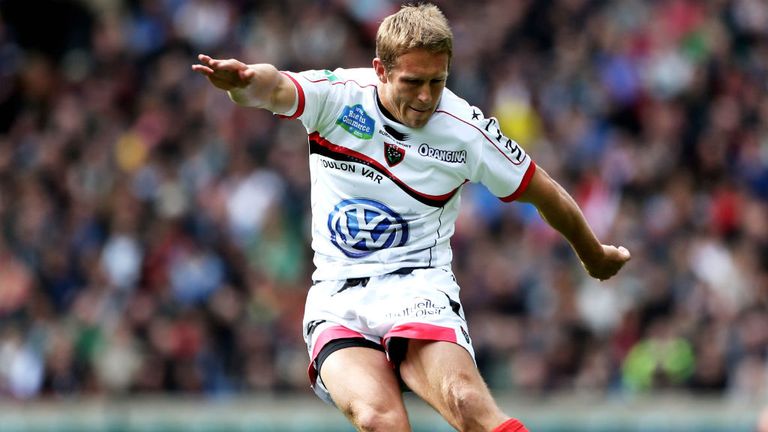 Vibrant colour, superb support from both sets of supporters and a sense that something special was happening. And it was.
For nearly half an hour Clermont Auvergne off loaded the ball so fast it was as if they had mastered some form of rugby pinball. It was all Munster could do to avoid being overwhelmed.
Yet rugby is as much in the mind as in the hands and in their tenth semi-final Paul O'Connell's team showed immense mental resilience to hang in there.
There was a gulf in class but those little French demons found their way into Clermont's collective head. As Ronan O' Gara - delivering yet again under pressure in this tournament - kicked with ever greater accuracy and assurance, so Morgan Parra slid kicks he normally gets way past the posts.
In the end, for their technical supremacy, Clermont were one Felix Jones collection of a ball and slide from possible elimination. It was a staggering performance of grit from Munster but, from a neutral perspective the right team prevailed.
Clermont have been the best team in the tournament to date and played the best rugby in the semi final. Munster were classy in defeat, so too their supporters. They defied their doubters to get so close to the final. They and their fans left France with their heads held high.
Toulon will meet them in the final and the purists will be hoping there is no shock. Toulon are a proud club and have recruited a team of individuals with the pedigree to respect those traditions. Foremost amongst them was Jonny Wilkinson. We will come back to him later.
Blame
The occasion itself was undeniably flat. Twickenham is not much of a theatre when over 55,000 seats are empty. There has been much apportioning of blame for the mass vacancies and - like in life generally - it is rarely one side or the other completely to blame.
What is clear, however, is that Saracens has a long way to go before they become an elite European club; on the field they have to find a little more courage and ambition but that is possible. The longer haul is off it. The Wembley experience with the cheap tickets and the 40,000 bums on seats has not worked.
When they needed this new generation of supporters to cheer their team on in a semi final of the European Cup they failed to materialise. The ticket pricing has been questioned but here's one question.
Had Leicester, Northampton, Harlequins, Gloucester or my old team, Bath, with its population of less than 100,000 been playing Toulon would the crowd have been a paltry 25,000? We all know the answer.
Saracens are a club of big ambitions. Despite this defeat they could definitely be crowned champions of England (although Leicester's gritty effort in Toulon suggests they are the likelier winner on pure form lines) but they have a long road ahead of them before they can call themselves one of the leading clubs in Europe.
They were a clear second best on the field Sunday as Toulon bettered them in just about every aspect of the game. Although they claimed to have learned their lessons from last season's quarter final defeat against Clermont when they put it down to being overpowered, Toulon beat them at the content as Clermont did at Vicarage Road.
Majestic
But the headlines surrounded what we billed as 'the master and apprentice.' Wilkinson is rediscovering his mastery from the 2000-2003 period as has seemingly left his fallow decade of injuries and confused form behind. He was majestic and totally outplayed Owen Farrell. The drop goal was wondrous.
He has been elusive regarding the Lions but never dismissed the desire to play, just the probability of selection. In the same way Warren Gatland has always stated he would prefer his squad to travel together without ever making the rule hard and fast.
This means Wilkinson can be considered despite Toulon probably playing Clermont in the French final one week after the Heineken final. On Sunday's evidence he cannot choose Farrell ahead of Wilkinson. The Lions tours are not about 'taking the game on', a phrase generously used by Wilkinson in relation to the men he has been recently eclipsing.
It is only about the here and now. And in the here and now a combination of Jonny Sexton to start and steer the Lions Test team with Wilkinson on the bench to close out a lead is irresistible. Who else can finish off a team like Wilkinson, even now?
His seasonal performances have been good, his pressure performances in the Heineken Cup a notch up from that. He has not played international rugby but he has produced the goods under pressure. If he is available and not selected it will leave a lot of questions to be answered; on form he must go.
As for the rest of the party; all will be revealed Tuesday. An entire season of speculation will cease once the party is announced. Then we can argue the merits of selection ahead of the tests over a pint of Gem or whatever your particular pint of choice.
Make mine a second and third; there is a lot of chatting in the weeks ahead.
Stuart answers your emails...
Got a question for Stuart? Email him at skysportsclub@bskyb.com or use the feedback form below...
Hi Stuart, which youngsters would you like to see going too Argentina? Also what are you looking for and/or expecting from England?
Charlie Prince
STUART REPLIES: Charlie, Elliot Daly, Christian Wade, Matt Kvesic are three young men that spring to mind. What am I expecting? More accuracy from the back line, more invention and dare I say it but a hard edge from a pack that will have a few tough lessons to learn in one of the world's great breeding grounds for forwards.
Stuart, with many of Ireland's team in the twilight of their career who would be your picks to replace Gordon Darcy and Brian O'Driscoll as the future centre pairing?
Jonathan Willis
STUART REPLIES: Jonathan, Ian Madigan outside Jonny Sexton is hugely exciting. It didn't work to perfection against Biarritz but there was plenty of menace and if BOD is not to play again for Ireland Darren Cave would be an interesting contender at 13 with Tommy Bowe switching infield another fascinating option.
Who do you think the Wallabies will go for at fly-half and who do you think the Lions would fear most leading the Wallabies backline?
Ali Henderson
STUART REPLIES: Ali, plenty of options for Robbie Deans but I hope he decides on the job lot of the great Will Genia and his Queensland mate, Quade Cooper. He might lose the Wallabies the series, he might win it for them but he definitely will have the entire rugby world talking. Just because he was not named in a provisional squad does not mean he will not turn out on his home ground for the first test in Brisbane.