A cut above
Stuart Barnes expects Clermont to beat Munster, but can't split Saracens and Toulon in the last four.
Last Updated: 22/04/13 1:52pm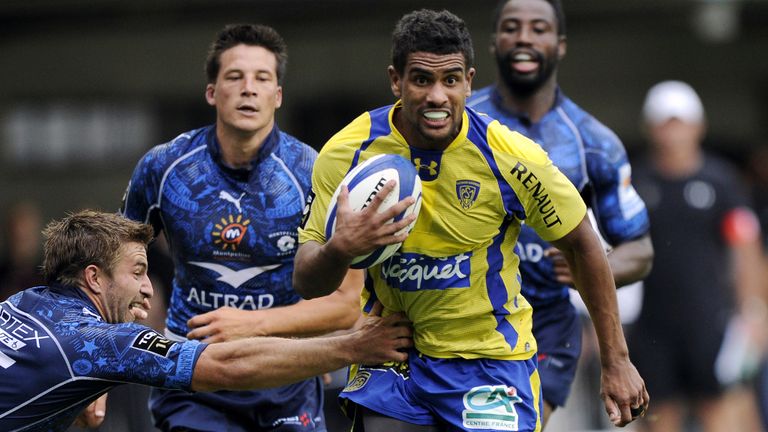 The play-offs are in view but last and next weekend is all about Europe.
The Northern Hemisphere's elite competition may be the victim of sporting politics off the field but on it the action remains compelling. Even before a ball is kicked in anger over the semi-final weekend, Exeter played their Heineken trump card and delivered a stunning knock out verdict at Wasps.
The former champions of Europe were both outplayed and out-thought by Rob Baxter in the changing room and a sharp-witted team brilliantly (again) marshalled from fly half by Gareth Steenson.
There is not a more improved player in the Premiership. His performance at Wasps and his recent masterclass against Harlequins were up there with the best balanced efforts from a ten in English rugby.
Their European fate is firmly in their hands. If they beat Gloucester they will qualify again and probably in fifth place position. Again the Devonians have excelled. Baxter's reputation grows rapidly.
If they lose to a Gloucester team who secured their return to the Heineken by beating Saracens, it will take another Saracens loss at home to Bath to prevent Exeter qualifying.
Despite losing in the West Country it would be a shock for them to drop a home game even with a home play-off assured. Bath' season best against Leicester keeps them in with a shout, or maybe a whisper.
Saracens - for all their famed focus - must have had one eye on the forthcoming clash with Toulon at Twickenham on Sunday. Eighty minutes from a Heineken Cup final, they have to drown the murmurs of discontents from their critics aside and play a brutally direct game of rugby.
The Wilkinson factor
To try and play too much rugby in their own half is to bring the referee's whistle and Jonny Wilkinson's boot into the equation. That is not a good recipe for winning rugby. Leicester were undone by a startling display of goal kicking the like of which Owen Farrell lacks the distance to match.
He too will kick his pressure goals but Saracens need him within range and Wilkinson outside his. The quality of the Saracens line out for whom Steve Borthwick appears to get better and better and a Toulon scrum that did more than creak against Leicester offers hope that a solid enough platform will be put in place to allow Richard Wigglesworth (presumably) to tease the Toulon back three with his array of tactical kicks.
For all the fire power at its disposal the back three are not renowned on the counter attack and with Delon Armitage always likely to blow a fuse a barrage of kicks is no bad idea. Saracens has a great chase game and a remarkable ability to keep the pressure on the opposition with its swarm defence.
If Wilkinson is going backwards and trying to bring his centres into play, not even Matt Giteau will extricate Toulon from a losing retreat. Saracens has the game to win but Toulon has an array of highly skilled off-loading players able to strike from anywhere. Leicester's defence was heroic to keep them try less in the quarter final. The reliance on kicks was more credit to defence than any debit against the French attack.
Nor will Toulon freeze. They have a team of men who thrive rather than shrink from the big occasion and in club rugby few will come bigger than Twickenham next Sunday. Saracens has the game to win but Toulon the individuals to make that conclusion anything but a foregone one. My money will not be leaving my pockets.
Respect
Offer me a decent price and I would empty them and put the house on Clermont in Saturday's semi-final. Munster were heroic against Harlequins but Harlequins are currently not inhabiting the same playing stratosphere as a Clermont team that thrashed Toulouse as a warm up to the semi-final.
I have written Munster off before and suffered much deserved and mainly good hearted abuse form Munster fans ever since I forecast they would be swept away by Perpignan. Any team with Paul O'Connell and Ronan O'Gara on board gets my respect.
Munster has a fantastic European record and the sheer overwhelming quality of the home team works in their favour. It truly is a nothing to lose scenario, so strong and fancied are Clermont.
Munster will have to engulf their opponents at the breakdown (risking much in the process), dominate the line outs and kick their goals. Conor Murray is perhaps playing for a Lions place. A masterful performance in Montpellier would clinch it. The same might just be said for both Peter O'Mahony and Simon Zebo, perhaps Donncha Ryan too. Victory in Clermont could throw all Warren Gatland's preconceptions overboard. Such is the size of the challenge.
In the Amlin Munster's great rivals, Leinster, face another French team in the semi-final. Good as Biarritz was at Gloucester they are not in the same class as Clermont. Home advantage should secure a berth in the final as long as Joe Schmidt's team keep pressure on the masterly Dimitri Yachvilli and do not kick aimlessly to Biarritz's blistering back three. Wasps punished them in the last round and a much tighter defence is expected with a superior kicking game...which brings us to Jonny Sexton.
A successful 65 minutes against Zebre does not prove one should be the Lions test ten. A command performance on Saturday might ease nerves in the Lions camp. A class act, he has to show he is as good now as he was before his injury. The game will be worth watching just to analyse his form - it'll also be worth watching for so much more.
Hook's chance to shine
Dewi is heading to Catalonia to call an all-French semi-final with Perpignan looking to repeat their powerful quarter final performance against Toulouse with a dominant display against Stade Francais who keep trying to qualify for the Heineken via the Amlin. Sergio Parisse heads a star cast of under performers who showed how good they can be when they are bothered at Bath.
For Perpignan, James Hook could be playing for a slot as Lions utility player. I hope Hook makes the plane. I have reservations about his reading of a game at ten but recent weeks hint at a new, mature game and the bloke can rip up a field with his skills from either centre position or full back.
It is a busy weekend for Lions selectors but that is the sideshow; for three days Europe alone matters and the chips can fall where they will. Enjoy it.
Stuart answers your emails...
Got a question for Stuart? Email him at skysportsclub@bskyb.com or use the feedback form below...
Stuart, What youngsters would you like to see going to Argentina? Also what are you looking for and/or expecting from England ?
Charlie Prince
STUART REPLIES: Charlie, If Christian Wade is not in Australia he and Jonny May should be the Test wingers in South America. I would like to see Matt Kvesic and Will Fraser each given a test on the open side. They would be my immediate picks. I am looking for a game with more variety and fluidity and expecting a tough series which is precisely what these youngsters and players like Billy Twelvetrees need.
Hi Stuart, I see that the London Welsh Benefactor is withdrawing support now that they are relegated. A question I would have for the (now EX) benefactor would be: if London Welsh had done an Exeter and managed to get a good foothold in the Premiership, would he still think the Premiership finance rules to be wrong and would be still want them changed?
Steve Norman
STUART REPLIES: Steve, You really will have to ask the ex-benefactor that one yourself. I know what you are getting at but London Welsh were harried almost from the Premiership before they even kicked off. Sure, they made mistakes too but this is not a matter of black and white. One side's errors do not make the other side's shennanigans acceptable.
Stuart, how big a loss is Will Fraser be for Sarries if he is not fit? He was man-of-the-match in their quarter-final against Ulster and I was really looking forward to seeing him up against Steffon Armitage. I think Armitage is a classy player but I think Fraser is the future for England and would have shown his potential on Sunday.
Gavin Morten.
STUART REPLIES: Gavin, Fraser would be a loss; he is in great nick but such is the Saracens structure that replacements can fit in pretty seamlessly. The future for England? Here is one question. Put Matt Kvesic in the Saracens team and Will Fraser in Worcester's - who makes the greater impact. I happen to think Kvesic is ahead of Fraser at the moment which is not denigrating your man but extolling the virtues of Kvesic who has been outstanding in difficult circumstances.
Hi Stuart, I think the Lions may struggle in OZ because our game produces kicking stand-offs. All quoted candidates like Sexton, Farrell, etc pose no threat as runners which means it is easier for opposition to defend. When defences face Carter or Cooper they need tightly marked or they will run and hurt you. Australian pitches encourage a more expansive game and we don't have a John or Bennet.
Malcolm Wright
STUART REPLIES: Malcolm, Sexton does not run? Or pass, or create holes... I suggest you watch the back catalogue of Leinster games for the last few years and watch his performance in victory at Cardiff for Ireland this season. Your argument is holed at source.