Wallaby warning
The British and Irish Lions will be up against it in Australia if the form of the Brumbies and the Reds is anything to go by, says Stuart Barnes
Last Updated: 15/04/13 12:42pm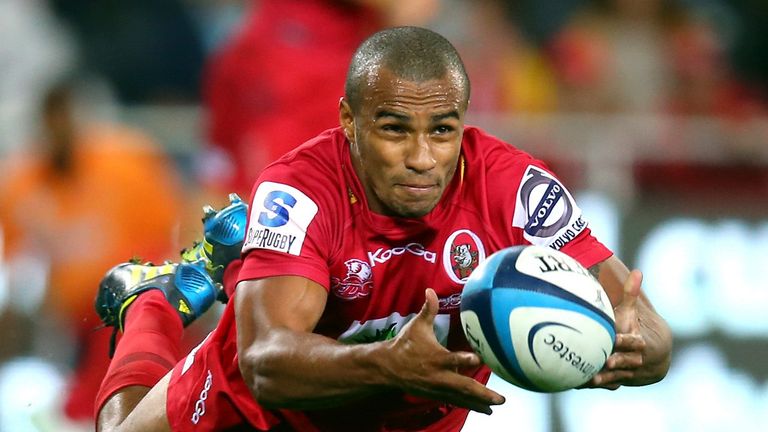 This Lions series looks harder to win by the week. It seems a long time since New Zealand was heaping humiliation upon the Wallabies in the Rugby Championship and the Aussie press was calling for the head of Robbie Deans.
Since Australia ended New Zealand's winning run with a draw in Australia things have improved at a worrying rate for Lions fans. The hammering in Paris apart last autumn, Australia beat both Wales and England, the two leading Six Nations sides and the form of their leading players in Super Rugby is a cause for concern - for the Lions.
Admittedly, the Waratahs, Rebels and Force are all in the lower echelons of the league but the Reds are finding some fine form and the Brumbies have shown consistency enough to lead the competition. The bulk of the Wallabies are sharp.
Even when Australia lose a genuine world class player they are able to produce a whole warren of rabbits as is the case with the open side situation. David Pocock is up there with the leading sevens on the planet and is a loss but the standard of open side play from Australians in Super Rugby is quite staggering.
Michael Hooper is starring in a struggling Waratahs team. I nominated him as Man of the Match when Australia beat England at Twickenham, he was outstanding then and continues to improve. And he has to because Liam Gill is putting the heat on him in no uncertain terms.
The Reds flanker is a contender for the player of the tournament to date but ironically he would probably be eclipsed by the current form of one George Smith. Words cannot describe the completeness of his performance for the Brumbies against the Highlanders last Friday. At the turnover, terrorising the opposing fly half, linking forwards and backs or making try scoring breaks, he did it all. The opposition has to be taken into account but still, this was a wonderful performance.
Youth vs. Experience
Smith is unlikely to be considered for the Wallabies because of Australia's ineligibility rule for overseas players. In the next round of games the Reds and Brumbies collide. What a match that promises to be and for those with a predilection to watch open sides of the highest calibre this is one of the games of 2013 to date. Will Gill strike a blow for the next generation of flanker or will Smith have Deans thinking twice about requesting an extended stay from his registered club, Suntory of Japan?
The Reds are on a roll and steering them with accuracy and invention is Will Genia. He has returned from his injury a better player than ever. On his current form he is one of the most influential players on the planet. He has reinvigorated his mate at fly half, Quade Cooper.
The headline hogging fly half has been in the news for being omitted from Deans' first Australian squad of 30 but there is time for the manager to change his mind should the maverick play as he did against the Chiefs. Cooper divides opinion but love or loathe him it is hard to dispute his originality in a game that has become perhaps too mechanical over the years. The series will be all the more exciting for his presence.
His friend, James O' Connor, wants the ten shirt, as does the bad boy, Kurtley Beale. What I would love, purely from an excitement point of view, would be Cooper at ten, O' Connor at 14 and Beale at 15. Warren Gatland might also fancy that back line of stellar talented erratic - or he may find the very thought frightening.
On the subject of fear, I hope you noticed the score from Marseilles. Toulon's full strength team drew with Clermont's almost complete second string side. Vern Cotter's men are focussed first and foremost on European glory but so commanding is the club that their second string can draw with the league leaders.
Glory days
If Munster beats them, all hail the red in red; for all their glory days I reckon it would number amongst the final wins in the entire career of those old warriors, Paul O' Connell and Ronan O' Gara. Conversely Saracens, whose game is in a well organised place might think that if Toulon cannot beat Clermont's second team, they should be eminently beatable at Twickenham. There is something in that. Clermont versus Saracens is my tip for the final but more on that next week.
Stuart answers your emails...
Got a question for Stuart? Email him at skysportsclub@bskyb.com or use the feedback form below...
Hi Stuart, now that Wasps' financial future is secure how long before we can see them becoming the powerhouse they once were? How much impact can you see Lawrence making on the club?
Peter Naylor
STUART REPLIES: Peter, Money is security not a guarantee; just look at my old club - moneybags Bath - it is not happening overnight there and with Saracens able to secure so many top players it will not be easy for Wasps to build a brilliant team off the back of individuals. This means Dai Young, Shane Howarth and company might have to build slowly and hopefully surely. As for Lawrence, he is obviously an inspiration but he has other vocations that suggest he will be unable to take a central role in any rebuilding.
I was interested to here Warren Gatland on the Rugby Club say he would only be taking two 10's - Sexton must be one of them but who do you think is the other? I know everyone thinks Farrell is already on the plane but I am not so sure. Gatland also said that the Wales v Eng match showed that some players are not ready. What does Farrell bring to the party that say a Wilkinson cannot ( apart from youth?) I would much prefer if he took a Freddie Burns or a Dan Biggar that Farrell. Who do you think will be the utility back that Gatland mentioned too - my choice would be Ian Madigan or James Hook.
Gareth Hodges
STUART REPLIES: Gareth, Wilkinson, on quarter final form, eclipses Owen Farrell but unavailability is an issue. Burns is not a contender, Biggar is, Hook should be the utility/third choice fly half...in my books anyway.
Stuart how much backslapping would be going on with the Premiership clubs after London Welsh lost their relegation battle? They have been up against a set of one sided rules from the start and while they did not help themselves by fielding ineligible players they have done pretty well against the establishment. Will we see them back in the Premiership and which players from London welsh have impressed you?
Joe Harper
STUART REPLIES: Joe, I know what you are saying. They were hardly welcomed with a red carpet but even had they not been stripped five points I think they would have been relegated. Injuries to Hudson Tongahuia hurt as he adapted well to the Premiership. Tom Arscott gave his brother a run for his money as one of the most entertaining full backs and credit to Jonathon Mills for his leadership and integrity throughout.
Stuart, what did you make of Paul O'Connell's 'accidental' kick to the head of Kearney? Do you think he will get a ban that may affect his Lions dreams?
John Donald
STUART REPLIES: John, accidental and no.....every time a boot makes contact with a head we have this trial by slo-mo. Nothing deliberate in the incident, these things happen.