All hail Rome
Stuart Barnes has high praise for Italy and hails the game management of England's Owen Farrell.
Last Updated: 04/02/13 4:30pm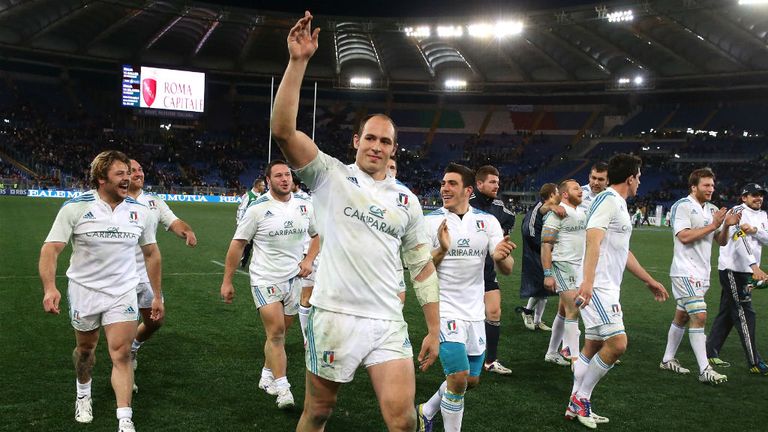 The only place to start this week is Rome.
Regular readers of this column would have noted my mid-season absence last week. I wish I could say I had travelled to Rome in order to take the temperature in Italy pre-Six Nations but there's no such hindsight on offer. It was simply a six-day break between the end of the Heineken pool stages and the start of the Six Nations.
Between visiting Baroque churches and intimate, little wintry bars I did study the Italian press with the assistance of my utterly inadequate Italian. I cannot tell you what Italian politicians were saying about double-dip recessions but even I could see it was pretty obvious where rugby union lies in the priority of the Roman sports writers. Roma and Lazio football clubs dominated the media with scarcely a word on the forthcoming visit of France.
I left on Thursday to make my way to Newcastle, leaving all thoughts of Italy behind. Did it cross my mind that Italy would repeat their win against France from two years ago? Like many, I expected a torrid first-up challenge to France, but this was a French team in good collective and individual form.
Yet the joint-favourites for the tournament were well beaten with Italy strong as ever up front, sharper than France at the breakdown and inspired by the mighty Sergio Parisse. But these are components often put in place in Rome and frequently they prove insufficient.
The stunning difference between noble defeat and glorious win was the great problem position of Italian rugby - fly-half. Since they lost Diego Dominguez they have rarely had a fly-half of professional quality, let alone Test standards but on Sunday Luciano Orquera rose to the challenge. He has shown moments for Treviso this season with some nifty footwork on the odd occasion but this was from another dimension.
A brilliant break set up the deserving Parisse for the first try while a sneaky and skilful offload laid the second try on a plate for dear old Castro. He kicked his goals, restarted well and had the courage to play in the face of the French; Frederic Michalak paled in comparison.
When Orquera was perceived to be running out of steam Italy introduced Kris Burton for the final 15 minutes or so. Against England he had looked a park player last season; this time he dropped a super goal within minutes of taking the field. With France near the line and winning penalties in the dying minutes that three-point kick was the breathing space required to take Italy to glorious victory.
It was a good result for a sport that needs more competitive teams, it was a great result for Italian rugby that surely knocked football off the back pages for at least a day but it was dreadful for France whose game started slowly and never found the spark and speed to win a game few thought they could lose. It was an incredible end to a fine first weekend of Six Nations rugby.
A weekend where the ambition on the field matched the party atmosphere off it; that has, alas, not been the case for some years but Sunday's game merely maintained the excitement of Saturday.
Farrell on fire
These are exciting times for England fans. Having singled out the Italian fly-half it is impossible not to comment upon Owen Farrell. His attitude, commitment and nerve have never been questioned in this column but his ability to read a game has. Well, Farrell answered them definitively against Scotland.
He ran the game beautifully, swapping the chip behind for the flat pass; his quick feet fixed Scotland and helped make Billy Twelvetrees' debut such a smooth one. He was magnificent. England were not quite so good. The ambition was there for all to see and they played at pace but errors matched ambition which played into Scotland's hands in the first half.
The manner in which the manager highlighted these errors after a win that deserves such high marks for its ambition says much about this England set up. They are on track.
They need to be because Ireland blew Wales to pieces in the first quarter of their match in Cardiff against a Wales team that was defensively ragged. Simon Zebo confirmed his status as a likely Lions bolter whilst the big news was the return of Brian O' Driscoll. He was at the heart of Ireland in attack and defence. His form is tremendous news for Warren Gatland as a Lions leader; it was bad news for Gatland's old charges.
The margin of victory was only eight points after Ireland had built a handsome 20-point margin but this was a controlled victory. The breakdown was an area of strength with Sam Warburton worryingly silent for those who believe he is the likely Lions leader.
The tour to Australia is the sub-plot this season for four of the six teams but both the Irish and English management will be disappointed if their charges are thinking Lions in advance of what looks a thrilling game ahead in Dublin. England is on a roll and playing with confidence but Ireland themselves have two strong performances behind them in the shape of Wales and Argentina matches. Ireland also has a good home record against England and a humiliation at the scrum to put behind them from last season.
That is the game of the weekend. Italy's effort to beat Scotland is fascinating too. They may have beaten France but back up wins are not their forte and Scotland were far from bad against England. Make Scotland favourites but do not dismiss Italy. In France a savage backlash is expected from a French team who will have left any complacency behind in the Eternal City. I fear for Wales who appear to heading for a ninth straight defeat. Was the decision to allow their head coach a Six Nations off to take the Lions job really such a good one?
Stuart answers your emails...
Got a question for Stuart? Email him at skysportsclub@bskyb.com or use the feedback form below...Stuart, do you think we saw the development of Owen Farrell on Saturday? For some time we have seen him doing the basics of a fly-half well - kicking his goals etc. On Saturday he seemed to step up a bit and really get his backline moving and looked to get the ball away to a backline that was not static. His pass to Parling for the try was top drawer!
Gareth Heath
STUART REPLIES: He was magnificent, full stop.
Hi Stuart, a great start to the Six Nations with some brilliant games. I was delighted to see Italy's win against France. With them now out of the running for a Grand Slam in 2013, do you think that the game next week when Ireland play England decides who will win the tournament or will France still have a say this year?
Jeffrey Harris
STUART REPLIES: Jeffrey, France has the ability to play a major part. They lost to Tonga in the World Cup but almost won the final...don't dismiss them in one capacity or another. They have a good record in Dublin and prefer England away from Paris. Dublin is big but it is no decider...England's last game is Wales away, that will not be anything but hair raising however for England, even if Wales lose their next three games.
Stuart, surely Brad Barritt's days as first choice must be numbered and that Stuart Lancaster has seen that Billy Twelvetrees is the man to have the No12 jersey with Manu Tuilagi at 13?
Leo Milner
STUART REPLIES: Leo, That was the gist of my article in the Sunday Times. I agree with you re the first choice but Barritt is improving and has, I suspect, a considerable role to play. Do not be surprised if Stuart Lancaster sticks with him in an effort to shackle Ireland's midfield threat and compete with the Leinster lads at the breakdown.
Stuart, I have been reading all year that Michalak is back to his best and just gets better with age. I saw none of that against Italy and surely he has to take most of the blame for their loss? Yes, their attitude seemed blasé, but the won enough ball that they should have used. The fly half is the man who need to control his backs and get them organised - something he failed to do against Italy. Why have the French battled to find a decent fly-half in recent years?
James Contoy
STUART REPLIES: James, Scrum-half is the god in France, fly-halves the attendants.......makes no sense to this ex fly half who believes nines should do what their tens tell them to do....but I am a little biased on this one.....Michalak is a worry for French fans but Trinh Duc is rated higher in England than France, why? No idea.
Hello Stuart, do you think that Wales are in danger of being Wooden Spoonists this year? They have a tough trip to Italy to contend with and look out of sorts? What has happened to Warburton? He looks half the player he was at the world Cup.
Nick Hinterman
STUART REPLIES: Nick, The Wooden Spoon cannot be discounted although Wales, if they can stay positive, should see Scotland and Italy as winnable away games before facing an England team who could be playing for the title or more; that should lift them. Early days still, if nervous ones for Wales fans. Sam Warburton is NOT playing well enough to justify his selection as a seven let alone a captain. Injuries have played a part as does the absence of that wonderful work horse, Dan Lydiate, who looks better every time we see Wales's back row eclipsed in his absence.