English determination and an Owen Farrell masterclass saw Saracens overcome Racing Metro in Heineken Cup, says Stuart Barnes
Saracens' humdinger with Racing Metro has ignited this term's Heineken Cup, says Stuart Barnes.
Last Updated: 14/01/13 11:05am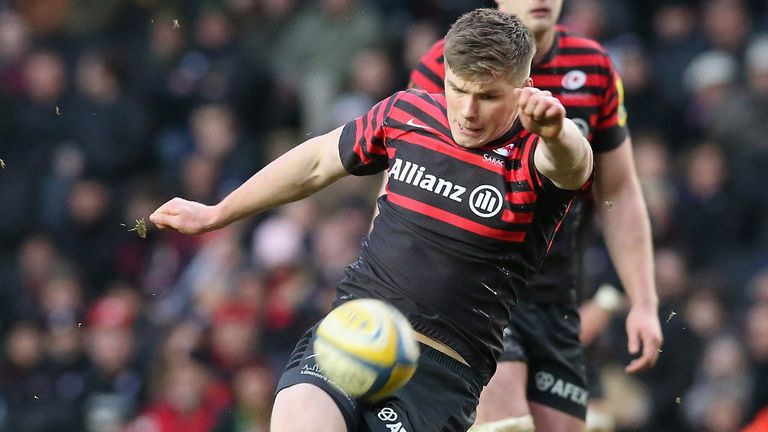 The first four rounds of the Heineken Cup had simmered without quite igniting; Clermont Auvergne had led the way in terms of standards with Toulon on their tails, while Ulster had looked almost chillingly efficient in their destruction of the Saints in Northampton.
But where were the great games?
Great is one of those words thoughtlessly overestimated and maybe the weekend did not deliver 'great' (for great think Munster's miracle match with Gloucester, the Wasps versus Toulouse final and Leinster's staggering fight back final against Northampton).
But, nevertheless, we had a few games of white-hot rugby to silence those who thought the competition was being overhyped.
Saturday's game in Nantes was the game of the season to date and it will take something close to 'great' to eclipse it this campaign.
It had everything.
Glittering attacking rugby from all parts by a Racing Metro team that exploded from the changing rooms; a useful dollop of daft rugby (from Saracens perspective) to keep them in the game; and a stirring second half where tactical excellence combined with iron will to see the English visitors overturn what had once been a 19-6 deficit.
Indomitable
Owen Farrell's final kick, his 11th success from 11 attempts was a perfect ending, revealing the accuracy and complete concentration of a team outplayed and outclassed in many ways but prevailing through determination and bloody-mindedness.
Farrell is not the prettiest as a 10 but he has taken his Lion credentials up a notch with a display of great (yes, great) goal kicking, rock-solid defence and indomitable will.
It was a noisy old atmosphere in the stadium but Farrell confirmed post match to Miles Harrison that the noisier the surroundings the more he loves it. Small challenges are not for him and his team shows the same mettle.
Bear in mind Racing took the 25 match-winning home record of Toulon the previous week and had hit Agen for 40 the week before that; this was a serious team in serious form.
The first Racing try was a sublime forwards effort with off-loading done so accurately and at such pace that Saracens - England's best defence - had no idea of how to stop them. The fluidity of the French attack unnerved their defence which lost its shape as Juan Imhoff ran a mock with two spectacular tries.
Three tries in 20 minutes and Saracens were on the ropes but rugby is a matter of structure and intelligence as well as genius and the hosts were as stupid as they were wondrous, conceding soft after soft penalty.
Trailing by seven points at half time, I was sure Saracens would win, although this confidence might have been misplaced had Neil de Kock not produced the tap tackle of the season on Imhoff with the Argentine winger almost away.
It was a game of glorious contrasts, silken skill and raw determination. It was a pleasure to be there.
Bustling
24 hours later and I saw another game with a similar script. Another English team that largely came off second best in terms of skill but power, pride and determination again came to their rescue.
Leicester didn't quite emulate Saracens. Like them, seven points down at the interval (but not outplayed in attack to anything like the same degree) they fought back to draw with the Ospreys.
The draw is just about as good as a win to the Tigers, but they must now beat Toulouse to win the pool. The draw would give the French the pool but Leicester would certainly settle for their position after the opening day 23-9 loss in Toulouse.
The Ospreys were individually superior and collectively sharper at the breakdown. Behind the pack Kahn Fotoili'i was majestic but Ben Youngs bounced back with a bustling second half of his own.
Leicester utilised their extra squad power - enhanced by the savage injury toll on the hosts forwards which was worsened with both Ryan Jones and Richard Hibbard leaving the field within the hour.
The Tigers kept coming and two quick tries in the final quarter seemed to have given them the match before a mesmerising run by Eli Walker ended with Jonathon Spratt scoring in the corner.
Not for the first time Dan Biggar missed a difficult kick. On three occasions he struck woodwork; fate was on Leicester's side but they had to graft to get Lady Luck's aid.
It will be scant consolation to the Ospreys but they are not far from becoming a significant force in Europe. Given a little more luck with injuries and slightly more strength in depth they are set to be there or thereabouts in next season's European campaign.
Questions
Leicester are full of guts but short of the form required to beat the very best. Toulouse, however, are some way themselves from belonging in that category.
Home advantage makes Leicester favourites, although the one area they can base their foundations upon, the set pieces, is the area where Toulouse are strongest. Can the Tigers win without set-piece ascendency?
It is one of the larger questions of a forthcoming weekend overloaded with excitement. Biarritz, Northampton and possibly Toulouse could fight it out for a best runner up.
Munster and Leinster are in even better positions to push for the seventhh and eighth spots but if Montpellier beat Toulon at home they will guarantee one of those berths.
If the champions get the bonus point win in Exeter we are set for Munster having to beat Racing (possibly demoralised by the Saracens fight back) and score two tries more than Leinster achieve on Saturday night not just to qualify but to knock out the champions and their deadliest rivals.
On the strength of their ropey effort against Edinburgh that seems unlikely but with this tournament red hot as it reaches round six, anything can happen.
I am counting the days off...
Stuart
Stuart answers your emails...
Got a question for Stuart? Email him at skysportsclub@bskyb.com or use the feedback form below...
Morning Stuart, what an incredible weekend! Spent most of it on the sofa watching the rugby... I'm a huge Leicester fan and just wondered whether you thought that having done so well to get in front of Ospreys, they should have gone on and won the game? That they didn't is systematic of my main concern - namely their defensive prowess under intense pressure, surely one of the greatest attributes of any great side. So while I feel that Leicester have the attacking game to win the competition, my question is - is their defence up to it? Thanks,
Rory Johnson, Luton
STUART REPLIES: Rory, weird how one game can look so different isn't it? I thought your team's defence kept them in the game in the match and was undone by just one of those runs. I contrast I am concerned that unless Leicester dominate the set piece almost to the extent of a monopoly, your attack lacks the sharpness to compete against the very best.
Dear Stuart, Following the EPS squad selection I wanted to get your thoughts on what Billy Twelvetrees' selection means for the second playmaker role. This is of course assuming he eventually usurps Brad Barritt from the starting line up. While I think that Barritt has done well and has probably bought himself some time after the All Black game (don't think Conrad Smith will be making that mistake again), long term surely a ball playing 12 is required. As you mentioned in a recent column Twelvetrees has it all, so my first question is how long do you think it will be before he gets a chance. The second part of the question is do you think once he gets his chance that negates the need for Alex Goode. He has played well coming in at second receiver but with Twelvetrees potentially there we could recommence using the 15 as a strike weapon in the channel outside Manu Tuilagi. Ben Foden or Mike Brown are more suited to this role than Goode (Foden would be my pick - just!). This would then allow us to keep Brown on the wing where he did very well against the ABs or perhaps Christian Wade will have developed his defence sufficiently to give us the real X factor we've not had since Jason Robinson retired. Now that is an exciting back line! What do you think?
Sam Shelley
STUART REPLIES: Blimey, there's a few thoughts, Sam. Twelvetrees has to be near Barritt in form to get a crack. The Saracen is actually improving areas of relatively recent weakness. There is definite improvement in his hands. The Gloucester 12 has a wider passing game but has to be playing somewhere near Test level before introduction to the squad translates to starting. Funnily enough, Barritt although Barritt is on an upward curve if Twelvetrees can show form I would love to see him start against Italy - a team England will beat at Twickenham. That is very different to suggesting Barritt is eclipsed but insted suggesting England have the scope to experiment with BB coming back for the bigger tests until, or if Twelvetrees usurps him.
Goode's value is not primarily linked to be the distributor England currently lacks; rather his vision and kicking game ally with his passing to make him a sharp attacker of real quality. Brown is again the form pick and Foden possibly the most explosive but I would hope and expect to see Foden filling the problem position on the left wing. Wade is coming but has not quite arrived yet...
Morning Stuart, I would like your opinion on some matters about our modern game which I fear is heading in the wrong direction and is damaging the free-flowing exciting rugby that we all love; the kind of stuff that draws in bigger crowds every week and gets them excited and want to come back for more.
I have noticed for a while now the game is becoming dominated by penalties; the Saracens template is to get into the other team's half, force the error and take the three points - all very boring. It cannot be right that two penalties can be of more value than one try. Why don't we change the point system to make penalties an unattractive option, plus award more points for tries.
My other gripe is the box kick from outside the twenty two. Make it illegal. I was unfortunate to be at the Saints on Friday night and I think I am right in saying we kicked six box kicks on the trot, some of them just short of the halfway line much to the dissatisfaction of most of the crowd.
Kind regards,
Bob Moseley
STUART REPLIES: An interesting letter, Bob. Drop the penalty and you enhance the temptation to cheat. A better option is surely to increase a try to six points and downgrade the conversion (and also the drop goal to one). As for box kicks, I have to disagree with you. A bad box kick is an attacking opportunity for the defence. I have no problem with a kicking game as long as it is well done. I would suggest that the current balls themselves are an issue. Make the sweet spot smaller and therefore harder to kick and that will play more to the non-kicking team. Right now everyone can hoof the thing half way down a pitch. Make it more of a skill and then we will see less kicking. I love this idea but alas, it belongs to my Sunday Times colleague and friend, Stephen Jones. I don't want to plagiarise so thanks to Steve for the idea and you Bob for the question...