Mixing it up
Stuart Barnes says Stuart Lancaster has to get the balance right in England's elite and Saxons squads.
Last Updated: 07/01/13 2:03pm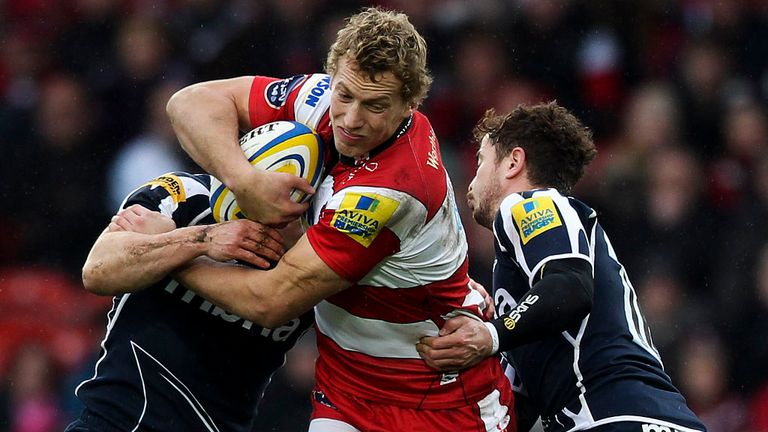 It may be the start of a new year but we are bang in the middle of the season's rugby. The various domestic leagues are past the mid-way point, the final two rounds of European action are upon us and the international squads for the Six Nations will be making the headlines this week.
All that and the news that Dean Ryan has been appointed as a consultant to assist Scotland in the Six Nations; Dean and the Scottish Union will have to make the official announcements later this week but it is fair to say that all of us are delighted to have a member of our team so closely involved with the Six Nations and that Dean remains very much a core part of our operation.
He has one hell of a job on his hands. Scotland has won just two games in their last three Six Nations campaigns. They may have claimed the odd Southern Hemisphere scalp under Andy Robinson but for Scotland - with its more limited resources, compared to England and France - the mark of success should be our local European scrap.
Dean knows that Italy is the game Scotland must win; that is where they are at the moment, in the third tier of the international game along with Italy. Ireland, Wales and England, despite their magnificent win against New Zealand, are officially second tier when it comes to World Cup rankings with France the top-rated team in Europe.
It will be fascinating to see how accurate the World Cup seeding are come the end of the Six Nations. The debate centred on the timing of the World Cup draw could intensify should Wales, for example, win the title yet only be rated a third tier team (with England in London and Australia their punishment for the lowly rating).
Scotland starts with England and finish with France; Scott Johnson's team at least can approach England without too much pressure. All of Scotland thought they would beat Tonga but few expect them to beat a side that conquered the world's best. The pressure will be on England.
This Wednesday Stuart Lancaster will reveal the England Elite and Saxons squad. As ever the headlines will centre on who's in and out at the elite squad but the selection process is a little more complex than that. The England manager knows that injured elite players can only be replaced by Saxons which makes the selection of the secondary squad a fascinating mix of balance between young talent and players he can trust and fall back upon.
Most of the senior squad is pretty obvious with Tom Youngs, Joe Launchbury and Freddie Burns all Saxons - not EPS members from the autumn.
Billy Twelvetrees is the name I am looking for; I hope he is in the EPS. His form has been erratic and Lancaster has a reputation for picking on form but the Gloucester inside centre has potential to become the creative passing inside centre that he has yearned for. To introduce him, despite form, into the top tier would be a statement of intent.
It may well be that the clues to how Lancaster thinks can be found more in that Saxons squad.
On a roll
Enough Six Nations; this weekend has the more pressing matter of the Heineken Cup and a number of selections stand out.
I don't write this simply because I am heading to Nantes but Saracens away match with Racing Metro stands out as the most riveting game of the weekend.
Saracens are on a roll in Europe and England but Racing Metro are only two points behind them in Europe and have the added momentum of an away win in Toulon to boost their belief in Brittany. Any side who can win in Toulon cannot be taken anything but seriously.
After a desperately slow start to the season Metro are wide awake. In the previous round of Top 14 games they notched forty points plus against Agen. This looks a real test of the Saracens who have impressed of late.
On Friday night, don't forget there is a game behind the red button. It is another interesting Anglo- French game with Northampton meeting Castres. The Saints can keep their hopes alive - although they probably need a bonus point win - while Castres could upset the order with a French win.
They would have a home game against Ulster to come and few teams relish a match in Castres. The Saints are favourites after a powerful and rounded win at Exeter but the French team has a powerful pack and teams that match Northampton in the set piece often prevail as both Harlequins and Saracens recently managed.
The third Anglo-French game to catch the eye is Sale's home game with Montpellier. The French side will get to 17 points if they win without a bonus point and would have a shot at qualifying in round six at home to Toulon (they might even have a shot at winning the pool should Cardiff match Metro and win on the Med).
It is a tall order but a fine victory in Cork against Munster sends them to France in good heart. The form of Rhys Patchell will be scrutinised in detail. My old mate, Jonathon Davies has said Dan Biggar and James Hook are both ahead of him in the Welsh pecking order; Biggar is rightfully so but Hook is not Wales's answer at ten.
On Sunday Biggar (now a Lions contender) will try and boot Leicester to defeat and set up the Tigers match with Toulouse as the game of round six. Barring a miracle one of these teams will come through (I do not see Treviso winning in Toulouse, that is a thought to far) but Sunday's result will dictate exactly what is needed in terms of bonus points etc. Leicester's scrum is going superbly and their defence is good but otherwise they are not firing on all pistons.
Their pack was too much for the Ospreys at Welford Road but the Welshmen were much closer to the Tigers than the final scoreline indicated. The home side enter the game as slight favourites.
Wasps flying high
Wasps are not in the Heineken but they are fourth in the Premiership and well placed in the Amlin. Dai Young has the most improved team in England on his hands and they are playing some smart rugby. Also they are improving their basics week after week. The line out is a strength and the scrum no longer the massive weakness it was at times last season.
They and London Irish was the success stories of last weekend but as Europe looms the two most significant club facts loom as Metro's win in Toulon and Clermont's 53rd straight win at home. I hope Exeter's supporters enjoy the occasion; I will surprised if they enjoy the match any more than they did the hammering they suffered at home.
To everyone, enjoy the weekend and 2013,
Stuart
Stuart answers your emails...
Got a question for Stuart? Email him at skysportsclub@bskyb.com or use the feedback form below...
Hi Stuart, Your Sky Sports colleague Dean Ryan has just taken up the role as Scotland forwards coach. What will he bring to the side and how much quality does he have to work with?
Jack Armstrong
STUART REPLIES: Dean will bring clarity and a cool head......as for quality there's plenty to work with, the question is what sort of quality. I think he will help Richie Grey take a step towards becoming a Lions test lock; that's one prediction I will make, otherwise let us wait and hear what my friend tells us later this week.
Hello Stuart, I know we are still a few months away from the Lions Tour, but which locks would you chose to board the plane to Australia?
Ben Anderson
STUART REPLIES: Ben, Obviously Richie Grey (promise I wrote the last answer before seeing this question) with either an oldie or a youngster - Joe Launchbury - as his partner. The Wasp would be my pick at the moment.
Hi Stuart, What is Ben Foden's best position and where do England need to utilise him most?
David Simpson
STUART REPLIES: Daniel, full-back is his best position but he is not England's best full-back. He could and should be the best left wing in the country. His form was most encouraging for both Saints and England fans down in Devon.
Hi Stuart, What three things, either on or off the field, do Bath need to do to become a massive force in English rugby once again - other than get you back on the park!
Thanks, Mark Doral
STUART REPLIES: Mark, I am afraid I do not know where to begin... get my old mate, Brian Ashton, to act as a consultant (I don't think Brian would accept the offer but you never know) to clarify a few principles of attack. Come up with a philosophy where style and success go in that order so whilst Bath are not winning titles they are being stylish - the Toulouse of England would be my way of phrasing it... and getting a fly half of true class - and that has nothing to do with your flattering words. Dean is making a comeback in coaching but I think I'll leave the playing to other younger, fitter and faster lads...