Classy Clermont
Stuart Barnes rounds up the winners and losers from the Heineken Cup and reveals his wish for 2013.
Last Updated: 17/12/12 1:27pm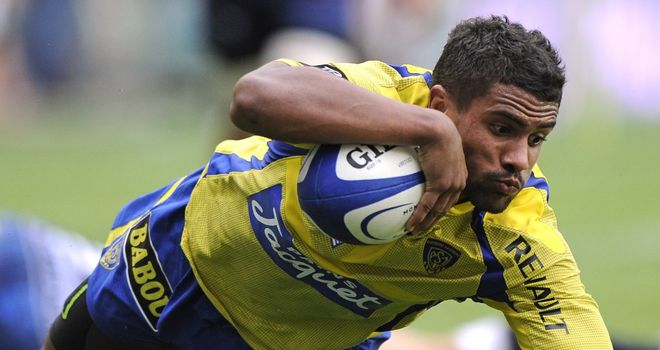 Saracens and Munster not only provided a flinty finale to round four of this season's Heineken Cup, they restored a semblance of rugby sanity.
The best laid plans of mice, men and coaches (not to mention broadcasters who prematurely plot their travels for the next round) went astray with results and expectations turned upsides down in the space of seven days or less.
Less in the case of those sides; the previous Sunday Munster won 19-13 in Limerick. The bonus point Saracens gained despite playing well was typically, well, Munster. In Watford Saracens, the team with home advantage on this occasion, prevailed; the margin an identical 19-13.
If the bonus point was important for Saracens in Ireland this one was massive for Munster because they have ceded the pool advantage to Saracens but retained a strong position as one of the likeliest two best-placed qualifiers.
In the process they could deprive their great rivals, the current champions, Leinster; there are a few bars in Limerick and Cork that would take the greatest pleasure from this Irish irony. There is nothing between these teams except the unexpected defeat inflicted by Racing Metro upon Munster in Paris in round one.
It was a game Munster really should have won but an unusual tactical meltdown cost them dear. To see the imperious tactical appreciation of Ronan O' Gara in the second half and to remember his premature departure in Paris is to comprehend why Saracens are in pole position for the pool and Munster for the privilege of an away quarter final, possibly at Harlequins, Toulon or Clermont.
If the men in red make it through they would probably choose Harlequins as a preferred destination. Toulon battered them in the south of France a few years ago and the romp against Sale was another reminder they are deadly serious about their European extravaganza this time around.
Clermont rise to the occasion
Clermont Auvergne looks an even uglier draw. They were immense in Dublin, dismissing the champions with far greater authority than the margin of seven points suggested. The sweeping, Jonny Sexton inspired last gasp try to salvage a bonus point keeps them alive but they are hanging on by their fingertips. Munster's bonus point loss makes the grasp look more tenuous still.
Racing Metro at home and Edinburgh away could and perhaps should result in a maximum ten points for them which leaves the door open for just one more team. If Toulon romp to victory in round five Montpellier could be the beneficiaries with Bernard Laporte's men taking their foot off the accelerator with a home tie possibly already in the bag.
But there I go again, thinking too far ahead. I did that last week and Clermont left their nervousness in the Auvergne behind and were simply scintillating. They are the team to beat.
We knew they were good on their day but after they struggled to quell Leinster at home we (or I was) lured into thinking that they lacked the mental strength required. I was not the only ex-player to think these thoughts but more fool me for voicing them!
Poor attitude
Toulouse's one-week turnaround from bonus point winners against Ospreys to hapless second best in West Wales was less of a surprise. They have a magnificent squad but a less than magnificent attitude. It was no shock to see them bomb out in Edinburgh last season; it will not come as a huge surprise if they stumble out sometime before the semi-final this time around.
Credit to the Ospreys; they were good in the second half. Eli Walker was a rare but deserved man of the match award for a winger. They promised that, if they could not be kings they would ruin someone else's possible coronation. They were as good as their word and showed (as did Toulouse) just how much rugby is a game played in the mind as body.
How else can we explain the biggest turnaround of them all as Northampton turned humiliation from the previous Friday into gritty triumph, ending Ulster's perfect 13-match winning run in the process?
The Saints promised a determined reaction and delivered; Ulster might just have won too easily for their good the previous week. They remain favourites to win the pool but with Castres away a difficult hurdle remains. Northampton are still against it but too powerful performances throw them into the mix as possible best placed runners up (that is if they don't overhaul the other two sides which is unlikely but not impossible).
Best of 2012
The performance of the weekend was that of Clermont; the individual star billing was the genius of Ronan O' Gara's boot. England' win against the All Blacks gets my vote of game of the year with Wesley Fofana's dropped ball over the line in the semi-final the most dramatic moment of the year.
Dan Carter was glorious until his final game but he is not my player of the season; that award goes to a man not even nominated by the flawed IRB system. Juan Martin Fernandez Lobbe was a hero for Argentina in their debut season in the championship. He toiled in vain most of the time for country but will 2013 be the year he is rewarded with trophies at club level? At both domestic and European level, he has real chances.....I am sticking with Clermont for Europe and go Toulon for the Top 14.
My greatest rugby hope for the New Year is that a satisfactory agreement can be reached in European rugby before the lawyers become involved. Let us raise a glass to that and all things positive, good luck to you all and happy Christmas,
I am taking a few days off so there will be no column next week, hence the early wish to you all, before then it is business as usual; a Rugby Club and Northampton versus Harlequins. There will be nothing festive about this important Premiership game other than those Santa hats in the crowd!
Stuart answers your emails...
Got a question for Stuart? Email him at skysportsclub@bskyb.com or use the feedback form below...
Hi Stuart after four rounds of the Heineken Cup can you see anything but a French side lifting the trophy this season? I know Ulster have been playing well and Munster are still not out of it but Clermont look like they are in a different class and Toulon certainly have the depth to beat anyone.
Anthony Wright
STUART REPLIES: Clermont would be my clear favourites. I fancied them before the tournament started and wish I had backed them. Toulon also look a major threat; outside France I am confident Harlequins will achieve a home quarter final and be hard to beat at the Stoop. A good draw and an English semi and they won't be far away although the French possess so much power and strength in depth. Quins not to be written off but Clermont to win it.
Stuart, what does Diamond and Mitchell need to do to get Sale back in business. There was so much positive talk surrounding them pre-season but they have imploded. Their latest loss to Toulon was humiliating - what is wrong there?
Stephen Quinn
STUART REPLIES: Stephen, Steve Diamond talked a big game but has delivered a team whose effort was invisible in France. Losing is one thing, chucking in the towel is another. The management has proved an unstable environment; the squad put together the wrong balance. If Steve Diamond had been working under Steve Diamond he would have sacked himself by now, that is for sure. What to do? Pray? Not much use if you don't have any belief... maybe hope Brian Smith doesn't beef up London Irish's weak pack? Lots of questions and no obvious answers and John Mitchell is a tough coach but he's not the Messiah...
Stuart, how impressed have you been with Donnacha Ryan this season? I think he has really stepped up to the plate for Munster and for Ireland - would he be in your Lions squad?
David Graham
STUART REPLIES: David, Very, and I was again on Sunday and yes, I think if a squad was picked now he would be very close to selection, very close indeed.
What do you make of the latest round of Heineken Cup talks breaking down? What do you think the future of this wonderful tournament should be and can you see the English and French clubs breaking away?
Mathew Dexter
STUART REPLIES: Mathew, obviously the debate involves Sky so I cannot offer my opinion as an involved party but I do know that while the Accord has time to run, opposing parties are unlikely to give much ground and so it proves... as I write in my column, please don't let the lawyers get involved. There is no absolute right or wrong and so some give and take is essential... we are maybe too far from the deadline for that to happen.
Personally, I would like a 24-team tournament with the three leagues all represented with eight clubs and one guaranteed from each of the four countries represented in the RABO. That would actually make RABO qualification harder than it currently is for the English and French which would answer one of their complaints.
Six pools of four with the other 14 professional teams in the Amlin, supplemented by the winners of the second tier of European international rugby (ie Georgia and Spain would have played this season... the four pool winners joined by the 3rd, 4th, 5th and 6th best Heineken runners up which would beef the Amlin to boot... so ends my game of 'If I ruled the world'. Perish the thought!!!!