Ending on a high
Stuart Barnes looks at what England need to do to make sure their win over the All Blacks is not a one-off.
Last Updated: 03/12/12 10:51am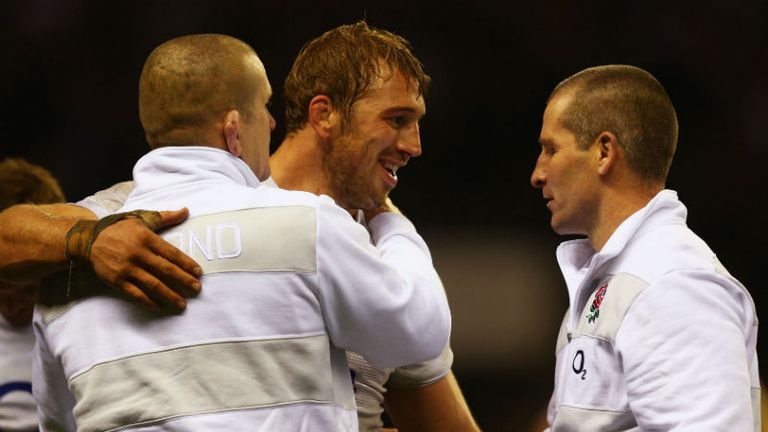 After a year of question marks, finally the exclamation mark, for which Stuart Lancaster's doubters have been waiting.
Good wins and poor performances, solid performances and losses have combined to make his first year in charge of England a fiendishly difficult one to evaluate.
England took the field on Saturday with five wins, a draw and five defeats; the New Zealand result would either push them into credit or debit. The rest, as they say, is history. It was one of England's finest performances. Full stop.
In the headlong rush to the next game it would be a shame if those involved cannot pause for a brief spell (say Sunday and Monday!) and reflect upon their 80-minute achievement.
The World Cup draw throws everyone's mind forwards to 2015 but there is more to life than World Cups. New Zealand is held in such awe as a team because of their capacity to keep winning in style, game after game, year after year. They remain the template despite their hideous hammering. And Lancaster, Chris Robshaw and the rest of the team and management deserve a hefty round of congratulations for the rarest of wins against New Zealand. When Tom Wood, Owen Farrell, Brad Barritt and the rest of them are old and grey and nodding by the fire, they will have a glorious memory to recall.
Six wins, five defeats and a draw. England finished the year in positive on the book and with an almighty momentum behind them. Once the warm feelings are left behind, Lancaster has to ensure the team builds upon this performance. England did, under Martin Johnson, produce a similarly (although not quite as remarkable) performance against Australia in 2010 and yet that regime ended in despair.
The New Zealand win will either be the highlight of Lancaster's regime or the kick point from which this team can develop. If they do develop progressively onwards and upwards then it really does not/did not matter who they drew, no side will fancy facing them with Twickenham as another positive factor.
The team has talked up character all year and there is no question all great sporting sides have an abundance of it. Until Saturday afternoon the question was not one of character but whether this group of players and coaches has the ability to offer the extra bits and pieces needed to return England to the top tier.
The affirmative answer places England in a position of great strength. Lancaster cannot settle for the New Zealand win. He has to take the team to another level. It might mean testing new faces and leaving out heroes when they meet Scotland. It might mean taking risks rather than settling for a power based forward game that will only prevail against mediocrity and on the odd occasion. In short he has to create a team that guarantees Saturday is more than an 'odd occasion' and a marvellous memory for those involved.
The side is hugely well-resourced. The RFU is determined to be successful on and off the field and the acid test of this, the benchmark is probably beating New Zealand with the sort of regularity Clive Woodward's team managed (they only ever beat a full strength Kiwi team once, in New Zealand but they won against the teams New Zealand sent to Twickenham in the early years of this century). It was a great day for English rugby but the work begins to ensure it will not be a false dawn. The resources ploughed into the women's game are reaping rewards as England beat New Zealand again to win a series 3-0. Congratulations to Gary Street and his team. They might not be world champions but they are now the world's best team.
Worst defeat for Wales?
As wonderful a Saturday as it was for England it was a devastating one for Wales; Sam Warburton called it the worst defeat of his career. Kurtley Beale's last second try not only won the match for Australia but sent Wales into the third tier of the rankings for 2015. Nobody could have envisaged that when Wales claimed the Grand Slam earlier this year.
There have been some mitigating factors but the slump, seven straight defeats, shows the Six Nations has to be about more than winning if aspirations are global. The quality of last season's campaign was poor and in the long term, short-term satisfaction proved lethal. Wales has to have more than the battering ram game and mighty defence that did for the other five nations. Their quality fell from the 2011 World Cup to the 2012 Grand Slam and results post the 2012 championship prove it.
France and England cannot settle for where they are. Ireland has to remind itself the Argentina win was a one off and Wales has to not so much get back to where it was in the last Six Nations but get back on the track they were on in New Zealand. These are the challenges that can hopefully lift the Six Nations from the mediocrity of recent years.
Back to Europe
Away from the European teams, the draw will be dissected long and hard all week and in the years to come. Irrelevant of that draw the rugby world must and should be delighted to see both Samoa and Argentina breaking into the top eight. The fact that Wales and Scotland are relegated to third tier World Cup status is as good for the game as it is rotten for those countries. A mention too for Tonga whose media role in Europe has been as handmaiden to Andy Robinson's departure; we should remember this team beat France in the last World Cup. To see them in the third tier of seeding is hugely to their credit and another boost for the world.
The sport has to find more nations emerging at a rate to galvanise the next World Cup. Argentina benefited from its introduction to the Championship, is it not time Georgia, Russia, Romania or whoever wins the FIRA championship had a shot at the Six Nations? At the very least a play- off against the bottom team to give them a chance to raise their game and standards. Scotland's record of two wins in their last 15 games is hardly the record that demands automatic inclusion at the top table. The old boys' brigade needs a good kick up the rear in the interests of the game at international level.
Vengeance
At club level we return to Europe and what a weekend awaits us.
Ulster remains unbeatable this season and they travel to Northampton. If the Saints cannot stop them at the Gardens Northampton's hopes of making the last eight will lengthen considerably. That will be a Friday night game and a half.
On Sunday my travels culminate in Clermont with Leinster facing up to the team they beat in last season's semi-final. The French are promising vengeance and the champions are struggling for form but you don't become three times champions for no reason. Before the last weekend I was adamant that Clermont would gain that revenge; after the events of Twickenham we are all reminded that anything can happen in sport.
The mighty All Blacks were brought low by England when 1-12 favourites. A Leinster win would be no sort of shock in comparison; a bonus point loss is more likely - even if the champions fire - but after the events at Twickenham, no predictions for a day or two.
Well done England and well done Richie McCaw and the All Blacks for not using the food poisoning as an excuse for the defeat. They are as classy in defeat as they have been all year in victory.
Stuart answers your emails...
Got a question for Stuart? Email him at skysportsclub@bskyb.com or use the feedback form below...
Hi Stuart, I'm pleased my misgivings about Stuart Lancaster's starting line-up and the abilities of our centres to score tries were well off the mark - also Farrell had a great game. Congratulations to all - what a magnificent performance. However looking ahead to the Six Nations (and beyond) do you think England should persevere with Farrell or Flood at No. 10 (should Burns be given a chance to start?) and would you put Joseph in the centre?(assuming the fore mentioned are all still fit and in form in February) I'd appreciate your opinion.
Roger Hale
STUART REPLIES: Roger, the time to step up the development is now. I would start Burns in the next game; not in any ways dropping Farrell but looking at other options. I would also like to see Joseph looked at a la Burns with Tuilagi tried on the wing with Burns's slick passing game involving him in ways most uncomfortable for opposing defenders.
Stuart, as the old saying goes one swallow does not make a summer but that was definitely a step in the right direction for England. They were not perfect and the All Blacks were very disappointing but England were everything I wanted them to be on Saturday. What do they need to do to build on this victory - I still think the mid-field is a problem and I hope the victory does not paper over the cracks.
Ian Mellan
STUART REPLIES: Ian, the breakdown has to become a matter of instinctive decision making. One good day at contact does not prove England has sorted that problem out once and for all. The quality of the passing is still average as well. If they can lift their game in these areas and hold onto the rest they'll be quite a team.
Stuart, unlike most British pundits (and posters), the NZ press seem to think England's kicking game was spot on - Farrell & co were intentionally kicking long and then closing down the NZ back three. Whereas back at home most observers reckon the kicking was 'wayward'. Which version do you prefer?
Gavin Serrano
STUART REPLIES: Gavin, a bit of both......some kicks were deliberately long, some box kicks strayed 10 metres too far. Overall the kicking game was light years better than anything seen this autumn. Dare I say it was helped by an off key and complacent Kiwi counter attack game that didn't switch on until England were well in control?
Stuart, do you think that Wales are mentally weak and do not know how to win a game anymore? Kicking the ball away like they did against Australia is criminal and surely the senior players should have stepped up to control the situation.
Tom Barton
STUART REPLIES: Tom, mental weakness against the best is an old problem for Wales. Remember, had they been mentally tougher they might have squeaked their way into a World Cup final. They have youthful talent but the over-reliance on Warren Gatland to psyche them up must be getting wearing for Welsh fans.
Stuart, why are the IRB seeding the teams for the World Cup almost three years before the comp? Most sides are going through a rebuilding stage and will be developing over the next year or two - surely they could wait a year or two to make sure the pools are better balanced?
Liam Duffin
STUART REPLIES: Liam, I have no answers to the question only a 100 per cent agreement with you. There isn't much more to add.
Based on the autumn internationals, if the lions toured Australia tomorrow and had a game, what would be your starting XV? Surely it has to be predominantly English now?
Gary Phelan
STUART REPLIES: Gary, one swallow does not make a summer.....last week it was predominantly Irish after they blasted Argentina; let's take our time and see what consistency and quality comes to the surface in the next few months........oh but here we go, based on long term views as well as short term influence:
Corbisiero, Hartley, A Jones, Grey, O Connell, Ferris, Robshaw, Heaslip, B Youngs, Sexton, Tuilagi, O' Driscoll, J Davies, Halfpenny, Kearney.......
No North, Parling, Wood, Faletau, Lydiate, O Brien, Roberts, North....Gatland has some strength in depth and tough decisions to make.
PS. He might yet have to reconsider his opinions on seven as his Welsh captain is way off his game. Loyalty is a virtue, blind loyalty a folly!