Cherry and fight
Stuart Barnes asks if Gloucester have rediscovered their never-say-die attitude.
Last Updated: 02/11/12 10:47am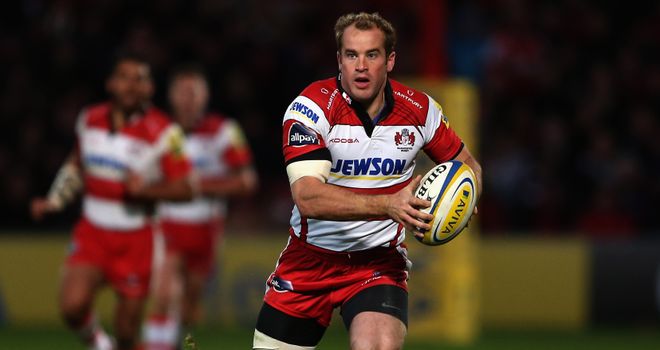 I went to the cinema a while ago and came out thinking about Gloucester; didn't tell Mrs Barnes who thinks I need to get a life but after Saturday evening's 13-man heroics against Leicester it's time to recount those thoughts.
The film was 'Lawless'. The screenplay is by Nick Cave; I am a fan of Cave's lyrics; that was the main reason for going. The script - 'based on a true story'- centres upon the deeds of a set of bootlegging brothers (talking whiskey not Bob Dylan concerts here) and the eldest brother is one tough bootlegger.
In one particularly violent scene a rival slits his throat with a totality which leads to death; I know because I have seen it so many times in the movies. Only our hero makes a miraculous recovery (and if you don't believe in miracles that is the filmic equivalent of hanging on against the Tigers with two men down; or Chelsea coming back to beat Manchester United, nine against eleven. In real life these things do not happen).
Anyway, I digress, back to Lawless. He recovers from the throat-cutting incident only to be riddled in the guts with bullets by the film's bad guy. That's the end of him, I thought, but oh no, Cave had him grumbling into his plate as the family sat down for a meal sometime in the future. And the thing is, he survives because he believes (yes, yes, it is only a film). Big Brother tells his brothers they are invincible. That they are, like Achilles, invulnerable in battle and with the belief comes the survival. (I won't ruin the end for you and tell any more).
The point is some people can take a vast amount of punishment and come out the other side partly through willpower and self-belief. Others suffer the slightest, most superficial cut and swoon, disintegrating in a manner to confound and disgust these bootlegging brothers; which brings me to Gloucester.
Never an easy win
There was a time when a trip to Kingsholm was a guaranteed battle. In my Bath years we were, man for man, superior and likely to win with ease at home.
But in Gloucester we would point out our innate superiority as we looked down the team sheets but that never translated to an easy win; not in Gloucester. They had a pack and not much else bar a vast determination in front of their superb supporters. In the end a 6-3 win was a cause for celebration, never mind the fact we were 20 points better on paper.
Gloucester changed with the advent of professionalism. They became easy on the eye for the first time in their history (if they ever used the backs before my days, the old guard at Gloucester has not admitted as much to me).
They were dazzling with James Simpson Daniel replacing Mike Teague as the local hero. Now there is nothing wrong with that because somebody has to love England's most wasted talent of the 21st century. Yet it is almost as if Gloucester forgot those roots forged by the forwards and that indomitable fight until the last second mentality.
Heavy defeats in finals and a growing vulnerability at home only heightened the sense of Gloucester's not totally welcome evolution. They were the ones who fainted at the sign of their own blood. Take them on and they'll collapse. So it has been too often for the Shed and the rest of this support base but on Saturday they rediscovered that bootlegging spirit of Lawless and refused to accept their rational, seemingly inevitable, fate.
A turning point?
The last time I remember a team surviving a two-man disadvantage in a big game was England in Wellington 2003. England won in New Zealand. They went on, of course, to win the World Cup on Southern soil.
I am not suggesting Gloucester are suddenly the world's best team but if Nigel Davies's men have found the secret of self-belief and merge it with the talents of JSD, Freddie Burns, Jimmy Cowan et al, then they have taken a substantial leap forward in the space of ten minutes, from the 59th to 69th minute of the game against Leicester to be precise.
There has been plenty of criticism of Mike Tindall's technical ability in this column over the years but on Saturday his leadership was spectacular. This team didn't look like it was playing for money, but Gloucester. That is a cause for celebration amongst traditional rugby fans.
Away from that thrilling game there have been plenty of problems for the international coaches. Injuries are an abundant inevitability (even the Big Bootlegging Brother has to recover from his scrapes.) We'll consider them in greater depth next week when we know more about the medical prognosis.
As far as this week goes the column celebrates the day Gloucester defied rugby reality and hopefully (for them but no other club) rediscovered their grim, defiant past.
The film wasn't bad but it would have been better with Gregory Peck.
Stuart answers your emails...
Got a question for Stuart? Email him at skysportsclub@bskyb.com or use the feedback form below...
Hello Stuart, Having watched Toby Flood closely since his move to Leicester I still find his poor drop-kicking to be a major shortcoming in his repertoire. Not only is he scared to go for a potential match winning drop (witness Saracens away last year when he left it to Geordan Murphy), but he cannot get hang time on his re-starts. If you watch his re-starts for Leicester, the opposition invariably take the ball unchallenged whereas that is not the case with most other number tens. Surely, England need to have a kicker that gives its forwards the opportunity to re-gather a re-start? Do England not have a kicking coach that will teach him to gain that extra split second with the ball in the air. Re-starts are a vital part of the game. Without Flood gaining more hang time I can't see England beating the southern hemisphere giants.
Peter Arnold
STUART REPLIES: Peter, It is true that kicking is one of those areas where basic skills have been neglected. Compare Dan Carter's restarts with Flood's. You make a decent point. In Dave Alred England possesses one of the world's best kicking coaches but for some reason or other he and England has drifted apart. Wilkinson has always sworn by him, others find him hard to work with. A zillion years ago I was one of his first projects and I am in the Wilkinson camp on this one. He'll be demanding but it ain't easy getting to the top....
Stuart, the injuries to Lawes and Hartley are big blows for England's chances in the autumn. I know Hartley is seen as a potential England captain but Lancaster (I don't get that at all!) but think that Lawes would be the much better loss - would you agree?
Cameron Fletcher
STUART REPLIES: Cameron, Lawes would be a huge loss; he's coming back to form but Hartley would be even more worrying an absence as Tom Youngs is in the development stage still (we saw that at Kingsholm). David Paice has been called up and might leapfrog the Leicester man into the starting line up; no, Hartley is more of a blow.
Stuart, what do you think Stuart Lancaster would have made of the Glos v Leicester game? I know you go on about not judging players on just one game but surely the performances of some of his England squad member compared to those he has ignored would have had him scratching his head? Freddie Burns was exceptional - as he has been all season, while James Simpson-Daniel may not be in the right age bracket but surely should be in at least the Saxons squad?
Richard Hale
STUART REPLIES: Richard, Freddie was not exceptional. In fact he had a poor game in terms of controlling and shaping a match. He did reveal much brilliance however but I think this England team works along different lines. What might have earned FB most brownie points with the selectors was his defence as this appears the primary function of midfield England men. Freddie is not ready yet but given the form and potential of those around him his omission looks disturbing. As for JSD, the Lions maybe but not the Saxons. To see England give up on him so long ago is the saddest selectorial cock up in an age of major bloopers! He's England's most gifted three-quarter and utterly ignored.
Stuart, if Hartley's knee injury and Robshaw's eye injury do rule them out of the autumn tests who would you like to see given the captaincy - would a man who not only has plenty of experience but also is in superb form be called up - Nick Easter perhaps?
Gary Rigby
STUART REPLIES: Gary, No; you are trouble making and you know it.....it'll probably go to Tom Wood who is not playing well enough to be in the squad.