Inspired lunacy
Argentina's kamikaze style against the All Blacks could help them in the long run, says Stuart Barnes.
Last Updated: 01/10/12 2:38pm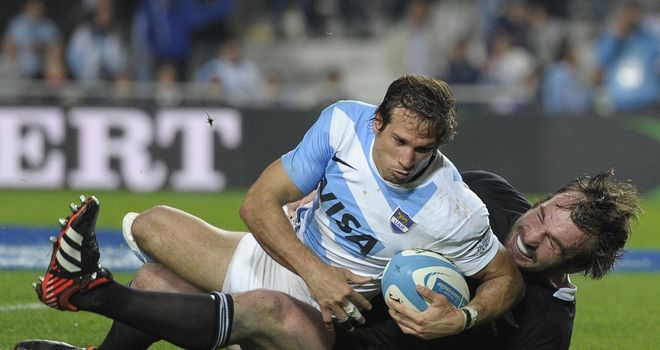 What an occasion it seemed in Buenos Aires.
Argentina, in front of a hugely partisan but appreciative crowd decided to make a show of the Test match with New Zealand. The limited game plan disappeared somewhere in the Pampas as the Pumas sought to play some ambitious rugby.
Absolute madness of course; to beat the Blacks you have to grind them backwards into low gears. High-octane attacking stuff with the ball getting plenty of oxygen - sorry boys there is only one winner.
And what a win; New Zealand clicked for the first time in the Championship and posted seven tries and 54 points on the home side. Yet here is the strange thing. At full time the home crowd rose to acclaim New Zealand as well as their own team.
This had been a match dominated by sexy sports car attacking rugby; Corey Jane and Dan Carter, Ma'a Nonu and Julian Savea. It was all so slick as the All Blacks clicked.
And maybe what guaranteed this performance was the quite dazzling Argentina first try. The place erupted. I swear even my living room in darkest Wiltshire vibrated the tiniest fraction (I didn't spill my red, you will be relieved to know) and Richie and his merry men realised a challenge had been laid.
The gauntlet was picked up and rammed into uncomfortable quarters for Argentina but the home side came back with a second try of its own and never stopped trying to create. Inspired lunacy, what gives?
Short term this was a potty policy, long term it was a defeat worth tasting. Primarily Argentina understand that if they are to ever match New Zealand over a continued period they have to offer more than their heroic brand of forward play and breakdown brilliance.
They pushed the boundaries in Buenos Aires and found themselves lost in space but the experience will do them huge good. Also the spectators were thrilled with the spectacle. And that counts.
Entertainment
Dewi Morris and I have an ongoing argument centred around the word 'entertainment'. To paraphrase him, the great man thinks teams should entertain for the sake of the game as a way to bring new bums to seats.
I prefer to think the way the All Blacks play is determined more by the fact that their full repertoire makes them the best team in the world. It's probably a bit of both.
New Zealand's structure is geared only to winning but those with longer memories will recall how the nation changed its approach to the sport when rugby league briefly threatened. Ruckers were replaced with runners as New Zealand were renamed the Brazil of union overnight. It was not ever thus, believe me and anyone who played against the All Blacks pre mid-1990s.
Now the Kiwi crowds want fast pace and all out action; nothing but will do. Fortunately this happens to be the best way to succeed as the World Cup, Heineken Cup and Premiership all suggested last season.
However the razzle-a-dazzle merchants were cut down to size later on Sunday as Saracens ground Harlequins to defeat. They have not scored a try in three games plus a few minutes but the Saracens supporters, some of them I met post match anyway, were convincing themselves that beauty is in the eye of the beholder.
It was not a thing of aesthetic quality in my eyes and had I taken non-rugby friends to the game they probably would have thanked me and stayed away from union evermore.
It was gutsy, organised and grim, very grim. Each to their own and as an Arsenal fan who nostalgically remembers '1-0 to the Arsenal' I am not going to knock Saracens but I am wondering where and when the new fans are going to arrive.
Why would you? If you are a rugby fan you can appreciate the strategy of the Saracens line out and the toughness of their defence but Schalk Brits apart there is nothing to stir the soul.
Argentina may have been hammered Sunday morning while Saracens claimed a merited victory at the home of the champions but Argentina may just have come out of the day in better long term shape.
Stuart answers your emails...
Got a question for Stuart? Email him at skysportsclub@bskyb.com or use the feedback form below...
Stuart, With the autumn internationals coming up, would you rather go for an inexperienced exciting England side? Or do you believe we should play a more stable team? Thanks
Charlie Prince
STUART REPLIES: Charlie, with World Cup rankings at place no side can mess around in too experimental a fashion. It's not so much a question of experience versus stability but finding a balance that gives a good chance of winning now whilst not ignoring the future.
Stuart, I was impressed to see Owen Farrell overcome his doubters yesterday with his faultless kicking display at Quins. But what did you make of his all-round game and is he showing enough signs of developing into a playmaker who can unleash his backline, like Charlie Hodgson would? Cheers
Pete Mitchell
STUART REPLIES: Pete, Farrell rediscovered his kicking boots and defended well but his offensive game is limited to non-existent. Saracens have not scored a try in the three games he has played at ten. As yet no signs of that playmaking development.
Stuart, I have always moaned that New Zealand and Australia never take teams to the South Sea Islands but now we are doing the same in Europe. Surely our countries have a duty to help grow the sport in Europe? Is one less boringly predictable money spinning game against NZ or SA too high a price to pay to help develop the Georgian team?
Dave Roberts
STUART REPLIES: Dave, as Bob Dylan sang in the 60s, 'Money doesn't talk it swears obscenities.....' I am with you but what say you promotion and relegation from the Six Nations to the next tier? That'll test the commitment to the growth of the game.
Hi Stuart, As a Lions fan I was initially happy to see all the troubles in the Wallaby camp and the struggles on the pitch. But I am starting to think what promised to be a classic series could lose a spark. I know it is a long way off and they be fierce opponents come next summer but will they have the foundations and quality to bring the best out of the Lions and the Test series? Thanks
Jon
STUART REPLIES: At the moment 'no' but a year is an eternity in sport and Australia will not be lacking in ferocity come next June. I still think this is a series the Lions simply must win and will win but don't panic, Australia will not roll over.