Long road to glory
Stuart Barnes is back with his views on Argentina's debut in the Rugby Championship!
Last Updated: 20/08/12 2:13pm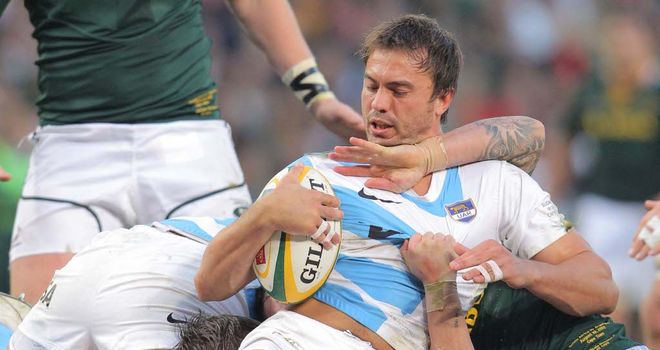 It was almost inevitable that Argentina's long overdue arrival amongst the international elite of rugby union would end with defeat. Whilst home advantage will stir and inspire them, away games against the calibre of the Tri Nations teams promise a sequence of losses. Just look at the record of the longer established European nations.
Anything other than fourth of four in the newly reinvigorated Championship would be a major shock; any win would be a cause for immense celebration. But whilst most neutrals would love to see the South Americans bloody New Zealand, Aussie and South African noses, the pragmatists are hoping for little more than the newcomers being as competitive as possible.
On the evidence of Saturday in Cape Town they will manage this (with their home game against Australia the only actual hope of victory). Argentina are not fuelled by the four yearly inspiration of the World Cup and their opponents will not be stifled by the extra pressure of World Cup expectation.
Long term the regularity of contact with the very best will lift their game but that is not to say that the short term will be anything but painful. That is the history of teams joining competition late. France struggled for what must have seemed an eternity to their supporters to make an impact when the Four Nations became five and Italy are undergoing an awfully ponderous passage towards being consistently capable of threatening the best.
If it is hard for Italy it will be an awesome challenge for Argentina. They are a better Test team than Italy but the old Tri Nations was another level or two up from the socially special but technically average European tournament.
In this context depriving the Springboks of a bonus point for four tries - and what an improvement the bonus point system will prove - Argentina probably achieved as much as was realistically possible against a South African team long on power, if not subtlety.
Stuttering start
The Springboks benefitted from a more assured performance from Morne Steyn whereas Juan Martin Hernandez stuttered with his goal kicking and looked limited as a fly half. His high balls are superb but booming high balls are a little limited as the sole attacking weapon.
He is regarded as their maestro and will need to rediscover the magic of his pre-injury game. His best form has always been as a full back and he did anything but convince that Argentina's backs will flourish outside him.
In Hernandez's defence a team that plays a primarily tactical kicking game needs an outlet or two to take the pressure off their main kicker. In Cape Town everything flowed through Hernandez. Argentina has to elaborate their kicking strategy.
If the fly half - after his lay off - was an unsurprising disappointment the magnificent display of Juan Martin Fernandez Lobbe was no shock to those who have admired him over the years. His injury was as big a blow to Argentina in the World Cup as Dan Carter's was to New Zealand. The man is incredible; winning line outs, taking high balls, chasing Hernandez's kicks and tackling and turning opponents over - he was tireless and inspirational.
If for no other reason than seeing him play at the highest level, Argentina should be welcomed. He will be the foremost threat to South Africa in Argentina next Saturday but even he cannot provide miracles, or can he?
Wallabies need a miracle
Nothing short of a miracle will be needed for Australia to win in Eden Park. The eight point margin of defeat against New Zealand in Sydney was flattering in the extreme. The world champions were brilliant at the breakdown (which is a prime worry for South Africa who were embarrassed by Argentina at the point of contact) and their set piece is so solid.
Quite how Australia eked so many penalties from the New Zealand scrum is a mystery only Alain Rolland can answer. This was a second rate Australian performance but again a first rate con job at the scrum.
The speed of New Zealand's line, both in defence and attack, was as impressive as Australia's was sluggish. Poor David Pocock was left alone, bereft and ultimately overwhelmed. In the context of the physical challenge he faced his injury is no great shock. His loss, however, is huge. The quality of New Zealand in that aspect of their game received most praise but it was the manner of the tries that caught by eye most. The majority of the world seems to think set pieces are foundations for building attacks. New Zealand uses them as a direct scoring opportunity.
Both their tries were wonderfully worked first phase moves from scrums. Yes, they have tremendous individuals but the decoy running and passing are basics. Defenders are tied to the scrum, attackers have a split second advantage in knowing where and when they will pass and yet so many teams prefer to wait until all fifteen defenders are heads up and defending.
The best test team in the world are almost alone in their first phase focus. The best team in the history of the Heineken Cup, this current Leinster team, are Europe's most committed advocates of first phase attack. Joe Schmidt is a Kiwi.
The Quade factor
So too is Australia's Robbie Deans but he has gone away from aggressive first phase play. The Wallabies were wonderful attackers, even from back pedalling set pieces but with Quade Cooper out of favour the magic has gone.
He has been injured and rusty but the only way the Wallabies can get match winners like Digby Ioane and Kurtley Beale into the game, the only way the All Black fringe defence can have their focus on Will Genia stretched to the point where he can hurt them is by challenging their defence on the gain line.
And that means Cooper. It is hard, horribly hard, to achieve but unless Deans gambles their deep lying and pedestrian midfield will cause New Zealand no problems. It could go wrong. Cooper had a rotten World Cup but for all his foibles he has skill and the mental courage to back himself. Having lost at home without gaining a bonus point the Wallabies have to get something from this match.
Cooper or not, the likeliest scenario is a hammering but come on, Robbie, set's see Australia at least trying to meet the challenge of New Zealand's defence.