Second thoughts?
Defeats to South Africa have taught us more than mediocre Six Nations victories, says Stuart.
Last Updated: 19/06/12 10:11am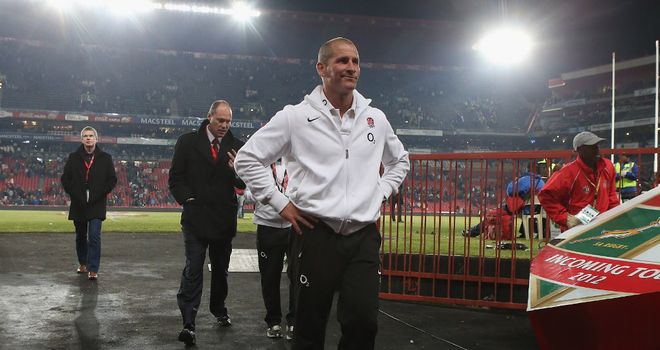 Those who thought winning Six Nations matches alone was sufficient to make Stuart Lancaster the right man to manage England are now, I assume, preparing to denigrate him should England lose the third test in Port Elizabeth.
You can't take the results route through the mediocrity of one tournament and then change tack the moment the team face stronger and superior opposition. Those who cheered his appointment on the basis of results will be rewriting their positions with a more cutting angle ready and waiting if England are beaten, let alone badly in the final test.
This series, done and dusted after two tests, reiterates why Lancaster's appointment was a hurried one; why no long term decision should have been made until England had experienced the greater and lesser challenges of the test arena.
I was amongst the sceptics but not in the majority who looked simply at the sequence of results. After four Six Nations wins nothing of substance was known and similarly after a 3-0 test series loss (the odds are long, Port Elizabeth is the city with the best win ratio for the Springboks) Lancaster will not automatically be dismissed as the wrong man.
It was always going to be a tough series but a rotten performance and victory in Scotland has as many positives for some as an encouraging performance and loss in South Africa. The critics who base judgements and support for this regime merely on results are in a bad place.
England will not be defined by the result on Saturday. Lancaster will definitely be in place for the foreseeable future. But it is the way he reacts to the two nil deficit, not a win, loss or draw that will indicate whether or not he is the right man for the job.
To date, even though England have been beaten twice and failed to put away weak midweek opposition, his credit rating is ok on tour. The deficit was his failure to send out a team that was psychologically as well as technically up for Ellis Park. There is a sense that everything can be assimilated managerial style when inspiration and a call to arms are required. That seemed lacking as did some of the cuteness needed to check the Springbok bludgeon. It is not easy and on Youth Day, a day of great political significance in this country, England looked naive on the field for forty minutes when I suspect much of the naive nature of that half was born off it. It's just a hunch and it is one Lancaster's supporters must live with; this is not a hard- nosed management. It is fledgling and as an inexperienced team has to learn lessons so too an inexperienced management.
A win in Port Elizabeth would put England back on track although we await a blossoming of the attacking game. It has not been easy for England to make the transition from worthy defenders to cutting attackers and Mike Catt has not yet proved his credentials for the long term post. Whether that is the limitations of the English players going forward or Catt not quite capable of stepping up to test level is an unknown. It has not been easy for my former Bath colleague but in a brutal world he probably needs some sparkle in the final test to make the attack position his own.
The defeat and 31 missed tackles makes Andy Farrell strong favourite to return to the fold although it must be remembered that Farrell has never set out an England defence against a team with the Springboks power.
Selection decisions
Back to Lancaster; he impresses with his open minded thinking and everyone within the camp has nothing but good words; yet niceness is no proof of quality. The one area where he really stands out is selection. Martin Johnson prevaricated. Lancaster makes changes but he makes them with a clear idea as to why.
If anything illustrates the importance of selection it is the scenario he faces as I tap out high above the Johannesburg smog level on a Tuesday morning. He has already made the decision to award Dylan Hartley with the captaincy despite Hartley being up against the most destructive hooker on the planet in the shape of Bismarck Du Plessis.
In the second row the assumption is that Tom Palmer has been chosen over Mouritz Botha (based upon Botha's presence on the midweek bench) but now it gets hard in the back row. Chris Robshaw has been outstanding this tour, as a captain and an open side. He has made his critics look daft. His broken thumb is a colossal blow to the team. What does Lancaster do?
He is clearly and properly giving Thomas Waldrom a start but the flanking positions are difficult. Tom Johnson had as anonymous a second test as he had a fine debut. James Haskell has been removed from the starting fifteen for the midweek match and named on the bench. Could be meet fire with fire and add some ballast to an England pack that were frazzled for the first half? Phil Dowson played well against the Barbarians and is a smart man and team leader but can he match young Marcel Coetzee for speed and power on the flank? With Carl Fearns enduring a poor run of form and out of contention, Lancaster has to get his balance right. Ben Morgan seems to have been temporarily discarded; the right choice on form or panicky premature?
Affairs are as complicated behind the scrum. Ben Youngs was outstanding Saturday but he too is injured. Danny Care's sharp breaking game is a like for like replacement and Lee Dickson's start today suggests Care is back in favour but Dickson's guile is a viable option and it could be he plays today because he needs game time and with the match on a Tuesday he has another day to recover and make the test line up.
Toby Flood simplified the fly half debate which is just as well because the back line is a tangled series of options, most of them with trade-offs. Manu Tuialgi could be inside centre (he should not, he should, in fact be dropped. His form is average and his biggest asset, power, counts for less here), so too could Owen Farrell who could add extra football skill in a position for which he is currently more suited than 10 at this level. And then there is Brad Barritt. Back after injury but a player of extreme bravery and equal limitations. The long term move is to jettison him and focus on the missing creativity the short term worry are those 31 missed tackles at Ellis Park and the defensive problems.
If he gets one centre shirt will Farrell get the other, will Tuilagi move back to 13 or will Jonathan Joseph start? I would love to see the Irish centre left in his regular position with perhaps Farrell at 12 but this is an extraordinary hard selection.
Ashton will play on the right wing but as for the other two positions he has many options. Monye or Strettle, mabye even Tuilagi bashing off the wing? Maybe even Ben Foden on the wing with Alex Goode at fifteen rekindling the successful experiment of two full backs and one winger against the Springboks kicking game?
Deny the doubters
For Lancaster and his management team to get all these calls right would be astonishing. It is possibly the only way they will win the third test although South Africa have injury and absentee worries themselves. If they get most of the calls right and send England out fired and thinking and lose narrowly that will not be the end of the English rugby world; yet start as slowly as last Saturday and opt for a team without creativity in the middle, finishing power wide and the right balance possible in the back row; well then the doubters will be sadly looking right.
England DO NOT have to win to stave off some hyperbolic calamity but they must compete and they must improve on the first fortnight of this tour.
PS - Off to Potchefstroom for the midweek game against the SA Barbarians North and expecting a tougher game than last week's; both in training and on paper this team looks better. Collectively England will need to be better than last week or there could be real problems.
Christian Wade on the right wing is of long term interest. Ugo Monye on the left is part of the difficult selection process for this week, Lee Dickson needs to dominate the game and Tom Youngs starting at hooker is another example of Lancaster at his brave best, selecting for the future and not just the moment. It will be a riveting day's rugby.