No southern comfort
Stuart Barnes wonders if the Home Nations can pick themselves up after a dismal weekend of results.
Last Updated: 11/06/12 12:29pm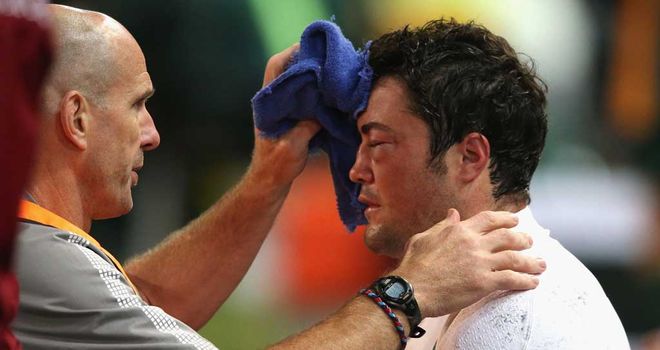 There was no solace for the Six Nations. Those who believe this Northern Hemisphere slugfest is a tournament of substance on as well as off the field had some quick reappraisals to make in the light of a 4-0 beating at the hands of the 'Championship teams' (Argentina being added to the Tri Nations and immediately assuming the role of supremacy against the Italian challenge).
Only Scotland offered any consolation but that was not a full strength Australian team and conditions levelled the skill factor downwards. Still, it broke a long losing run and when a team has forgotten how to win, anyway, anyhow will do. Greg Laidlaw maintained his composure and Andy Robinson headed for the Pacific Nations with a cherished trophy. That is the good news.
The bad is awful - at least from the European perspective. The Grand Slam winners, Wales, were well beaten by the Wallabies. A purple patch aside, the Australians dominated this match. Wales were disappointingly slow to reassess their approach to the breakdown. They lacked numbers defensively as they spread wide to halt the threat of a Wallaby back line (severely limited by injuries). The Australians picked and drove over for Scott Higginbotham's try and Europe suddenly looked a metre slower to those who really think north and south bear comparison at Test level.
Wales are tough and learn quickly. I would not write them off quite yet but they will have to play with more pace and positivity than they managed throughout a Six Nations, where the facts of their growing conservatism were largely ignored by people more interested in headlines than the gathering reality.
Both sides have injuries but the hosts were sharper in thought and deed and for all their power, Wales were just off the pace. Will Genia was outstanding; metres ahead of any other player for the entirety of the match. On days like Saturday, he appears as good a player as there is on this planet. But this was a front foot effort. In contrast he failed to establish control in the slime of the Scotland match. Until he can master back foot rugby and squally conditions he will remain a genius with a chink. In Brisbane, the chinks were nowhere to be seen and Wales have it all to do. It was a hammer blow for them to lose.
George North, for thirty minutes, showed Australia what a threat will be coming off one of the Lions' wings next season. The Lions, with the choice of four nations, will fancy their chances of forcing the Australian star scrum half onto the back foot. It was something England could not dream of doing to a Springbok side that eventually overpowered them and sent a warning message to the chorus of supporters who think good wins but mediocre performances in the winter months constitute proof of recovery under Stuart Lancaster.
England steamrolled by Boks
The second half was a one sided affair as England were rolled backwards. It is not that they played any worse than in the Six Nations; they were no better or worse than they were in the last three games when their performances were so touted. They needed more to beat the Springboks and they couldn't find that extra spark in attack.
I cannot criticise Lancaster for the selection. In fact, I would go as far as to say that his brave call to switch Ben Foden to the wing and bring in Mike Brown was inspired. Brown was solid, kicked with length and played with guts. Foden was good beneath the high ball and when he had a sniff of the try line he finished superbly.
Neither Dave Strettle nor Ugo Monye would have scored it. Now the management has to have the courage to change the midfield. Again Owen Farrell failed to dominate proceedings and with his clever chipping game deserting him, he looked forlorn as anything but a hard tackling goal kicker. England cannot defend their way back into the series and should start with Toby Flood whose delayed pop pass to Jonathan Joseph (who was introduced too late into the fray) created an opening which Farrell, by now at 12, turned into a chance for Foden.
This was a glimpse of the Owen Farrell who has disappeared but it happened with him at 12 not 10. Flood must be the fly half and Lancaster has to decide between two from Farrell, Manu Tuilagi and Joseph in the midfield. It is not an easy decision to reach but Lancaster, midfield apart, has shown a reasonably sure touch as a selector. He needs to get this one right and Tuilagi has to be launched into the game as more than a strategy to smash Morne Steyn.
It will take plenty to get back into the series, especially as the next game is at altitude in Johannesburg but like Wales, England are not right offs. Like Wales, they have to find a level of performance beyond the muddled mediocrity of the Six Nations.
All Blacks still set the standard
Ireland, I am afraid, must be written off. They played some decent quick rate stuff in the first half an hour in New Zealand but the world champions were a different class to any other team. It was a joy to behold the accuracy of New Zealand at the breakdown and the stunning support lines in attack. Ireland will see it as no consolation but they were on the end of something deeply impressive.
I missed the Argentina win so cannot comment other than to say that this was a day when the Six Nations cheerleaders were well and truly put in their place. To win next week, our nations have to go to places the Six Nations doesn't yet realise exist.