Passion returns
Stuart Barnes says England produced one of their best performances of recent times against France.
Last Updated: 12/03/12 11:08am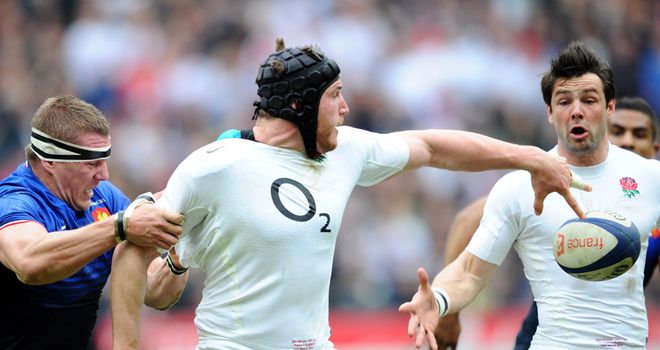 Wales took a subdued step towards their third Grand Slam in eight years with an easy if unconvincing win against Italy in Cardiff but the story of the weekend has to belong with England's victory in Paris.
In beating France, Stuart Lancaster undoubtedly forced his odds on being the full time manager of England to shorten. Never mind the quality of the match (an exciting but never technically great game), to claim control of Paris is worth more than a mass as Henry 4th (French Henry, we'll come to our Henry soon enough, patriots) might have said a few hundred years ago.
Not only did his brave bunch do their part for his cause, they may have played a substantial part in helping their Gallic cousins from across the Severn. For all their furious final fifteen minutes assault on England France started the game subdued and finished with their morale savagely undermined.
Paris has become a stronghold for them in the last four years. With Ireland's draw and England triumph there in the space of a week, the chances of them producing something spectacular in Cardiff looks increasingly unlikely. This team, at the moment, is not playing with the pride in their country as England showed against them and certainly not the passion that emanates from the red shirt.
But....but but and another but for good measure; I have said it before and have to say it again. This shambolic side was the one that was - well - so shambolic against Tonga in the World Cup. Three weeks later they nearly beat the All Blacks. Collectively Phillipe Saint-Andre has them in no better shape than the mightily maligned Marc Lievremont.
In Wesley Fofana they have a man capable of winning a match with a swerve of the hips but test match rugby is about so much more than individual talents and the names on a team sheet. Italy's gutsy regard revealed this Saturday before England hammered the point home on Sunday.
Man for man France had the names, the caps, the class but anything other than an English victory would have been a travesty. Forget the tactics - what this team did was want. They wanted it so much more than France. They were sharper, tighter, together, burning for it. It was all pretty inspiring stuff.
Watching as much rugby union as I must, sometimes the passion gets lost in the cold analysis and the facts that supporters desire the win first and to hell with the rest. Sunday afternoon was a day when reminder's hit home.
The English invasion of Paris was completed by a spectacular commitment from the terraces. It was also a reminder why Sunday rugby is a terrible idea for French supporters. Without checking the TGV timetables I would guess that the journey from St Pancras to Gare Du Nord is a quicker one than from Perpignan, Biarritz and there won't be much in it from the great rugby capital that is Toulouse.
Saturday night is a chance for the men of the South West to celebrate the game and storm France. When a match is Sunday and a long night's journey home beckons the spirit shrinks and the noise becomes frankly Anglo - Saxon.
A team needs inspiration from its support and England got it in spades but the fans find it easier to cheer their team on when something is being offered and England offered plenty Sunday. From the moment that wrecking ball from Leicester Manu Tuilagi stretched away towards the corner for the first try English fans sensed their team was way up for this one.
Ben Morgan might still be struggling to get the eighty minute trip but his performance was a mighty shape of better times ahead. He controlled the base of the scrum with great skill and maturity while his explosive running power and feints of hand came gloriously to life with his surging charge which led to Ben Foden's try as England built a lead that was just about unassailable.
One of the reasons France never quite clawed the deficit back was because the foundations of their game faltered. The half backs chosen to do a conservative kicking job simply failed to produce the quality. The decision to drop the last set of half backs on the basis of one bad afternoon against Ireland was a bad one.
Not that they received the platform most independent minded viewers expected. The English scrum was strong with Leicester playing a marvellously prominent role. Dan Cole was a throw back to the fields of Agincourt, with his gingery English beard and silent determination while Geoff Parling put himself all over the place.
And then there was Tom Croft. He singlehandedly undermined the great French strength at the line out and produced a whirlwind performance around the field for eighty minutes. The peripheral figure of recent times was cast aside as the man who played so brilliantly for the 2009 Lions returned to centre stage.
His stunning try was an absolutely perfect way to highlight one of the great English performances of recent times. The former England great, Peter Winterbottom presented the team with their caps before the game. Winterbottom is a reticent man so maybe it was that steely glint in the eye that once frightened opponents that galvanised Croft. If he did England should sign him up to spend some time with Croft before every game. He was soaring, majestic.
Around him was the bravery of an England team that has grown used to beating the French. The bookmakers had them as 2-1 against to win but at Agincourt the numerical odds were 5-1 in French favour. It was a job that was always possible and the working day warriors of England did their manager proud as they backed up Prince Tom. Whether Stuart Lancaster is deemed the right man or not for the job his team produced an afternoon he is never going to forget.
The passions were more subdued in Cardiff. Wales were expected to win and expected to win well. It showed as they turned down three point chances to pursue tries. It showed in the inaccuracy of their game. It is a slight concern that, like England last season, their form is sliding slowly the wrong way. But with my regard for the management, the playing leadership of this group of men, the sheer will of a nation...oh and the current ineptitude of a French team with nothing but pride to play for next Saturday will be the day when Wales remind the rest of the Kingdom and the French that Henry 5th was a proud Welshman. It will be some day in Cardiff.
Wooden spoon
At the other end of the spectrum what a dreadful denouement for Italy and Scotland. Both winless, indignation await the loser. If the Six Nations had the courage and vision to introduce promotion and relegation (play offs at the very least) to really raise the world game this would be a fearsome afternoon for all concerned. As it is the greater pressure is on Scotland and Andy Robinson.
Scotland failed to qualify for the World Cup knock out stages for the first time under his stewardship and have a Six Nations record of two wins in 14 games. He can coach a team to play bright rugby but his efforts with England and Scotland raise greater concerns regarding his understanding to work out that knack that matters most of all, how to win.
I think Scotland has produced some fine rugby this season and if there is any justice the Richie Grey is going to get himself a win this campaign. Italy will try and show that the world doesn't turn on a just axis. Good luck to both these teams; they are going to need it almost as much as I will at Cheltenham over the next week.
Scunthorpe to the rescue
As the mind turns to Kauto Star and the Irish challenge in the West Country a final word of thanks to new friends; my Sunday Times friend and colleague, Stephen Jones, dropped his iPhone into the middle of a bound bundle of scaffolding poles (sober I hasten to add!) Despair was the order of the day until the men of Scunthorpe Rugby Club, resplendent in their Rorke's Drift apparel, together with their ladies, arrived to lift a few ton of scaffolding and disturb the snuggled and invisible iPhone.
They arrived in Paris on Thursday and remain there until Tuesday. In an age of furrowed brows and time constraints they stood out for some good old fashioned touring virtues. And they will tell their children, not that they saved Steve's bacon and forced him to dig deep to buy them deserved beers, but that they were there when England prevailed against the odds in Paris.
England's game with Ireland will be compelling but next week, in rugby terms, all roads lead to Cardiff. That's for the end of the week. My road leads to Cheltenham. Those of you who are regulars know where I'll be on the course. See you there,
Stuart
Stuart answers your emails...
Got a question for Stuart? Email him at skysportsclub@bskyb.com or use the feedback form below...
Will the RFU get the right man?
Stuart, I like many have been mightily impressed by the way Lancaster has got this inexperienced squad playing for each other. As expected, the English media are in overdrive to push the RFU into making his position permanent. Whilst I and many England fans would support this, I feel the opportunity afforded to England as hosts of the RWC in 2015 to potentially win the tournament warrants a proper review of the candidates available. Lancaster has enjoyed the good times but we do not know how he and the squad would respond to say three defeats in a row. This is where experienced coaches earn their salary. Graham Henry is probably the only person that fans would accept to oust Lancaster but he has made it clear that he does not want a full time job in the Northern Hemisphere.
I feel Mallett's candidacy is undermined by the fact that his achievements with South Africa were too long ago. Irrespective of how impressive an individual he is, I still feel that he is too big a risk. Jake White would also be a risk as, although his achievements are more recent, he has not coached at a top level for three years and has only recently started with ACT Brumbies who he seems committed to.
I know you have deep reservations about Lancaster, but how would you feel about Lancaster as head coach and Wayne Smith as his assistant and attacking coach? England need an attacking coach to complete the coaching team and given that Smith has been there and done it, he could be the shoulder to lean on during the inevitable bad patch of form. Rowntree and Farrell remain in their respective positions.
Ken Joseph, Muscat Oman
STUART REPLIES: Ken, Do England ever need an attack coach! Great win in Paris but the team are still not constructing much. There is a shortage of creativity. As for the long term manager's post. I think your mail indicates the complexity of the decision. Like you I think three wins for a rookie coach doesn't prove sas much as many believe, or want to believe. Morale is high and he has established plenty of integrity and I for one will not dismiss a win in Paris simply because France was poor (fact). But if it is not cut and dried with Lancaster it certainly is not with Mallett. He has aura but bar one freak result against France was not startling as Italian coach. There has been a bandwagon going from day one; good coach but not nailed on. Wayne Smith is an ideas man and not a head coach.....as for Jake White.....you start to get the point. This appointment is most definitely NOT to be rushed.
Baffled by France
Hi Stuart, the French team really baffles me. Very soft tries conceded, yet they almost stole it at the end and should have given the number of opportunities. England never had to really play, just scored off turnover ball, and defended very well. So we know set attacks are not managed well by France, and England lost a lot of easy ball also when they had it. I think that the more realistic team won but I think that both are a bit of a shambles really.
Phillipe Lapeyre
STUART REPLIES: Shambles is a fair description of France but tough on an England team that were not great but did win in Paris. England's set piece was better and the intangible qualities like determination were areas of high scoring and yes, there is still not much happening with the ball in hand. But Phillipe, given France's squad I really think it harsh to bracket the two sides in the same category although I fully understand your views. Both teams look a long way from being top notch and we should not allow our neighbourly rivalry to hide the hard facts. But help me out here, I am trying to be nice for once!!!!!!
Defending the ref
Why is it the England have to work 50% harder to get a win when Rolland is the match official? His performance today was a joke, and he showed no consistency whatsoever. he warned the French but never went near his pocket, but the first chance he gets to sin bin an England player he goes for it. Totally unwarranted yellow card, let's hope the refereeing panel give him the retraining he quite obviously needs. Well done England, great performance against 16 men!
Clive Smith
STUART REPLIES: Clive, I have to agree on the yellow card incident. Once he accepted his assistant's opinion that Wesley Fofana deliberately knocked on a ball with England in a threatening position and gave merely a penalty, consistency demanded Charlie Sharples receive the same treatment. It was greatly disappointing. Alain Rolland has no grudges with England; that is harsh but his BIG calls are too often head line makers and wrong in the bargain. That is not the sort of combination I like to see in a referee. I like 'em nice and anonymous but that seems a thing of the past. It was not a good weekend for Irish referees. George Clancy was appallingly pernickety in Cardiff and made few friends with either the Italian or Welsh camps. Officiating remains a major worry within the professional game.