A wing and a prayer
Stuart Barnes looks at how England can upset the odds and beat France in Sunday's Six Nations clash.
Last Updated: 05/03/12 10:46am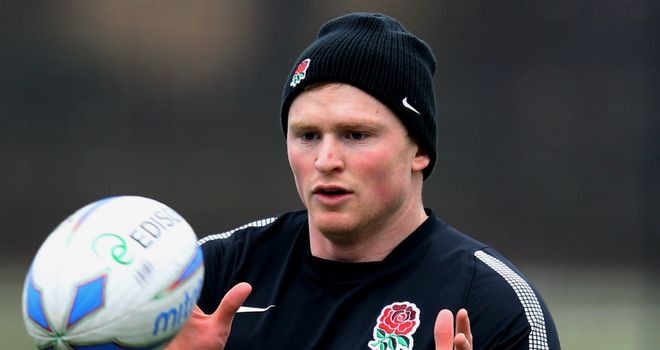 England could win in Paris this coming Sunday.
No, I have not undergone a Damascene conversion but judged on the most recent performances of these old adversaries, England appear the more clearly focused of the two sides.
That is not to espouse the cause of Stuart Lancaster but it is to recognise that the England management have given the team more coherence than France currently possess.
From the front to back row this is a game that, on paper, France should win with something to spare, but Phillipe Saint-Andre is finding the transition from club to country difficult.
France's draw with Ireland was a massive disappointment for neutrals who were dreaming of a Grand Slam decider in Cardiff on the final day of the season. The title remains within the French grip but Ireland revealed that this is not one of the more powerful grips we have seen from a French international team.
The pack has it in them to cause massive problems for any opposition but the balance thereafter is terrible. Patrice Lagisquet never impressed me during his time at Biarritz when he turned some of Europe's finest three-quarters into a dull and unimaginative collection of mediocrities.
It is going to take some of the worst coaching ever to metamorphose the brilliant, glittering potential of Wesley Fofana into muddy mediocrity, but it is fair to say he is yet to be delivered the sort of platform from which he is capable of conjuring a master class.
England will bank on France failing to find a way of linking forward power with back line brilliance. The set moves were clumsy and predictable with Tommy Bowe's interception try just punishment for the sloppiness of these outstanding individuals who failed to function - and not for the first time this season.
England's defence has been adept at slowing down and shutting out opposition to date. They should believe that if they can make Wales look ordinary then France can also be strangled at source. The aspect of the French game that could cause mayhem is the strength of their set piece. In the second half they powered back from an 11-point deficit to draw level, but ineptitude at fly half cost them a chance of winning.
Stupidity
Francois Trinh Duc is a better player than we saw on the day, while Lionel Beauxis's two fluffed attempts at a drop goal summed up France's inaccuracy and loss of nerve when it mattered. To see a player pushed into touch 25 metres from the try line with the last play of the game was tantamount to pure stupidity.
France - with all their experience - should really have known better than to be caught near the touch line. England will take great confidence from the mental shambles that was France. The hosts remain favourites but England can win this game if they repeat the structure of their game against Wales and add a little bite to their offence.
With that in mind England should consider leaving out both wings. Chris Ashton is an outstanding finisher at his best, but he has been so far from his peak for so long that now is the time to leave him out and ask him to rediscover his club form.
There is also a case for dropping David Strettle. He is hard working and nor is he playing badly but is he the world-class finisher England need? The injury to Charlie Sharples complicates the case, as does the failure of Lancaster to consider switching Ben Foden to the wing and giving Mike Brown a start.
Two full backs and an out-and-out winger is a tried and trusted approach to the international game. I have heard Brown's pass to the winger in the last minute being criticised but the real criticism belongs with the manager who threw Brown on without any time to adjust to the game. England will need to be much cleverer with their tactical substitutions in Paris.
England will believe they can win. Whether they do might just depend on the French reaction to the scuppering of their Grand Slam dreams. If confidence is low they could find themselves in a crisis which will leave Lancaster favourite to get the full time job.
If they rebound positively and try and up the tempo and grind a few more mauls earlier in the game, England and their manager could suffer badly. France, being France, it is almost impossible to know or second guess. This is the country that lost to Tonga before almost beating the All Blacks and winning the World Cup in Auckland.
Right now English development (given the experience of the French over the English players) is ahead of French. Seven days from now, who knows?
Fangs bared
We do know Leicester are back - or rather they never went away as a domestic force. Only one Premiership defeat (Exeter away) since the World Cup and a mud-splattered destruction of Gloucester singles them out as a team to be feared in the run up to the play offs. Gloucester have an easier run in than those in front but the magnitude of this defeat ensures them no room for error while nobody would fancy the Tigers with their fangs bared and the snarl audible.
Are Gloucester tough enough up top, do they have the fire in the belly? Question marks surround them but not the Tigers. It sets up the rest of the season and makes Friday night's LV= Cup semi-final between old rivals Bath and Leicester look a real prospect.
Bath played the best rugby of their season against Worcester. Quicker breakdown ball saw Michael Claassens shifting his game into another gear and, outside him, young Tom Heathcote looked interesting as a fly half. The boys from the west will be praying the rain remains anywhere but near Bath on Friday night. On fast ground they have a chance but if the rain falls so do the odds on a Leicester win.
Elsewhere, credit to Wasps for gritting out a priceless win against London Irish; also to Exeter for their bonus point win which keeps their play- off hopes alive, but perhaps more realistically the likelihood of a Heineken Cup place. Stade Francais should not be taking them lightly before the quarter0finals of the Amlin; fingers crossed they are.
I haven't commented upon the Saracens versus Northampton result because as I type at 9.40am on Monday morning I have not had a chance to see the game. I'll be doing so this afternoon with notebook in hand and the excitement of not knowing the score.
Congratulations to whichever team won this key game; that's all I can say!
P.S. The Highlanders versus Crusaders was a fabulous game. If you missed it find a way to watch it. It was great stuff...
Until next week,
Stuart
Stuart answers your emails...
Got a question for Stuart? Email him at skysportsclub@bskyb.com or use the feedback form below...
Play-Off picture
Hi Stuart, Would you be in favour of introducing promotion and relegation in the Six Nations? Italy and Scotland look set to once again battle it out for the Wooden Spoon, with the former making little progress since their introduction at the turn of the century. Nations such as Georgia and Russia are improving all time, the former impressing during the World Cup, and promotion from the European Nations Cup could serve as a shot in the arm to Romania, who were once an up-and-coming force in European rugby. It's highly likely that the first game of the final round of Six Nations fixtures will see Italy and Scotland yet again face off for fifth place. Wouldn't it be great if there was more riding on it? Regards, Hugh Gilroy
STUART REPLIES: It is a concept I have espoused and supported for years but the self interest of the respective unions and the hypocrisy of an IRB that pays lip service to developing the game rather than keeping it cosy closes out the option. Television money is also a factor. This is not a criticism but a fact of life. If Sky had the Six Nations I am not sure the men that make the money decisions would like the likes of Georgia or Romania replacing Scotland or Italy anymore than the BBC probably does. I guess it is regarded as Utopian to dream of a fairer sporting world...
Buzzing Wasps
Hi Stuart, how vital was Wasps win against London Irish and do you think that will save their season?, Thanks Michael Judge
STUART REPLIES: Michael, I thought they would stay up because I banked on them winning this game and Newcastle at home. Having won on Saturday they are halfway to survival. It's not over yet but I think the club has too much pride and guts to go down which is why I have never stopped tipping Newcastle for the drop. Wasps will find a fifteen to see them to safety. Saturday was an enormous step towards survival.
Tough luck
Stuart, Do you think Conor O'Shea was right in saying that Newcastle had overstepped the mark in their ill-tempered game against Quins, or do you think he was more frustrated that their tactics knocked his side off track? Thanks Brandon Donnelly
STUART REPLIES: There were a few late shots and I think Rob Vickers should have been sent off but do you know what, Newcastle are an inferior team fighting for survival. I think it is up to the officials to make those calls. It was tough and ugly but Harlequins have to find a way to look after themselves; I have seen plenty more violent games.