Guts and glory
Stuart Barnes says it has never been a better time to be a Harlequins fan after their victory in Toulouse.
Last Updated: 20/12/11 5:19pm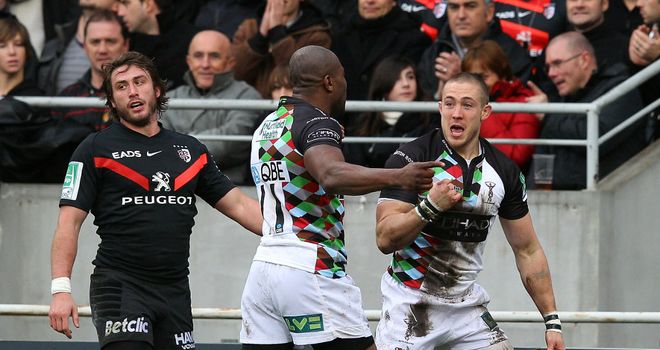 Harlequins' victory in Toulouse almost made the loss at the Stoop worthwhile; clearly that is not the case if you support Harlequins. They are still second favourites for the pool but clear favourites to make it through as one of the best placed runners up. Gloucester at home and Connacht away is no formality but if Harlequins hold their form they should win both games and accumulate sufficient points to make the quarter finals.
Indeed, the pool looks tantalising again because Gloucester is surely too good a team to remain as straggled as they currently are. The Cherry and Whites were fortunate to beat Connacht on Saturday and end a run of losing games at home. The quality of their first team and the quality of their performances are a long and uncomfortable way apart. Bryan Redpath and his coaching team should be concerned and they should be getting Henry Trinder, Charlie Sharples and Jonny May on the pitch from the start. It is time for Gloucester to place some trust in the excellent young talent it has at its disposal.
At their best they could beat an underperforming Toulouse team in Gloucester. I cannot see them beating Quins on the road but there is just a chance they could hand Harlequins the pool and a seeding high enough to keep them from a possible trip to Dublin which is the journey no one wants to make.
Character building
Anyway, I have digressed from the mighty Quin. The reason I think the defeat in London made the win in France all the better was the manner in which two traits were revealed; the first in character. This was gutsy stuff, especially as they saw Toulouse come back from 15-3 behind to take a 19-15 lead. The second - and this is the key one - was the speed with which the Harlequins learned their lesson. In the space of eight days they understood that more men were sometimes required at the breakdown. More men, more aggression and, with it, more risk of being hit on the turnover.
They accepted the risk and displayed a mental bravery to match the physical side. Detractors have been quick to tell me that had Luke McAlister kicked three simple goals Toulouse would have won. They are right but it is not Harlequins fault that they have an outstanding fly half and goal kicker while Toulouse has signed an erratic player whose predisposition to frequent mood swings from the superb to the insufferable. Goal kicking is part of the game and Harlequins are all the more dangerous because of their consistency.
To claim the match was a matter of goal kickers misses the point. It is like saying the horse that fell at the last would have won had he jumped better. That's the nature of National Hunt racing and goal kicking is a crucial part of union.
More plaudits for Robshaw
A couple of other thoughts to come out of the Harlequins match; Chris Robshaw convinces me more and more every time I see him. His credentials to lead England are not marred by an absence of international experience. Has playing for England in the last eight years been such a benefit? Nick Easter was exceptional and can take this club form to the international stage. His return to peak form tells me Harlequins are a far better coached team than England were. Easter would be an invaluable asset alongside his mate in the back row.
Staying on the back row theme, Luke Wallace won't play for England quite yet but didn't he look good when he came off the bench? He is a tough competitor whose breakdown instincts are excellent for one so young. The headline maker of the two open sides was Will Skinner who was sent off for deliberately touching a ball kicked off the field in the dying minutes to prevent Toulouse taking a quick throw.
Keep your nose clean
All power to Alain Rolland for sending him off; as the Harlequins had done exactly the same earlier, this time with a non-playing member of staff it looked a pre-meditated strategy. Of all clubs Harlequins should keep their noses clean off the pitch. They have had their share of headlines in Europe for things done off the field; this team does not need to cheat the wrong side of the touch line. ERC should deliver a stinging public rebuke at the very least.
In contrast, the Harlequins fans should fill Twickenham with praise for their team on the 27th for the match with Saracens. It is another glorious opportunity to cement their status as one of Europe's best teams and another opportunity for Mike Brown to force his way into the Elite Squad. The fist pumping celebration of his second try, the fierce determination to win at all costs at all stages of the game has completely won me over. The anger has metamorphosed into something controlled and essential for winning teams. He walks away with the unofficial Stuart Barnes English Player of the season from September 2011 - Christmas. What an example he sets to his team mates.
Alas, I don't think Ian McGeechan set such an example for Bath. He prefers one television interview only as a rule but when your team were as humiliated as Bath was in Dublin he should break the rule and face the music rather than send his forward's coach. My old team mates from the eighties and nineties would have far more in common with Mike Brown and the Harlequins than this Bath team that is floundering and failing to find leaders.
Wish list
Leinster is - great contrast - loaded with leaders and, in Jonny Sexton, one of Europe's most masterly orchestrators. He and his attack was brilliant against Bath, reminding English coaches that basis skills like accurate passing and support lines can outflank those with startling personal bests in the gyms. It is a general lesson that the entire English game needs to take on board. In fact, if I have one Christmas wish it would be for Stuart Lancaster to focus on skill and not power when he begins the task of restoring the national team.
Can I have a second wish? Yes? It is for Welsh supporters to prove it is no myth that they are these isles great rugby fans. The empty seats at the Ospreys and the falling attendances in Cardiff are such a gloomy sight when you are working in Ireland in front of 46,000 one day and 26,000 the next. The match wasn't up to much in Munster but again I relished the rugby knowledge and spirit of the place. Munster is not the team they were (although they will not go easily this season) but there's no finer place for a rugby person to enjoy a weekend. Limerick is Ireland and Britain' best rugby city, Dublin hosts the best team and London the most improved....
I cannot wait for Harlequins v Saracens next week but I am afraid you will have to wait an extra seven days for this column. It's Boxing Day when next due and you and I have better things to do than type and read. I hope the seasonal break is a good one for you all. See you in Northampton on Christmas eve and Harlequins for the Exceedingly Big Game when the most complete team in England take on the toughest and best organised who just happen to be the national champions.....fabulous.
Stuart answers your emails...
Got a question for Stuart? Email him at
skysportsclub@bskyb.com
or use the feedback form below...
Defining moments
Stuart, how important do you see Quins win against Toulouse - not just for their European dreams, but also for their development as a team?
Paul Lewis
STUART REPLIES: Paul, It could be one of those 'defining moments' we in the media love to talk about. In terms of self-belief the team is anything but short but to win in Toulouse is in another stratosphere to anything achieved until this.....including the Amlin win at Munster last season. With Saracens at Twickenham to come they could cement their position as one of the leading teams in Europe. Very exciting times to be a Quins fan.
Who's blowing the whistle?
Stuart, what can be done over the inconsistent refereeing we keep on seeing? Do the different organisations IRB, ERC etc give different advice on how to ref the games? That is the only reason I can see why Alain Rolland did not red card the Toulouse player that drove a Quins player up and over a maul and then dropped him on his neck. It was much more dangerous than Sam Warburton's tackle in the World Cup!
Andrew Fine
STUART REPLIES: Andrew, Exactly what I was saying watching the Toulouse v Quins game after my comms in Munster. I thought Alain Rolland reffed well generally but the heat is off referees when it comes to the spear tackle. It shows his WC decision was based upon interference in terms of recommendations from on high. It is not specific instructions the game and refs need but steady and accurate interpretation of the laws as they stand.
State of mind
Hi Stuart, it was great to see Northampton bounce back against Castres but I was wondering if this did not raise more questions than answers about them? They seem to be able to raise their game for matches that don't really matter but cannot perform in the really big games. For those who say perhaps I am being a bit unfair as they did show up for 40 minutes in last years final, my response will be that they went in to lose which kind of backs up my point.
Gavin
STUART REPLIES: Gavin, until Northampton beat the teams that are capable of standing up to their physical onslaught your question will hang over the air at the Gardens. You are absolutely right although I wouldn't be hard on your boys for the final showing. I think Leinster are close to being a 'great side.' No disgrace in that performance. Castres, however, proves nothing; nor might a win against a Bath team who are in a veritable mess...see you Friday.
Changes for Bath
Dear Stuart, since your retirement I have always admired your impartiality with regard to Bath Rugby, but surely even you were as embarrassed and ashamed as me with our display in Dublin against Leinster. To my mind this set of coaches have turned the team into a laughing stock. Our results under Steve Meehan were mixed, but I could except that because we consistently played an exciting brand of rugby. This is no longer the case and our results have got worse. McGeechan does not even seem to take responsibility for our performances and forces Brad Davis to speak to the media after each defeat. Can you offer any kind of advice to Bruce Craig as to the way forward? The man has the deepest pockets in the game and there is no wage cap when it comes to a clubs coaching staff. I believe changes are needed immediately.
Adam, Bath
STUART REPLIES: Adam, I treat Bath as any other team now but I wouldn't be human if I didn't feel something after Saturday. I think Bruce Craig should surround himself with people who have an independent mind AND know the game. Too many high profile signings that smack of collecting rather than building a squad. On the subject of Steve Meehan, I regard him very highly and think Bath made a massive mistake. I said it then and I'll say it now. Ian McGeechan has to take responsibility; sending Martin Haag out Saturday was not good enough.