No time to bail out
Europe is ready for this season's Heineken and Amlin Challenge Cups, says Stuart Barnes. Are you?
Last Updated: 07/11/11 4:42pm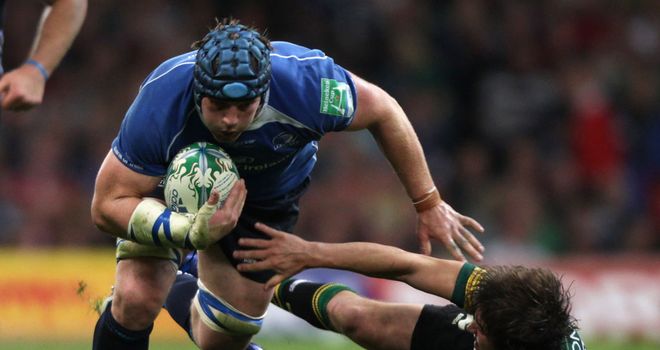 Six questions relating to this season's European competition.
ONE: Are we on the verge of seeing a truly great European team? Leinster has an opportunity to make the magnificent Munster achievements appear like something from the history books. Having won the title in 2009 and 2011, a third title in four years would signal them as the greatest Heineken Cup team of them all.
Brian O'Driscoll missed the memorable finale to his illustrious international career as Wales walloped his team in the World Cup quarter finals but a third Heineken title in the space of four years would be some testimony to his greatness. The question now, of course, is can he recover from his long-term injury in time for the last few rounds and can Leinster make it all the way. With or without the great man another title cannot be dismissed when one considers the quality within this team.
A couple of smaller questions are wrapped within the broader Leinster question; can Sean O'Brien back up his European player of the season award and his outstanding World Cup efforts with the same ferocious industry that has become his trademark or is the man human and set to tire (if only for a while)? The other question surrounds Jonathan Sexton. Does he need to feel the guiding hand to dominate matches or was last season a fluke and the indifferent form of the World Cup the longer-term truth? I think the former; Leinster needs him to prove it.
TWO: Has Toulouse made the right signings to regain the title? Two seasons ago they beat Leinster in Toulouse in the semi-final stage because of the extra power of their set piece - the scrum in particular. Last season they may have shaded the scrums when the teams met in the semi-final, that time in Dublin, but they lacked the dominance required to stifle the pace of the Irish side in attack.
Guy Noves has made a massive move to address the issue. He has signed Gurthro Steenkamp from the Blue Bulls to send the Toulouse scrum back into overdrive. The Springbok loose head is a bullock of a ball carrier but has developed, more importantly, into just about the best technical loose head on the planet.
Behind the scrum he has made two major Southern Hemisphere signings. Luke McAlister arrives from New Zealand and Luke Burgess from Australia. Both are powerful men; McAlister has a siege gun boot with a range close to 60 metres. Given his back up is Lionel Beauxis, another heavyweight kicker of the ball, it seems Toulouse are in a mood for pragmatic points scoring.
The other Luke - Burgess - is as near as there is to a Byron Kelleher prototype. He lacks the subtlety of Will Genia but if Steenkamp and the Toulouse pack can get him on the front foot he is a penetrative runner of the ball and strong servant of the pack.
THREE: Will England make it four from four? Three times the Heineken Cup final has been played at Twickenham and three times an English club has prevailed. Northampton defied injuries, form and the odds to beat Munster. Wasps defied the flowing poetry of Toulouse at their majestic best in one of the greatest finals of them all before winning another final by beating a Leicester team that had recently thrashed them.
Three out of three and a fourth finalist is quite some home record. Who could make that four from four? Northampton has the awful memory of their second-half slaughter at Irish hands in Cardiff to erase. If they can rid the psyche of this nightmare they could prove a threat. Leicester looks anything but threatening at the moment and have an awkward pool but the Tigers have a beefy pack and a grand tradition. The pressure is definitely on them and their Director of Rugby, Richard Cockerill to advance to at least the knock out stages.
Saracens are England's champions and will have learned plenty from their hard school of a pool last season when Leinster and Clermont Auvergne towered over them. They are tough to beat but do they have the variety to win a Heineken Cup? And then, of course, there are the Harlequins. Ten wins from ten games; a great spirit, a glorious fly half and goal kicker and a powerful European season behind them to boost their confidence.
Not only did they win the Amlin Cup but they beat Munster at Thomond Park in the process. They will not fear Toulouse or the trip to Gloucester. It terms of distance it is a hop and skip from the Stoop to Twickenham; in terms of class are they flattering or are they ready to take that step up in class?
FOUR: Can the Blues flourish on the basis of their fabulous foundations? In Sam Warburton they have the most talked about newcomer in the game. In front of him there is a fully fit and raring Gethin Jenkins and behind the scrum Jamie Roberts can show he is capable of big performances on stages slightly smaller than Lions test series and World Cups.
Can the Ospreys cast off superstars and find a discipline and spirit instead while even further west, will Nigel Davies remain the most underestimated coach in these Isles? George North, Jonathan Davies, Rhys Priestland - the list of talented Scarlets' backs goes on and on and all of them are hallmarked with that bred in the bone West Wales feel for the right line, angle and timing of the pass. The Scarlets will not win the competition (I would be delighted to be proved wrong) but can anyone play a more fluid brand of rugby than Davies's team?
FIVE: Can Glasgow and Edinburgh show that it is only at international level that Scotland lacks penetration? Both these teams have scored some fine tries over the years. If they score a hatful this season a few critics will be wondering what exactly Andy Robinson and Gregor Townsend are up to with a Scotland that went 240 minutes try-less in the World Cup.
SIX: Can the Italians produce another shock against a side other than the French contingent? Treviso messed up Perpignan's chances by beating them at the pool stages two seasons' back whilst Aironi pulled off a significantly bigger shock when they beat Biarritz last campaign. There is no way an Italian team will make the last eight but would it not be great for the back lines as well as the forwards to cause problems. Tommasi Benvenuti is one on whom I shall be keeping my eyes.
Oh yes - I almost forgot... there's one more question...
I can't wait for the campaign to kick off with Worcester versus Stade Francais in the ever more interesting Amlin Cup on Thursday night. Can you? Nah, that is a stupid question; sorry for even asking it.
Good luck to every single team; may the sharpest, smartest and bravest prevail; enjoy.
Stuart answers your emails...
Got a question for Stuart? Email him at skysportsclub@bskyb.com or use the feedback form below...
Tiers an idea
A fairly good idea last week, but why couldn't we add another game at the start of the tournament and have seeded teams play non-seeded teams. (Team ranked 1st play team ranked 24th, 2nd v 23rd.....etc) Winners to the top tier. Losers to the bottom tier. That way at the start of the tournament, every single team entering has a shot at the grand prize! And there may even be a surprise where a France or an England may end up in the bottom tier! Steve Brookings
STUART REPLIES: Steve, I like the idea but 1 v 24 could be a rout that would have exactly the wrong effect and I'd prefer to know who's in what tournament a year in advance to give the fans a chance to plot their itinerary. I am occasionally pragmatic and this is one of those occasions.
Doesn't ring true
You always seem impressed with Wales and New Zealand at International level. Do you think ring-fencing the Premiership will improve the national team (at a detriment to the club game)? The All Blacks and Wales have no relegation at club level and therefore seem to be able to develop an attacking game plan without pressure. Gary, Sheffield
STUART REPLIES: Gary, I wouldn't say I am always impressed with NZ, let alone Wales! Ring-fencing eh, that painful old chestnut. The whole nonsense about playing unimaginative rugby cos of fear or not introducing young players is a non sequitor spouted by DORS who lack the courage/imagination or both to plot a positive course. It's easier to stop than create. I just refuse to accept the pressure excuse. England have a pretty good record compared to Wales in the professional era. Wales did not make the semis and England the front pages of the tabloids simply because of ring fencing....step away from the idea, Gary, it does not stack up. Let poor coaches come up with other excuses. That one won't do.
Cheats' charter
Is it time to consider a change to the rules? Rugby union is a team game of territory with the main aim being to cross the line to score a try. Yet so often games are won and lost on the abilities of one specialist goal kicker. Not exactly upholding the team game ethos and not always great to watch either.
Can it be right that a team awarded a penalty on half-way, at which point they have no hope of scoring a 5-point try, can suddenly pick up a still significant 3 points possibly transforming the outcome of the game as a result? I propose a change along the following lines:
if a team is awarded a penalty inside the 22 they have the same options as now.
But if a penalty is awarded outside the 22 they should either not be permitted to kick for goal OR they can kick for goal but will only get 1 point for a successful kick.
This would promote kicking for the corners etc etc and make the game much more interesting - probably for the players too! The skill of the kickers would still be important but the ethos of being a team game about territory is re-established. John Blair, Petersfield, Hampshire
STUART REPLIES: John, It would be the charter cheats have waited decades for; your thoughts are very much in the right place but this suggestion could bring the law of unintended consequence into a place no one wants it.