Rugby League Experts & Columnists
Barrie v Terry: Pair go head-to-head with their Super League predictions
Last Updated: 29/08/14 11:19am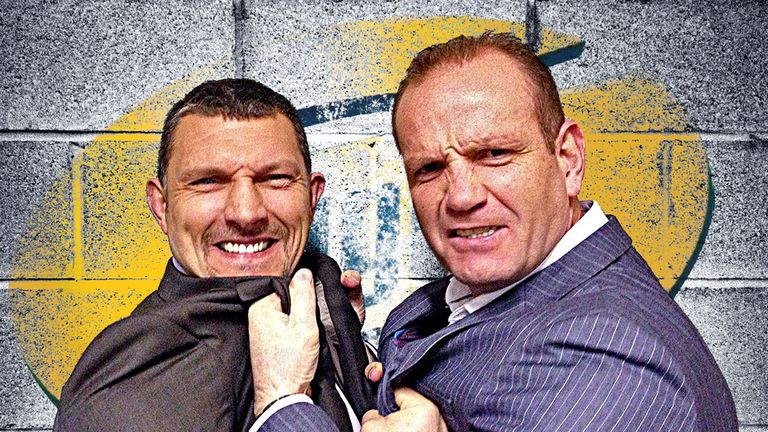 Barrie and Terry are back to tear into each other once more as they go head-to-head with their Super League predictions.
Last season Terry pipped Barrie to the post and proved to be the most successful tipster - but Barrie is determined to make amends in 2014!
Each week they will give their predictions for the Super League games - the boys will score one point for a win, while if they both pick a winner, then the pundit with the closest score gets an extra point.
CURRENT STANDINGS:
Barrie - 140
Terry - 139
Warrington v Huddersfield (8pm, Thursday, Sky Sports 1)
Barrie says: This is an intriguing game because of what is at stake for both of them. Huddersfield need to get some momentum going for the play-offs and Warrington still have a good chance of making that top spot. There are only four points between Saints at the top and Huddersfield in sixth spot so there is everything to lose and everything to gain for the top six.
Prediction: Both sides are coming off good wins and will have fresh legs after having a break last weekend. I think this may be a bit of a tall order for the Giants to win, though, so I'm going for a Warrington win by eight points.
TERRY SAYS: The form is with Huddersfield although they were tested last week for 63 minutes. But when they had to score, they did. Huddersfield are a class side and are just a point behind Wigan so this is a huge game. Warrington bounced back from the semi-final defeat to Leeds, I think that the pressure is really on them. A few things still make you nervous about Warrington – the amount of mistakes that they make means they don't give themselves a chance. But they are a team that seems to be getting it right, even though they didn't make the final. If they just rein in their play at times, Warrington can beat anybody and are quite rightly tipped to get to the Grand Final.
Prediction: Because it's at Warrington I'm going for them. Even though Huddersfield are on a roll I'm going for Warrington to upset the apple cart and win by 18 points.
Leeds v St Helens (8pm, Friday, Sky Sports 1)
Barrie says: Leeds have had a good week celebrating a fantastic Challenge Cup final win. I know they were back in training on Tuesday and fully focused on the next job in hand. The League Leaders shield and the Super League trophy are very realistic goals for them. This is the game of the round for me as Leeds are against the team at the top of the table. Saints keep on defying the odds and keep on coming up with new pairings that just seem to work. You have to admire how Saints have just got on with business even when they're on 'crisis' alert.
Prediction: I am going for a draw here – I think they are two quality teams with plenty to play for and there's nothing to split them.
Terry says: These are always great games and this one should be no exception. Saints are top of the pile at the moment and fully deserve to be there. They have been so professional and have played some excellent rugby football. I think this is a good time to play Leeds because the Rhinos will need to refocus after their superb Challenge Cup final win. It is tough to back that up a week later and to refocus on the Super League; however, if any side can do that then it is Leeds. I expect the South Stand to play a huge part in lifting Leeds up for this game.
Prediction: I'm going for an upset – although it's not much of an upset when you are backing the current league leaders to win, is it? Saints by eight points.
Hull FC v Hull KR
Barrie says: These derbies are normally worth so much but it does not look like it will be worth anything other than Hull FC stopping Hull KR from getting into the Top 8. I think Hull KR are the best-placed team outside of the Top 8 to get into the play-offs but that is also dependent on Widnes, who have a tough run-in starting this week and the temperamental Dragons. Hull KR have the better quality and I think they have more incentive heading into this game.
Prediction: A very tough game but I think it will go KR's way by eight points.
TERRY SAYS: Mathematically Hull FC can still make the play-offs. Lee Radford has been talking about honesty but he just isn't getting it from his side. Anything can happen in derbies, we all know that, whether you're playing tiddlywinks, rugby, football or you're a mud wrestler. Hull KR were incredible when they played against Wigan last week. Noticeably against Wigan, two men were holding up a player and the third would be rattling in as hard as he could – not smacking against legs like some teams do, but hitting them in the ribs and hurting them. Cameramen on the side-lines said they've never seen a game as physical.
Prediction: I'm going with Hull KR by 18 points. I can't see Hull FC getting themselves off the canvas despite having good players.
Widnes v Wigan
Barrie says: These are always great games – when I first started watching rugby league back in the 80's these are the games I always looked forward too. It is being played on the i-pitch, which gives Widnes the advantage no matter who they play. Wigan really want to get back to winning ways and kick on from their draw against the Robins and will be looking to make a statement in this game.
Prediction: I think Wigan will put in a very impressive display and win by 14 points.
TERRY SAYS: What will Shaun Wane be thinking when he goes to the Select Stadium? Will he be resting any players? He has done over the previous years and was beaten by Widnes because of rested players. Wigan didn't look anything like they should last week and Wane knows they've got a difficult task against Widnes, who have a legend in Denis Betts as their coach. They've also got Mick Cassidy who played over 300 games over 10 years, and Kevin Brown (an ex-Wiganer) alongside Jon Clarke. There are a lot of people in the Widnes ranks who have played at Wigan and will want to put one over them, but do they have enough class? Do they have enough power? Enough composure? They can't panic against this Wigan side.
Prediction: I'm going with Wigan to win by 14.
Catalans v London
Barrie says: I think we will see Dr Jekyll in full force in this game! We all know that Catalan are a different side at home and I think London will be in for a tough afternoon. I will say that London played extremely well in their last game and credit to Joe Grima for all the hard work he has put in.
Prediction: Catalan by 28 points.
TERRY SAYS: You are paid to be a full-time professional and you want to put in a shift, you want to perform. I was made up for London last week because they went into a game with Leeds on the back of conceding 58 points or more in their previous five games. I'm not going to give you loads of stats but that was the best defensive performance since round 16 even though they conceded 36. So, London are a decent enough team of individuals. People obviously believe in the players in London's ranks but they need to perform better as a side. London travelling to Catalan will be tough – Catalan are a different side at home, they can't win in England. They've only beaten London and Bradford when they cross the Channel but at home they're a different kettle of fish.
Prediction: The pressure is mounting to get in the top eight so I'm going for Catalan to win by 24 points.
Castleford v Bradford
Barrie says: Cas, of course, are coming off that disappointing Challenge Cup final loss and will really want to bounce back. Those finals take a lot out of you – the build-up, the nerves and the anxiety. When you don't come out on the right side of the result then your bumps and knocks are a bit sorer and take a bit longer to recover from. Bradford are playing so well at the moment and you have to be impressed with the way James Lowes has got them performing.
Prediction: I have to go for Bradford here by six points.
Terry says: Can Castleford bounce back after that loss at Wembley? They certainly have Grand Final aspirations but that performance in the Challenge Cup final was just not good enough. Hopefully that loss will spur them on but they are up against a Bradford side who are just full of confidence and who are playing a lovely brand of rugby. They have really bought into the philosophy of James Lowes.
Prediction: I think Cas will bounce back at home to win by 12 points.
Wakefield v Salford
Barrie says: Wakefield have a few injuries at the back end of the season which could cost them dearly. The change in Salford from the beginning of the season until now is just remarkable. The attitude they have in defence has really improved and it is a huge strength of theirs now.
Prediction: Salford are going to go to Wakefield and get the win by 10 points.
TERRY SAYS: Salford beat Catalan playing with perfect shape. If you look in the key positions for Salford, guys like Rangi Chase – the man on everyone's lips – and Kevin Locke are genuinely world-class players. When everyone looked at Salford at the beginning of the year they expected them to be playing as they have but it's taken them to round 25 to perform well.
Prediction: I'm not saying it's going to be easy but if Salford are to get back up the table they must win this, and I think they'll do that by 14.