Rugby League Experts & Columnists
Barrie v Terry: Pair go head-to-head with their Super League predictions
Last Updated: 28/08/14 3:15pm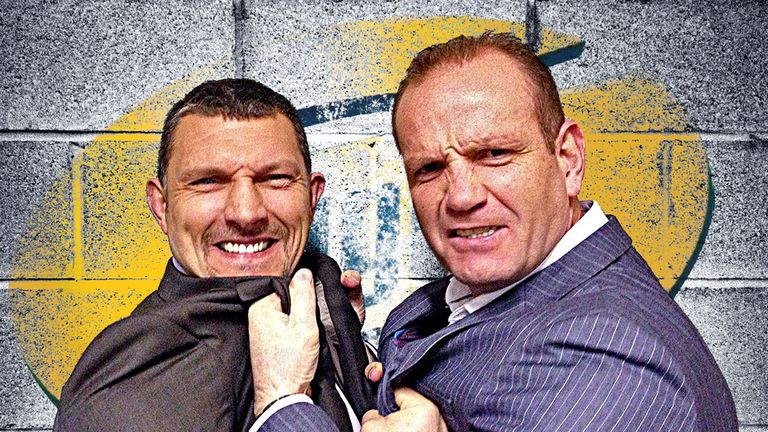 Barrie and Terry are back to tear into each other once more as they go head-to-head with their Super League predictions.
Last season Terry pipped Barrie to the post and proved to be the most successful tipster - but Barrie is determined to make amends in 2014!
Each week they will give their predictions for the Super League games - the boys will score one point for a win, while if they both pick a winner, then the pundit with the closest score gets an extra point.
CURRENT STANDINGS:
Barrie - 136
Terry - 134
Hull KR v Wigan (8pm, Thursday, Sky Sports 1)
Barrie says: Hull still have aspirations of getting into the top eight such is their fighting spirit under Chris Chester. Three points off Widnes with four games to go so that's attainable but they must focus on their own beeswax, beginning against the formidable Warriors. Blake Green and Eddy Pettybourne will be crucial. Hull have an immense set of forwards but if Pettybourne can disrupt them Wigan's job becomes that bit easier. He changes the rhythm of any game with his ferocity and every great team needs one like him, they've missed him and Green. Everybody sees what Green brings but the people who understand the dark arts of our sport know that Pettybourne brings just as much. When McIllorum comes back they'll take some beating.
Prediction: With the business end of the season around the corner, Wigan have everything in order. They are the team to beat. Wigan by 12.
Terry says: Chris Chester has talked about the soul searching that has gone on behind closed doors at Hull KR since they tasted defeat against Widnes. Craig Hall, Rhys Lovegrove and Sonny Esslemont are all called up into the 19-man squad with Omari Caro, Connor Robinson and centre Kris Welham making way. Competition for places is what makes clubs strong and with three very good signings announced for next year in Ken Sio (Parramatta) and Darrell Goulding (Wigan) and Newcastle Knights goal-kicking winger or full-back Josh Mantellato, some players who hold the current playing jersey know they need to perform. Can they bounce back in front of the Sky cameras and send a message out to those teams around them? Wigan welcome back ex-KR playmaker Blake Green from injury. The former Australian schoolboy, who is joining Melbourne Storm next season, has not played since rupturing biceps in their Magic Weekend win over Leeds Rhinos.  Another bonus for Shaun Wane is the return of Eddy Pettybourne, his presence will give a big boost to those around him.
Prediction: Wigan have won their last thirteen meetings with Hull KR and I'm going with them to make it 14. Wigan by 16.
Warrington Wolves v Castleford Tigers (8pm, Friday, Sky Sports 1)
Barrie says: Both teams go into this game with different emotions. Warrington come in after a crushing defeat to Leeds, they're battered and I don't just mean physically. It does take it out of you. You invest so much time, energy and emotion into semi-finals and if you come away with nothing it does take some time to pick yourself back up, whereas Castleford won the game and Daryl Powell has been smart with his team selections. He's been in charge of who plays and who doesn't and has done it better than most. Craig Huby picked up an elbow injury which takes a while to heal but he's one of few. That's down to Powell's selection as he tries to get everything in order for the big prize. Warrington won't be resting anyone from now until the end of the year. It was always a gamble with players like Michael Monaghan who'd only played one 80 minute game the week before. They can't afford to drop below eight out of 10 in their remaining fixtures and I don't believe they will.
Prediction: Warrington win by 26.
Terry says: Warrington will go full tilt and look for a response after last weekend's loss against Leeds. They started poorly and it was a game littered with a lot of mistakes especially in the first half by Warrington. With Tony Smith's focus on the league I'm sure you will see a different attitude from a wounded side. Congratulations to Castleford who have shown all year they are the real deal in 2014. I watched the game with my family in the stand last week surrounded by genuine Widnes fans who themselves were left devastated at the final whistle with what we all witnessed. I grew up watching Widnes on the terraces at the old Naughton Park, played for the Vikings and worked at the club. All I can do as a Widnesian is apologise to the Castleford team and supporters. All the fans I spoke with want to distance themselves from the so-called supporters who ruined a family day out. What happened after the game is not a true reflection of the genuine people who watch rugby league. What struck me as I stood watching at the end of the game was that the winning coach and players could not celebrate with their fans who were impeccable throughout. What makes the win that bit more special was the fact they did it without Weller Hauraki, Grant Millington and Justin Carney, they still had enough class and energy to beat the Vikings. Darryl Powell has rotated his side all year and I'm sure he will again rotate his side for this game.
Prediction: Maybe one eye on next week for Castleford, but the Wolves' eyes will be focused on this game. Warrington by 10.
Salford Red Devils v Catalan Dragons
Barrie says: If you remember a couple of weeks ago Kevin Locke played a part against Leeds and went off early. It's taken him some time to get his body right. With or without Locke, I believe Catalan have a stronger team. However, the woeful travelling form of Catalan makes us all wary of putting our faith in them. They were desperately unlucky against Warrington but they'll learn from that. They'll learn what they should have done, and when they should have done it. I think if they have any ambition for the Super League play-offs, bearing in mind their first game is away, they need to win this one – for their own confidence.
Prediction: Catalan to win by 8
Terry says: A week off allows you to lick your wounds and get over any niggles that you may have. Kevin Locke has struggled recently with a groin injury but the good news for the Devils fans is that he's made the 19-man squad. Along with Wakefield, Salford are the big improvers in the competition. Both sides are wanting a big finish to the season. Catalan are not safe in the top eight and this is a must win game for them. If Iestyn Harris' men can defeat the Dragons they will get to within four league points of them with six to play for. Both sides are evenly matched. They both have size, speed and skill through the side. The bonus for Salford is that the Dragons don't travel well.
Prediction: The vast majority of people will be going for the dragons because they look like they have more to play for, but I'm going for Salford with Locke, Chase, Fages and Lee playing a big part in gaining the victory. Salford by 14.
St Helens v Wakefield
Barrie says: This will be closer than everybody predicts. Saints have got so many injuries. They've got an untried and inexperienced half-back partnership in the talented Gary Wheeler and much underrated Jordan Turner. Tim Smith, conversely, on the Wakefield side is an out-and-out half-back – he's been there his whole career. If he dictates this game and has a big influence it could well make it a difficult day for Saints at home, whose form has been erratic. They're in top position with 17 victories but the games they haven't won have left everyone scratching their heads wondering why. A worrying aspect for Saints fans is how many times, going into the last quarter, they ship points and leave themselves vulnerable. Nathan Brown knows what he's got in terms of players – Jonny Lomax, Luke Walsh, Jon Wilkin look like they could be missing for the rest of the season. Shannon McDonnell is a full-back who makes a difference but I don't believe he'll solve the half-back partnership that has troubled them all year
Prediction:  I think Saints will have just enough by the smallest of margins. Saints by 4.
Terry says: Saints have lost key men at a crucial stage of the season. This is a good test for Saints who were beaten by Hull last time they played.  The quality is still in the 19 named for this game by Saints. Masoe, Roby, McCarthy-Scarsbrook, Soliola, Manu, Laffranchi, Flanagan, Amor are all named and you'd fancy them to win at home. James Webster's men probably had their worst 40 minutes in the first half against Huddersfield when they conceded 32 without reply. If you look at the injuries Wakefield have up front they have suffered some big losses. Nick Scruton is the second Wakefield player to be ruled out of the rest of the campaign after second rower Matt Ryan underwent a shoulder reconstruction. The club have also allowed Richard Moore to leave with immediate effect, that's a lot of kilos missing up front for the Wildcats. Scott Anderson will return after missing the last five games but will that be enough?
Prediction: Wakefield's recent form has had everyone talking in the game. St Helens by 12.
Bradford Bulls v Hull FC
Barrie says: Bradford, having beaten Wigan and Leeds, will go into this with so much confidence. James Lowes will tell you himself it's probably 30 or 40 percent away from where he wants them to be. He's well aware of what's in front of them. Hull also had a morale-boosting win. Two teams coming off wins meaning the team that gets off to the best start has the best chance of winning.
Prediction: Hull FC, away from home, will get the victory. Hull by 10.
Terry says: What a two-game winning streak Bradford have had. A win against Wigan followed by a huge victory over local rivals Leeds. If you look back earlier in the season the Bulls toppled Warrington. This is another game that they are capable of winning if the last two results are anything to go by. Look back over the Super League era and you will see how dominant the Bulls were in this fixture – Bradford won 26 (includes win in 2005 play-offs) whilst Hull FC have won 15 (includes win in 2006 play-offs). Hull have started to turn the corner although it's a long corner ahead of them. A win in this game along with a win against Hull FC could see them overtake the red and white team from Hull. They play the Robins at home the week after Wembley in what I'm sure will be a full blooded encounter. The Black and Whites won't make the play offs but they will want to finish well and take some heart into pre-season and next year with a few scalps.
Prediction: Hull by 10
Huddersfield Giants v Widnes Vikings
Barrie says: Huddersfield have racked up plenty of points of late  – Tez will know how many, he loves a stat! Huddersfield can score with players like Danny Brough. They'll always trouble teams. It's not quite there yet. If you contrast 2013 to 2014, they were in a position to win the League Leader's Shield last year so they'll clearly not up to those standards this year. You could argue they were perhaps out of steam by the time they reached the play-offs so maybe Anderson is saving them for the business end this year. Huddersfield face a tough proposition. Widnes got a good hiding in the Challenge Cup so how many players will be fit and available? There will be a few including Willie Isa who are suspended.
Prediction: Huddersfield, at home, will get a good victory by 16.
Terry says: Huddersfield have scored a total of 126 points in the last three games. The last game they played against Wakefield they made 12 breaks but missed 32 tackles. The table doesn't lie and it tells the tale that Paul Anderson's men are not that far off, the quiet achievers who have over the years finished the season slowly. This season looks to be different, after the taste of success they experienced last season when they lifted the League Leaders' Shield they want more. It's a bit like Barrie after a burger – one just isn't enough. After freezing on the big stage can the Vikings recover, will they have the character within the team to play with composure knowing that the race and the chase is on to make the play-offs? The loss of Willie Isa for the next three weeks will hurt them.
Prediction: With Wigan, Bradford and Salford left to play, I can see a further win or two for the Vikings but I'm not confident in this game. The Giants are well rested and are still chasing a top-two finish. Huddersfield by 16.
London Broncos v Leeds Rhinos
Barrie says: Leeds were different class last week. It's a sign of a good coach that he can give his team a good game plan. Ultimately it's up to the players to implement the plan and that comes after the coach convinces them with clear and achievable strategies that they must have the discipline to deliver. They've bought into it and have the skill to execute what they're being asked to do. Leeds tick all those boxes. They've got the Challenge Cup final next week down at Wembley so that may well be a changed team for this one. London have a couple of young Rhinos prospects and ex-Leeds junior players – Thomas Minns and Alex Foster who are on loan – Brian McDermott also spent many years down there in his early days.
Prediction: It's tighter than expected. Leeds by 16.
Terry says: Leeds will rest a number of players for this game but they will still have enough. It's not just about skill or talent - it's desire, determination and the willingness to work hard when it's tough. The side keep finding that extra effort when they think they are playing to their potential. Can the Broncos come up with a mammoth performance like they did two years ago when they defeated Warrington 62-18? Joey Grima will have to work miracles if they are to cause one of the biggest upsets this year, I can't see that happening and I still expect to see them without a win this season come Monday morning.
Prediction: Whilst London want the two points, the Leeds players that are given a chance are playing for a place in the final. Leeds by 28