Barrie v Terry: Pair go head-to-head with their Super League predictions
Last Updated: 31/07/14 12:59pm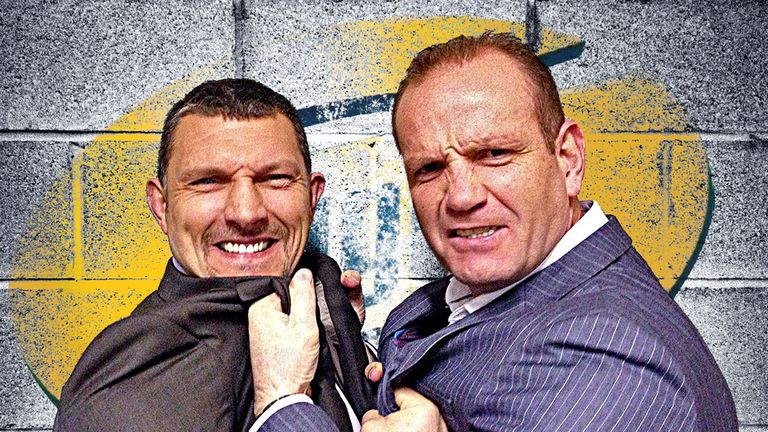 Barrie and Terry are back to tear into each other once more as they go head-to-head with their Super League predictions.
Last season Terry pipped Barrie to the post and proved to be the most successful tipster - but Barrie is determined to make amends in 2014!
Each week they will give their predictions for the Super League games - the boys will score one point for a win, while if they both pick a winner, then the pundit with the closest score gets an extra point.
Current standings
BARRIE - 128
TERRY - 128
Wigan v Salford: 7.30pm, Thurs, Sky Sports 1
Terry says: Who would have foreseen Bradford beating Wigan last weekend? I certainly didn't and Wigan coach Shaun Wane was absolutely furious – I have never seen him react like that. The simple facts are they did not respect the ball and had poor discipline. Wane questioned the desire and commitment of his players and will be looking for a reaction from them against the Red Devils. I am expecting Wane to make a few changes and we should be seeing Joel Tomkins back in the 13-man game. Wigan are up against a Salford side who have really progressed since Iestyn Harris took over. They were excellent last weekend despite the loss to Leeds and what impresses me is that, yes, they have a star-studded side but they are now working hard for each other. They have all found their roles within the team and that is beginning to show.
Prediction: This is a tough game for both sides but I just think the wounded beast is Wigan and I'm going to back them to get back to winning ways and win by 10 points.
Barrie says: Plenty of Salford players and staff have spent time at the Warriors which will add plenty of spice to this game. The Reds' last away win against the Warriors came 21-14 at Central Park on 17 August, 1997, which emphasises the steep climb in front of the Salford players. Add in the fact that Wigan have lost two games on the bounce and that means I cannot look past Wigan. Salford have put a lot into the last month which could leave them a bit short.
Prediction: Wigan by 18
Catalan v Warrington: 7.30pm, Fri, Sky Sports 1
Terry says: Warrington have suffered two losses in a row and I am really expecting a reaction from them.  The problem with Warrington is that they are coming up with too many errors before they get to the kick. The knock-on from that is that they are always playing in their own half and they cannot build any pressure. I am expecting Warrington to go to the South of France and play a more controlled game but the way they play is that if it is a 50-50 ball they will give it. Catalan don't travel well but are a different beast at home. They are methodical and very aggressive – they do get a bit carried away at times so they need to be a bit careful.
Prediction: I expect Catalans to have a real go here and I think they will consign Warrington to their third loss in a row. Dragons to win by eight points.
Barrie says: This is another really tough game to call! The Dragons and Wolves both lost last week, but still have top-eight and Cup ambitions respectively. The home team have a formidable record at home this year so it's a tough one! Warrington have won their last five meetings against Catalans and I think Warrington will use the time away to unify the team and rebuild the primrose and blue wall.
Prediction: Wolves to win by 10 points.
Hull FC v St Helens: 8pm, Fri
Terry says: First of all my commiserations to St Helens scrum-half Luke Walsh. That was an absolutely horrific injury to his leg and I wish him all the best in his recovery. Saints were brilliant against Widnes last weekend and blew them away in the first half. Their forwards were just superb and just kept on coming. My only slight concern over Saints is who will be playing in the halfbacks. They have a few youngsters playing very well in that area but they need to take control of some pretty experienced players and that is a big job. Hull were unlucky last week just to get one point against Cas. They tightened up their defence and did enough at the backend of the game to come away with a draw. I spoke about the Saints forwards but I though the Hull FC forwards were absolutely brilliant too.
Prediction: I'm going to go for an upset here – I think Hull will win by eight points.
Barrie says: St Helens beat Hull FC in Round 2 in a tremendous game but a lot has happened since February. Saints were also very impressive in their win against Widnes last weekend but have some major players missing again.
Prediction: Hull FC were commendable in their draw against Cas last week so I'm going for Lee Radford's men to win by 12.
Leeds v Bradford: 8pm, Fri
Terry says: The performance of last weekend had to go to Bradford for beating Wigan. James Lowes will be very proud of his team's performance – it was a brilliant result. They have to step up again as they go to the mighty Leeds this weekend. Lowes' best mate is the coach of Leeds, although they won't be doing each other any favours. As for Leeds, I think other teams get their tactics totally wrong against them. They always try to target Leeds in the middle because of the likes of Kylie Leuluai and Jamie Peacock. They seem to look at their age and come to the conclusion that they will tire as the game goes on. What they don't realise is the more they get targeted, the fitter they become – their age has nothing to do with it!
Prediction: I am not sure Bradford can come up with another performance like did against Wigan and I think Leeds will win by 20 points.
Barrie says: I played in plenty of these derby games as a Leeds player and it is very sad to see the demise of the Bulls. To put this competitive edge to these games into context, Leeds have won 26 while Bradford have won 28 and there have been three draws. I am looking forward to Jimmy Lowes resurrecting the Bulls in 2015 and I hope to see this fixture back in the mix.
Prediction: The Bulls were superb last week against Wigan however the Rhinos will take the emotion out of the game to win by 14.
Castleford v London: 3.30pm, Sun
Terry says:  The sign of a good side is never giving in and Cas showed that last weekend against Hull. They keep battling on and one of their strengths is that they play with pace and precision. There are good things happening at Castleford and Daryl Powell has a very strong belief that his squad can deliver. They are up against the side who are very low in confidence and have nothing to play for except pride. I feel so sorry for everyone involved in the club and I hope their fans turn up and support them.
Prediction: I think Cas will win by 40 points.
Barrie says: This one is very simple for me. Cas will respond to a below performance and prepare for their date with destiny in the Cup semi v Widnes with a big win by 22 points.
Wakefield v Huddersfield:  3pm, Sun
Terry says: Huddersfield started well last week and scored three tries in the opening 18 minutes against Catalans. The only thing that would have upset them was the 39 missed tackles – 16 of those were missed by three players. I am not going to name them but they really need to tighten that up. Tim Smith has the ability to change the tempo of a game to suit their needs and there are not many players who can do that.
Prediction: It's a tough one to call – I'm going to go for Wakefield by eight points just because they have home advantage.
Barrie says: The team of the month and coach of the month are both in Wildcats colours whilst Huddersfield haven't hit their straps consistently this year. However, last weekend both teams were resounding winners.
Prediction: The battle between Brough and Smith should be a cracker and I expect Broughy to come out on top and Huddersfield to win by 16 points.
Widnes v Hull KR:  3pm, Sun
Terry says: This is a massive two weeks for Widnes. They have the semi-final of the Challenge Cup and are one point ahead of Hull KR in eighth spot. It's a big ask for them and they need to really start well against KR. Hull KR have got a couple of injuries which may disrupt them a bit.
Prediction: This will come down to who will hold their nerve. I think there will be players in the Widnes side playing for a spot in that semi-final and I think they will win by six points.
Barrie says: Their last meeting was a high scoring affair in which Widnes won 29- 34. Both sides can score points so the team that defends with the right aptitude will get the spoils. Greg Eaden put in a stellar performance and will want the same again on the fastest pitch in the game! Widnes shipped in 44 points last week and Hull KR scored 62! Hold on for a points-fest in which both sides are capable of winning it.
Prediction: I have a gut feeling that the Vikings will take the spoils by eight points.