Barrie v Terry: Pair go head-to-head with their Super League predictions
Last Updated: 24/07/14 3:21pm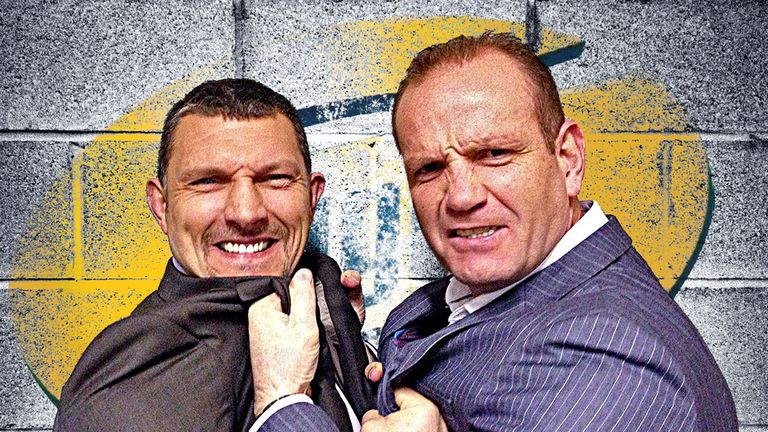 Barrie and Terry are back to tear into each other once more as they go head-to-head with their Super League predictions.
Last season Terry pipped Barrie to the post and proved to be the most successful tipster - but Barrie is determined to make amends in 2014!
Each week they will give their predictions for the Super League games - the boys will score one point for a win, while if they both pick a winner, then the pundit with the closest score gets an extra point.
Current standings
BARRIE - 124
TERRY - 124
Hull FC v Castleford: 7.30pm, Thurs, Sky Sports 3 HD
Barrie says: Cas are the team that everyone is talking about at the minute. They have won a lot of admiration for doing things on a limited budget – a budget that is a lot less than their peers in the top six. Credit has to go to their coach Daryl Powell – for me he is coach of the year so far. Hull FC are having a difficult year but I think if coach Lee Radford was the right man for the job at the start of the year then for me he still is. The more patience the fans show, the better they will be and I think the long term future of the club is good with some quality young players coming through. It may not be this year but it will be soon.
Prediction: I expect Hull to step back up this week and give a good account of themselves. However, I think Castleford will still win this by 10 points. 
Terry says: Hull are probably the underperformers this year - last weekend against Wigan they could only manage one clean break and they missed 52 tackles! They have to improve their defence and start to create some opportunities. They are up against Castleford who are going very nicely indeed. Going to the KC Stadium will hold no fear for Cas and if they start well, then the Hull fans may just start to get a bit irate.
Prediction: Hull to be much better than they were last weekend but I think Cas will win this game by 12 points.
Salford v Leeds: 7.30pm, Fri, Sky Sports 3 HD
Barrie says: The controversy surrounding that Leeds v Cas game is still rumbling on and this week Leeds will be without the services of Kevin Sinfield – who has lost his Gary Lineker tag. I have been around Kevin Sinfield his entire career and some people believe that he does not always outwardly express his passion – but he is a very passionate player whose passion boiled over. I know from speaking to him that he is very remorseful and got up in the changing room and apologised to the team straight after the game. That shows the character of the man. Leeds have a tough job this week because Salford have been getting progressively better. Their performance against Hull KR was very impressive and this is going to be the game of the weekend. Salford will have to be as physical as they were last weekend and if their fullback Kevin Locke can play half as well as he did  in his debut against Huddersfield, then they have a real chance.
Prediction: Leeds are going to have to play to 100% of their potential if they want to deny the Red Devils. Danny McGuire will play a huge part as skipper for the night and I am going to go for a Leeds win by six points.
Terry says: Salford looked dangerous, especially in the second half against Hull KR. It has been a good three weeks for the Red Devils and in my opinion it is their defence that has really turned them around. They are focused, playing controlled rugby and forcing errors. What they are doing is slowing the ruck area down and they will need to do that against Leeds who are missing Kevin Sinfield. It was a bit of a shock to see Sinfield react the way that he did – no one has ever seen that from him before.
Prediction: This is a difficult call and I am not sure which way to go – I think I'll go for the upset and say Salford to win by 10.
St Helens v Widnes: 8pm, Fri
Barrie says: Last weekend against Warrington, Widnes to a man were superb – an absolute credit to their town. They are all working their socks off to gain respect and to play to the game plan that Denis Betts is setting.  St Helens may not be as battle hardened after their win against relegated Bradford, but I still think they will have a bit too much for Widnes.
Prediction: Widnes will give Saints a real run for their money but I don't think they will have quite enough. Saints to win by eight points in a close game. 
Terry says: Saints carry the ball so strongly and they play off the back of that. They play off speed and disruption and they look to wreak havoc with their defence and pounce on any mistakes. Their coach Nathan Brown knows what a good side Widnes are – I think their win against Warrington last weekend was their best performance of the year.
Prediction: I'm going for Widnes to just steal this one by eight points.
London Broncos v Hull KR: 3pm, Sat
Barrie says: Hull KR missed a raft of opportunities last weekend and let Salford run away with the game. They will be very disappointed with the way they played and will be looking to get back to winning ways this weekend. Travis Burns and Adam Walker have both been cleared to play against London which will be a huge boost for Hull KR.
Prediction: Hull KR have a big say in who will and who won't get into the top eight and they will get back to winning ways against London. Hull KR to win by 16 points.
Terry says:  It's easy to be critical of a team that have conceded 240 points in the last four games. London just look beaten at the moment and they don't know how to find the rhythm to go and win a game. They make too many mistakes and they have no danger men to grab a game by the scruff of the neck. They are up against Hull KR who seem to take one step forward and two steps back.  They do play well at times but then all of a sudden they capitulate.
Prediction: Hull KR need to turn up and focus on playing for the full eight minutes. If they can do that then they will win by 24 points.
Bradford v Wigan: 3pm, Sun
Barrie says: Wigan, as they have done all year, gave their senior plays a rest last weekend, and we saw some really talented young kids in action. Jason Robinson's son Lewis Tierney was excellent but whether he will keep his place for this weekend remains to be seen.  Amongst the disappointment of being relegated, it may just mean that the pressure is off for Bradford and they can play with some freedom. Ironically we may see a better showing from them this weekend than we saw last weekend.
Prediction: I am going for Wigan to win but only by 14 points.
Terry says: There is not much to say here - Bradford are heading for the Championship next year and the rebuilding starts from there.  I know that James Lowes will be trying to create that winning culture but that is not going to happen here. Wigan will go to Bradford where over the years they have had some ferocious battles, but I cannot see it being one this time round. Wigan are nicely tucked away in second place but I think that points difference is going to play a huge part in the play-offs. So when you do come up against the bottom team you really want to put them to the sword and score as many points as you can.
Prediction: I think Wigan will have just too much for Bradford and will do a number on them. Warriors to win by 34 points.
Huddersfield v Catalan: 3pm, Sun
Barrie says: Some may say that this is an upset but I am going for Catalan to win this one. I have been so impressed by them – they have such a great balance. They have players like Julien Bousquet and Elliott Whitehead – who for me is the best backrower in the game at the minute. He not only scores tries but his work rate and appetite to get stuck in is incredible.
Prediction: Catalans to win by 16 points.
Terry says: Huddersfield look to be hitting their groove at the moment. And the player who is really sticking his hand up for them is Jermaine McGillvary. Leroy Cudjoe and Joe Wardle are also playing very well. The spine of this side can really create chances and they just love to attack. Catalan are playing very well and big Lopini Paea adds so much punch when he comes off the bench as does Mickael Simon. Defence was key in their win against Wakefield, as was their control and their discipline.
Prediction: I think the weekend will be hot and it will be a fast track which will suit Catalans – I think they will win by 14 points.
Warrington v Wakefield: 3pm, Sun
Barrie says:  Warrington were given a good lesson last weekend against Widnes. I thought Mickey Higham hit the nail on the head when he said they were out thought and out-enthused. But losses force you to go back and reassess what you are doing wrong and to make those wrongs right. I expect Warrington have done just that this week. They are a good side and I don't expect them to make too many mistakes in the run-up to the play-offs.
Prediction: Warrington to win by 22 points.
Terry says:  Warrington made 19 errors last week which really cost them. I did not think that they ran or tackled as hard as Widnes but towards the end they played really well and scored a couple of tries off the back of it. They cannot afford to lose again – if they want to pressure the top four then they need to really buckle down. Will there be a response from Wakefield who were outmuscled last weekend? They looked flat and lost in all departments.
Prediction: I don't think Wakefield can bounce back against Warrington and think the Wolves will win by 24 points.