Barrie v Terry: Pair go head-to-head with their Super League predictions
Last Updated: 18/07/14 11:43am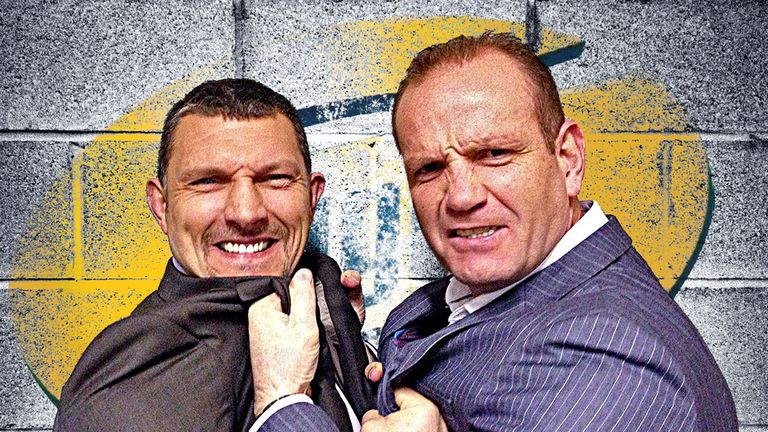 Barrie and Terry are back to tear into each other once more as they go head-to-head with their Super League predictions.
Last season Terry pipped Barrie to the post and proved to be the most successful tipster - but Barrie is determined to make amends in 2014!
Each week they will give their predictions for the Super League games - the boys will score one point for a win, while if they both pick a winner, then the pundit with the closest score gets an extra point.
Current standings
BARRIE - 118
TERRY - 119
Leeds v Castleford: 7.30pm, Thurs, Sky Sports 1 HD
Terry says: Leeds welcomed back Rob Burrow and Kevin Sinfield against Hull KR last week and they both made an impact; Burrow scored two tries, whilst Sinfield kicked 5 conversions. Shenton is having his best ever season in my eyes and I cannot wait for his battle with Kallum Watkins (he made 234 metres and three breaks last week). Castleford are a patient yet exciting team. They forced three goal one drop outs last week against Huddersfield and made seven clean breaks. This side has a great attitude to the game and works particularly hard in defence. In last week's game they missed just 12 tackles - they will attack from anywhere because if they make a mistake with the ball they will back it up with great defence. Because of the metres they make and their movement of the ball, I'm going with the Rhinos. I think the outside backs will be the key along with Rob Burrow's terrifying speed in the midfield. 

Prediction: Leeds by 12
Barrie says: Castleford are in terrific form at the moment and have dangerous players all over the pitch. Andy Lynch was the best player on the field last week and really led from the front against Hudderfield. He gives Darrel Clarke the space and with Shenton and Carney the Tigers have a real chance if they get the right opportunities given to them. Leeds welcome back JJB, Kylie Leuluai, Ian Kirke and Zak Hardaker so it should be a cracker of a game. Having played in a lot of these derbys it's a very keenly contested fixture and a big scalp for the victor. The returning players mean the Rhinos are at full strength and the confidence in the changing rooom means I think Leeds will win in impressive style.
Prediction:  Leeds by 18 
Widnes v Warrington: 7.30pm, Fri, Sky Sports 1 HD
Terry says: Do derby games get the best out of players? The answer to that is yes. Widnes defended very well against Wakefield and certainly had opportunities to win the game - the Patrick Ah Van interception springs to mind. If you look at the Vikings' last eight games they've not performed as well as they did at the start of the year: they've had six losses, a draw and just one win. The Vikings will be hoping for a big win against the Wolves. It's not mission impossible, they showed last year that they can beat them - in fact, they beat them both home and away. They lost 44-6 earlier this year at the Halliwell Jones Stadium in a game they never looked like winning. The Wolves have won ten games in a row and are coming off the back of a 72-point drubbing of London. Wolves are currently in fourth spot and depending on the results this weekend they could end up on top. 

Prediction: Warrington by 14
Barrie says: The Vikings have not had the luck, there's no doubt about that, but luck won't get you what you deserve in the long run. Denis Betts has kept his composure and showed plenty of class in a month that has been very testing for his side. Warrington are in fantastic form and have an exteremly balanced side. Ratchford, O'Brien and Myler are all vying for the halves and Bridge is in the form of his career. Bridgey has always been a good player and is loving the extra touches and involvement for his team. If you combine that with the 21 tries of Monaghan and the toughness of Chris Hill, Warrington are on fire at the moment. I don't beilieve that Wolves will make the same mistake as they did last year when they were beaten 6-16 by 12 man Widnes. 
Prediction: Warrington by 8
Wigan v Hull: 8pm, Fri
Terry says: Matty Bowen scored two tries in a ferocious battle in Perpignan. Bowen was superb as he turned in a man-of-the-match performance to help the Warriors move into third spot in the league table on 28 points, just two behind leaders St Helens. Another player to catch the eye was John Bateman, who made 140 meters in the engine room and never took a backward step throughout the game. Wigan didn't make a mistake with the ball in the second quarter of the game and in that time they scored 18 points. Hull finished very strongly last week at Salford and had chances to score a few more tries. Danny Houghton has had another big year and stands out every week with his work ethic and commitment to the cause. Hull's stats against Salford weren't too bad: Liam Watts made metres in the pack, while Jamie Shaul again helped his team by winning the majority of play ones. A better start is what they need but will that be enough?

Prediction: Wigan by 18
Barrie says: Plenty of credit has to go to the Wigan side that showed plenty of mental strength in the face of much adversity last week in Catalan. Hull FC are a side that scored 22 points but let in 35 points against Salford and it may well have given them too much to do to get into the top eight. I was so impressed with the Warriors; that kind of match gives the team fuel for months when they can say 'remember when we played Catalan' and draw upon those lessons.
Prediction: Wigan by 12 
London v St Helens : 3pm, Sat
Terry says: Well the season must go on, regardless of how hard it is for everyone at the Broncos. Can they rally to play against one of the top sides? They conceded 72 against Warrington and you could see the same happening again. London don't pass the ball much yet still make more mistakes than anyone else. That is a bad sign. They also have the worst defence and attack in the competition. With all of the above taken into account this will be a high scoring game, but the only team to score those points will be the Saints. The movement from the St Helens side will cause lots of problems and it will be the ruck speed that determines how many tries are scored. London have been disappointing in this area recently and I can see this killing the Broncos early on. They came up with a clinical first 50 minutes last week in which they scored 40 points, but after that they let 22 points in. I'm not sure they'll do that this week; the talk will be about respecting London but not showing any leniency.  

Prediction: St Helens by 44
Barrie says: The roller coaster ride is still stomach-tickling for all concerned at Saints - they are up and down more times than the Big One at Blackpool! This week will be a good one and I expect them to really take the already relegated Broncos to the cleaners.
Prediction: St Helens by 30
Catalan v Wakefield: 4.55pm, Sat, Sky Sports 1 HD
Terry says: In all my time watching and playing rugby league never before have I seen any one team lose its head as much as Catalan did when they welcomed Wigan with open arms to the south of France. They have performed tremendously well for the last 14 rounds but round 20 looked like a throw back to the late 1800s when the game first started. If you like high shots, players getting up-ended and the odd choking tackle, that was the game to watch. A good side doesn't need to play like that and Catalan are a very good side when they're on form. The first six minutes of the second half was horrific and I honestly thought they took a few steps back. If they play again like that against Wakefield they will be well and truly beaten. James Webster's remarkable record continues after his team won a tough battle against Widnes in front of the Sky cameras last Thursday. Four wins and a draw since Webster took over has put a play-off position in sight for them. My opinion for this game is that Catalan owe themselves, coaches and fans a performance to be proud of, not another performance like the one they dished out last week. 

Prediction: Catalan by 12
Barrie says: Aggression is a really difficult feeling to control. The Dragons were absolutely out of control for periods in the game against Wigan. That has not only cost them Duport and Mounis but may have lost them the fortress tag they had accumulated after only losing one game prior to last week. Wakefield will play their first game away from home in five which will be a test of the team's togetherness. The logistics are an issue but the time together can be well used if it's managed well. If a determined Dragons side turn up and play proper rugby league - not the UFC type - they will get back to winning ways.
Prediction: Catalan by by 14
Huddersfield v Bradford: 3pm, Sun
Terry says: Two of the best players in Bradford's history now clash as coaches. Paul Anderson the reigning coach of the year and Jimmy Lowes as the newly appointed Bulls coach. The Giants missed Man of Steel and captain Danny Brough, as well as Shaun Lunt, David Faiumu and full-back Scott Grix, but teenagers Jake Connor and Kruise Leeming played very well. The kicking game wasn't the best from Huddersfield and I thought that was a major Achilles heel. Chris Bailey stepped into the hooking role and scored two close-range tries but realistically they never looked like winning. Bradford paid for a slow start last weekend - they went behind by 40 points after 50 mins. They came back in the final quarter by scoring 22 points but they need that urgency and commitment from the start this week. I'm sure the Bulls will give it a good go. The trap door to the Championship looms in sight for them but a good win will come before they drop. With all that said, though, it won't be against the Giants. 

Prediction: Huddersfield by 16
Barrie says: The Bulls showed some fight last week at Saints and James Lowes will try to cultivate and harness that resolve. Huddersfield let themselves down defensively and Paul Anderson will have his side really motivated for what is an historic rivalry. Lowesy and Paul were part of the glory days at the Bulls and I'm sure there will be an ironic sigh from the terraces if it's a former player that puts the final nail in the coffin and the inevitable relegation happens.
Prediction: Huddersfield to win by 16
Hull KR v Salford: 3pm, Sun
Terry says: Hull KR had a chance of getting into the top eight last week and for 60 minutes at Leeds last week they looked like they may well do it. Kevin Locke will be added to the team this week and his inclusion will strengthen Salford. Lama Tasi will again be missing through suspension but that means more game time for somebody else. Josh Griffin is another player to watch; I mentioned him along with Jason Walton last week. They have both come in under the radar but have performed particularly well over the last three weeks. I talked about how physical Salford have played in recent weeks and they backed that up against Hull last week. They are now playing another Hull side, this time the Red and Whites. The Robins have a few firey characters themselves in Burns, Weyman, Costigan, Walker and Larroyer. Sixty minutes of hard work got them no rewards as they conceded 30 points in the last 20 minutes. I'm sure that with decent field position Hull KR can win this game, though they will have to earn it. 

Prediction: Hull KR by 14
Barrie says: This is a hard one to call. Reds are coming off the back of two wins and look like a well-drilled and functioning team at last. The Robins are under new management and look like a well balanced, competent side. Purely on home advantage I'm going for Hull KR.
Prediction: Hull KR by 8