Barrie v Terry: Pair go head-to-head with their Super League predictions
Last Updated: 10/07/14 3:53pm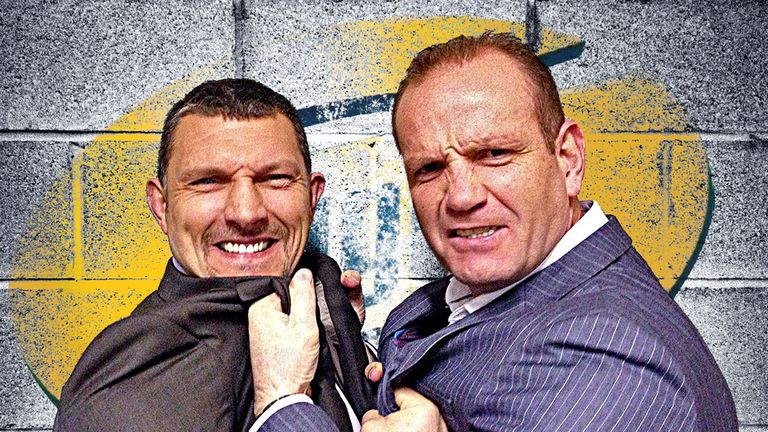 Barrie and Terry are back to tear into each other once more as they go head-to-head with their Super League predictions.
Last season Terry pipped Barrie to the post and proved to be the most successful tipster - but Barrie is determined to make amends in 2014!
Each week they will give their predictions for the Super League games - the boys will score one point for a win, while if they both pick a winner, then the pundit with the closest score gets an extra point.
Current standings
BARRIE - 112
TERRY - 112
Wakefield v Widnes: 7.30pm, Thurs, Sky Sports 1 HD
Terry says: This is a huge game for both sides. Widnes in eighth place need some wins because their recent form has not been good enough. Wakefield were exceptional last weekend against Leeds Rhinos. James Webster is a very shrewd coach; he knew they didn't have the speed to beat them on the edge so they took them on down the middle and they came out on top. Why wouldn't they be confident? They have beaten Leeds and Wigan in their last four games. Widnes know they need to stand up and I am sure Dennis Betts will have been talking to them about their performances. They know they need to be better and I am sure we will see a different Widnes attitude in this. They will be looking to hijack Wakefield and I am going for an upset here. I think a lot of the Widnes players are hurting now so I am going to tip them against the odds.
Prediction: Widnes by 10 points
Barrie says: Wakefield are in tremendous form and James Webster as a head coach is undefeated in four games. They are a very impressive side at the moment and seem to do a lot of the right stuff with Tim Smith in charge of everything. The coach has a keen instinct for a good game-plan and he seems to be able to unpick a lot of teams that they play against. Widnes were a bit unlucky last week against Castleford when two calls went against them and the game ran away from them at the end. But they can put up a pretty stout test for anybody. However, Wakefield on the back of their run, will be too strong for Widnes, who will get better in the next few weeks as the semi draws nearer and players are playing for their spots in the team. 
Prediction: Wakefield by 12 points
Castleford v Huddersfield: 7.30pm, Fri, Sky Sports 1 HD
Terry says: Cas were the team that went to Widnes last week and they were brilliant. All the talk in rugby circles is about who is leaving Castleford but I think you have to look at what Darryl Powell and Danny Orr have done in bringing in Ben Roberts, Justin Moores, allegedly Luke Gale and Scott Moore. So there are good things happening there, and if you look at the table, they could be top after this weekend. Nobody would have thought that. At the start of the season people were saying this team would be fighting to avoid relegation but they are the form side. If you look at the points for, it is only Wigan who have scored more than them and defensively they are the fourth best in the league. They are playing against a Huddersfield side who were humbled and beaten up. Danny Brough will not be playing. But when you are one of the big sides and you get beaten you want to play ASAP. But you can't back against Castleford at home.
Prediction: Castleford by 12 points 
Barrie says: Castleford, along with Widnes, are looking forward to their Cup semi-final. So there are distractions there but Castleford have had a better run of form since getting through to the semis and they are a great side. Their match against Widnes last week on the 3G was just an indication of how clinical, how fast and how skilful they are across the board. Castleford will go into the game knowing that the key component of Huddersfield's game is Danny Brough. He picked up a really bad knock so it is highly unlikely he will make this game given the strict rules about concussion now. If he doesn't play in this game then there will need to be a reshuffle and Huddersfield as a team are not the same without him.
Prediction: Castleford by 10 points
Leeds v Hull KR: 8pm, Fri
Terry says: Kevin Sinfield and Rob Burrow will be back for Leeds and that changes the whole dynamics of the side. Burrows will improve them out of sight because he is a player who terrifies the big men. If you look at Hull KR and Leeds they are evenly matched sides. Hull KR had a brilliant win over Saints. It was about time their big players clicked. In the first game of the season they played Leeds and they got off to a shocker. In my eyes, and I'm sure in Chris Chester's eyes, they owe Leeds for that game and I think this will be a very good game. Hull KR look like a totally different side and again I am going for an upset here with Hull KR marching on and winning this game.
Prediction: Hull KR by 14 points
Barrie says: Hull KR had the result of the round, and you might argue the result of this year's Super League, when they beat St Helens in the week their coach was sacked. I watched that game in detail and saw the case for Saints not playing well but also saw the case for Hull being a lot better than their opponents on the day. So Hull KR have a lot of wind in their sails even though the coach Craig Sandercock was ousted and Chris Chester was given the reins against St Helens. It is not necessarily a new philosophy or opinion but a new style and interpretation that he brings to the squad. I think this will be a great game. You would expect that Leeds, having suffered what they would consider a bad defeat against Wakefield, will go into this game knowing that nothing less than a victory is acceptable with their high standards. Carl Ablett, Kevin Sinfield and Rob Burrow are back in contention which gives them more direction and confidence.
Prediction: Leeds by eight points
St Helens v Bradford: 8pm, Fri
Terry says: James Lowes has brought discipline to the Bradford side. Over the last two games they have only given away 10 penalties. The completion rates may be a touch down from what he is looking for but they were very impressive last week when they were just beaten by Catalan. They are improving but I am not sure they can pick up two points against a Saints side that is inconsistent. There is no excusing the way they have lost some of their recent games. It seems to come down to attitude and how they turn up to play but they are still top of the table. I would expect Saints to beat Bradford and beat them well.
Prediction: Saints by 20 points
Barrie says: The loss of Luke Walsh really does affect St Helens. If players like Jon Wilkin have to play out of position it takes away from their strengths and the strength of the team is diminished. Saints at home will want to get back to winning ways. It is a good time to play a team like Bradford who, whilst they were better last week, shouldn't trouble the Red Vee and I expect Saints to win.
Prediction: Saints 18 points
Salford v Hull FC: 7.30pm, Sat
Terry says: Was it a shock last week or did most people see it coming? I don't think people saw Salford going to Huddersfield and turning them over. They may have expected a close win but not a margin of 26 points. Kevin Locke obviously gave the team a boost. What you notice with Iestyn Harris is that he has put some workers into the side. They are out-and-out Super League toilers. It looked like a real team performance and when they needed that bit of class they had Locke and Rangi Chase to step up. They will need to do that again against a Hull FC side that was beaten by Warrington. Hull had opportunities to win that game. If Lee Radford looks at the positives, they really matched it with one of the best and could have won it. It is a must-win game for them. If they don't win it will be hard for them to get into the top eight but I think Salford at home will win.
Prediction: Salford by 12 points
Barrie says: I think that Salford have turned a corner now. For them to get that tremendous victory against Huddersfield last weekend and for them to have the likes of Kevin Locke in their ranks has really boosted the changing room. It has boosted the quality. Locke is an outstanding individual but he has proved when he has played for New Zealand that he responds to having good players around him. He makes the team better by helping and supporting their strengths. The Salford fans have been waiting for a period like this, and a victory like that, to get excited. There are plenty of people who want Salford to succeed. Owner Marwan Koukash has his fans and his critics, and everyone has an opinion on him. I think he has brought something really different to the game, with Locke being part of that revolution, or "Red Devil-ution" as they call it. 
Prediction: Salford by 14 points
Catalan Dragons v Wigan: 3pm, Sat
Terry says: I absolutely can't wait for this game. Wigan were quite professional last week at London. To score 58 points against any side and concede just one try shows they are hitting the right notes. Now they are the highest points scorers in the Super League this season. Catalan were atrocious at the start of the season but they have lost just three of their last 14 games and you put that down to the touch of Gallic flair and the work ethic. It is a big test for Catalan. But they love playing against Wigan as the crowd comes out in numbers. Both teams have the ability to score 30 points and I am going to tip the Wigan side to just edge out Catalan.
Prediction: Wigan by six points
Barrie says: It has been a difficult couple of weeks logistically for Wigan. They have had a trip down south when they rested some players and rotated players but still put 58 points on London Broncos. But Catalan are a good side at home. In the Catalan environment Wigan are held in the highest regard so everybody from the coach to the captain down to the kit man and bottle washer will be looking forward to the Wigan team coming across the water so they can give them a good go. I think Wigan could struggle here. Catalan, who have the highest regard for the Warriors, are a good team at home and have only been beaten once there. They will really relish this challenge. Wigan will make this an outstanding contest and it should be the game of the round.
Prediction: Catalan in a shock victory by six points