Barrie v Terry: Pair go head-to-head with their Super League predictions
Last Updated: 03/07/14 12:23pm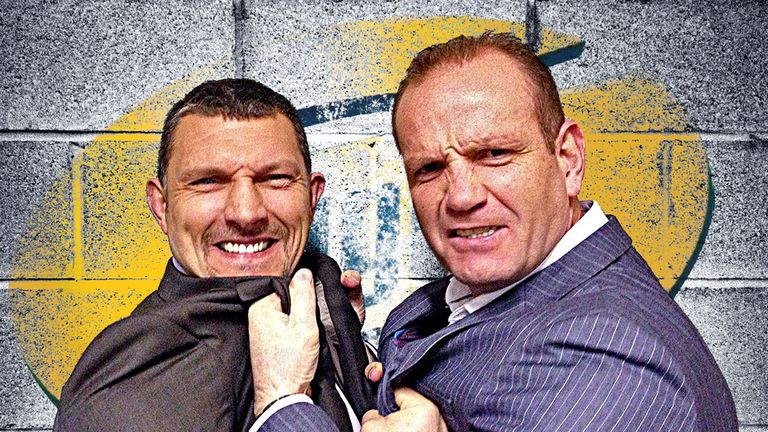 Barrie and Terry are back to tear into each other once more as they go head-to-head with their Super League predictions.
Last season Terry pipped Barrie to the post and proved to be the most successful tipster - but Barrie is determined to make amends in 2014!
Each week they will give their predictions for the Super League games - the boys will score one point for a win, while if they both pick a winner, then the pundit with the closest score gets an extra point.
Current standings
BARRIE - 106
TERRY - 108
Widnes v Castleford: 7.30pm, Thurs, Sky Sports 1 HD
Terry says: A much anticipated game with the two biggest improvers in the league. Widnes had a dangerous trip last week to London and played fantastically well. It was only in the last 10 minutes when the game was won that they conceded three tries to make the score look more respectable. I think Danny Tickles form has caught the eye and his partnership in the back three of the pack with Hep Cahill and Danny Galea looks formidable and one of the best in the competition. Castleford came from behind to win the game against Salford. I think they proved last week when the pressure was on that they are not to be taken lightly. The skill they have and the freedom they play with is incredible, this time last year they looked like they could end up with the wooden spoon, now they want to go to Old Trafford and play in the Grand Final. Both clubs will meet in the Challenge Cup semi-final at the beginning of August, so they will be going all out to leave that little reminder in the memory bank of their opponents.
Prediction: Widnes at home with all of the big guns back against a Cas side that are top class. Difficult to call but I'm going with the home side. Widnes by eight points.
Barrie says: I wonder which side will go into this fixture wanting to get the most out of it. Both teams have the potential to beat one another on their best days. It all depends on who looks at this as a distraction from the Challenge Cup semi-final and who looks at this as getting the psychological advantage. Widnes at home are always difficult to beat and I think this will be a very open game. Widnes got a win against London and Cas got back to winning ways against the Red Devils but were very lucky.
Prediction: Castleford may be fourth on the table and Widnes eighth but I think the home team will get the win here. Widnes by 10.
Wakefield v Leeds: 7.30pm, Fri, Sky Sports 1 HD
Terry says: Wakefield go into this game having picked up five league points out of a possible six from their last three games. Both clubs never fail to deliver in this fixture. Last season Leeds came out on top 31-24 and the year before Wakefield turned Leeds over 38-18, that surely was the clubs best performance in SL. Wakefield will probably feel they dropped a point last week against Hull but they have turned themselves around and showed real guts over recent weeks. Winning with a minute to go against a side that would blow Wakefield away on the salary cap is hard to take, but it's better picking up one point than none at all. If you asked Brian McDermott was he happy with last week's victory over Catalan he'd tell you he was happy with the two points along with the composure shown by 19-year-old Liam Sutcliffe at the end of the game to kick a conversion 30 meters out which pinched the game from Catalan. What Brian wouldn't be happy with is the amount of points leaked last week and in the previous three games.
Prediction: I think this will be a different Rhinos side mentally as they know defence is key to success. Rhinos by 12.
Barrie says: These games are always tighter than their league position suggests. Wakefield v Leeds in the last few years has gone against the wildcats – this is a game that the Wakey players, coaches and fans put a mark against and say that we want to win and nothing less than a good performance will do. James Webster has done a fantastic job since he took over coaching the Wildcats – I did not expect them to get the results that they did. They recently beat Wigan and probably should have beaten Hull FC last week but had to settle for the draw. They are in a run of five back-to-back home games which is a big advantage to them. Leeds know that they were pretty lucky to get the win last week against Catalans and go into this game knowing they can't back that up and will need to be at their best this week. I think this is going to be an incredible game – end to end entertainment.
Prediction: We will see a mixture of intelligent play with some brutal hits and I am going to go for Leeds by four points.
Hull FC v Warrington: 8pm, Fri
Terry says: A big week for both of these clubs in terms of signings. Have Hull finally got what they need in two top quality halfbacks? If you put Marc Sneyd and Leon Pryce next to Jamie Shaul and Danny Houghton that gives you a quality spine. Leon will also help the next batch of players who might not yet be quite ready for the step up. Warrington have signed the man mountain Fijian international Ashton Sims. He brings a wealth of experience and a presence to the Warrington pack which already includes Westwood, Hill, Evans, Currie, Laithwaite. Speaking of Ben Westwood if he plays this weekend that will be his 400th appearance as a pro, what a great achievement and still going strong. This game will see a Hull side who gained a point last week and a much needed one if they are to climb into that top eight. Warrington looked excellent with the ball last week, Stefan Ratchford was sensational and Matty Russell looked very strong at fullback. The only disappointment from the game was the injury to Simon Grix's shoulder. 
Prediction: Tony Smith's side look like they're hitting all the right notes. They have scored 500 points this season, 263 of those points have come in the last seven games and are undefeated in their last six visits to the KC Stadium. Warrington by 14.
Barrie says: Warrington look like the team in the best form at the moment – they dismantled Bradford last week but where they will be putting in extra work this week is in the points conceded. They let the Bulls score 24 points against them and that is not going to be good enough against Hull FC. Hull FC themselves have a boost off the pitch with their signings of Leon Pryce and Marc Sneyd but they have not quite got it together on the pitch. The good thing is that they are exposing some young talent to Super League like Jordan Abdull who was very impressive.
Prediction: The Wolves will be too much for Hull FC and win by 12.
London v Wigan: 3pm, Sat
Terry says: London seem to get closer and closer to a win as the weeks go by. I spoke with a few players earlier in the week and they said that they are a much different team to the one that start the season. Joe Grima has improved the players but let's not forget that this team had no time to prepare at the start of the year. If I was the coach of London I'd be telling them to go out and enjoy the occasion don't worry about the result. It might sound crazy but they have nothing to lose other than two points, what they have to gain is a reputation against one of the biggest clubs in the world and who knows where that may lead! How do you prepare to play a Wigan side that come into this game having lost the last two, one of them against the enemy? The players and staff this week will be counting down the minutes till they can put on the boots and make somebody pay. It was an incredible game last week v St Helens and either side deserved to win.
Prediction: My worry for the Broncos is can they live with Wigan's speed, forget the skill that Wigan possess, it is the speed and the determination from the Warriors is what will determine this result. Wigan by 28.
Barrie says: There has been plenty of fallout at Wigan after that derby loss to St Helens - so much effort goes into those games and I don't think we will see a full strength Wigan side travelling to London. This could be the time for Shaun Wane to rotate his players as they have a hectic couple of weeks coming up with a trip to Catalan coming up. A lot of people think that London are getting better and better and I don't think this game will be as easy for Wigan as their league positions suggest. The fixture in April saw the Londoners take a 10 point lead in the first 20 minutes so they can get points on the board and I think they will look to do that again. 
Prediction: Wigan to win by 16 points.
Bradford v Catalan: 3pm, Sun
Terry says: This is James Lowes second game in charge and the first time in charge back at the old Odsal. I'm sure the fans will turn out to support one of the clubs greats and everyone involved at the club will be hoping he can turn it around. It was a disciplined performance by the Bulls last week and they only gave away four penalties, the biggest problem was that they kept turning the ball over to Warrington. Leon Pryce returns to Bradford after this week announcing that he's off to another seaside resort next year  - Hull. The experience he has and game management is showing through in the games lately. They have  lost just twice in the last 13 games. They started the season poorly but have turned it around and look good value. The main reason they've turned it around is because of the form of Leon and one man who knows all about Pryce's strengths and weaknesses is his former team mate Jimmy Lowes. 
Prediction: The man to watch and stop is Pryce but that's easier said than done. Catalan by 16.
Barrie says: Bradford have had their first full week with their new coach James Lowes which will obviously make a difference in the long term but in the short term it's still very soon. Catalan where desperately unlucky not to record their first win at Headingley last weekend. They have had a lot of time to analyse where they went wrong and to make sure that they get it right this weekend. Zeb Taia, Sam Williams and Morgan Escare were in scintillating form last was and will need to back that up this week. Catalan have hit some tremendous form and would be right in the mix if it was for their poor start to the season.
Prediction: Catalan to win by 14 points.
Huddersfield v Salford: 3pm, Sat
Terry says: Huddersfield's forwards last week showed they are not just big bulldozers. Not only can they play it tough they can score points. In my opinion I thought they used a get out of jail card against Hull KR, but like I always say good sides find ways to win tight games. Just four points off the top of the table and winning nine from their last 10 shows they have that top position  in sight.  Salford on the other hand have only won one in 10. Sitting in twelfth spot just above the relegation zone they need to pick up a few more wins to be certain of Super League football next season. Iestyn Harris will improve the team and he has added some quality to the ranks that will form a good side next season but I do feel that the club and players might be looking forward to a much brighter season next year. 
Prediction: Huddersfield by 18.
Barrie says: Salford were desperately unlucky against Castelford – they had chances to win that game but I think they are just lacking a bit if confidence, the try by Gaz Hock got them into a position to win it but they couldn't close the game out. Defensively they are certainly better and are not conceding as many points. I also thought that Huddersfield were lucky to get  the win against Hull KR. Both teams will go into this fixture determined to put the wrongs from last weekend right.
Prediction: I think the Giants at home should too strong for Salford and will win by eight points.
Hull KR v St Helens: 3pm, Sun
Terry says: I thought Hull KR had a few bad calls made against them last week and they probably deserved the game against Huddersfield. Greg Eden showed his class, his first touch set up the opening try for Hull KR. The assault for a top eight finish must start now and they also need to beat the likes of Saints to make a real go of it this year. The club has brought in match winners but they need that winning mentality. Hull KR are undefeated in their last six home meetings with St Helens this is a big acid test. The test and strength of any side with high expectations is the ability to back up again after a monumental effort in a derby. To lose your playmaker and chief and still manage to break down your local rival shows you have ability. The ability I'm talking about is Jon Wilkin, he stepped up to the mark and led Saints around the DW stadium. His kicking game was exemplary along with his overall organisational game. I could go through the whole team from Wellens to Percival to Thompson, they are a talented side who sit at the top of the table. 
Prediction: A couple of big losses v Catalan and Warrington, but they are learning week by week with a young side with the obvious sprinkling of old heads. St Helens by 14.
Barrie says: This is going to be my upset of the weekend. Traditional Hull KR always do well at home to St Helens. They were so agonisingly close last weekend against Huddersfield. Saints will be really pleased by that Wigan win last weekend and the likes of Mose Masoa, James Roby and Jon Wilkin were superb. However they have been disrupted by the injury to Luke Walsh and I think this game will go down to the wire. If Hull KR want to get into the top eight then they really need this win! Because if the Dragons and Vikings get wins this week that would put them on 21 competition points.
Prediction: The last three times these two have met, Hull KR have won and I think that this weekend Hull KR on the back of those good memories of beating the opposition and will beat the Saints. A 10 point victory for Hull KR.