Barrie v Terry: Pair go head-to-head with their Super League predictions
Last Updated: 27/06/14 9:54am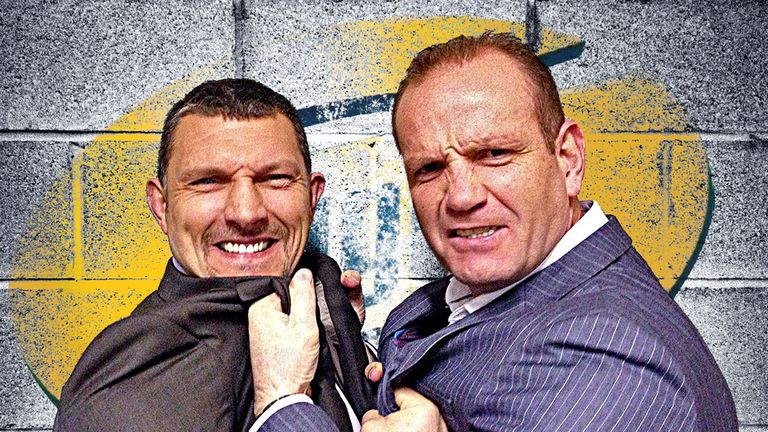 Barrie and Terry are back to tear into each other once more as they go head-to-head with their Super League predictions.
Last season Terry pipped Barrie to the post and proved to be the most successful tipster - but Barrie is determined to make amends in 2014!
Each week they will give their predictions for the Super League games - the boys will score one point for a win, while if they both pick a winner, then the pundit with the closest score gets an extra point.
Current standings
BARRIE - 100
TERRY - 102
Hull KR v Huddersfield: 8pm, Thurs, Sky Sports 1
Terry says: Every time we watch Hull KR on TV we are always talking about Travis Burns – he is such a great player and competitor but Hull KR will need him to be at his very best for the Giants! Huddersfield have had wins over Wigan and Leeds and have actually done the double over Wigan this year. Paul Anderson came out with a brilliant quote this week when he said he had accused his side of winning on talent and not on effort for a period of time. What he is saying is that talent is not enough and you have to put in the effort to win those one percenters that can make or break a game.  The will is more important than the skill and I think that after their two very good wins, Huddersfield have the bit between their teeth!
Prediction: I think it is going to be difficult for Hull KR to get into contention for this game with the Giants finding their rhythm – Giants to win by 10 points.
Barrie says: Both teams are coming off the back of a win and will be full of confidence. Burns and Keating have been playing so well for Hull KR and look like a really settled partnership. Huddersfield are a team that can really test you and are a difficult proposition for anyone.
Prediction: Hull KR at home are a really decent side and all things being said I am going for a home win. Hull KR by eight points.
Wigan v St Helens: 8pm, Fri, Sky Sports 1
Terry says: Wigan will be without of Michael McIlorum, who Shaun Wane calls the best hooker in the world. Liam Farrell is suspended so Wigan will be without two of their best forwards and when you are playing derbies you need all your best players raring to go. Wigan have the feel of an inexperienced side but they still fielded seven internationals and have a number of players who can step up from the younger ranks – they are a very good side and have the ability to score from all over. St Helens have all their key men playing and will be boosted after beating a rampant Castleford side. Paul Wellens was absolutely sensational against Cas as was James Roby.
Prediction: I just think Wigan are missing too many key men and I think Saints will win this by eight points.
Barrie says: These are always great games and it is a shame that Wigan are going through such an injury crisis at the moment. St Helens have a reasonably clean bill of health – Jonny Lomax is out but what a position to be in when you can call upon Paul Wellens. Last weekend against Cas I thought Wellens was exceptional but it will be up another two gears against Wigan. We have two of the best attacking sides in the league here so we should see some exciting rugby league.
Prediction: You would have to say that Saints have the advantage due to Wigan's injury list – with that in mind I am going to go for Saints by 10 points.
London v Widnes: 3pm, Sat
Terry says: My worry for any team that is condemned to relegation is what the mind-set of the players is. Players are looking for new contracts and it's a terrible situation to be in. There is a lot of pressure on these players to turn up and play for pride but this is their livelihood and the London players' minds will be elsewhere I feel. Widnes have had been absolutely smashed in their last two fixtures and will want to get back to winning ways. This is the start of a very big period for Widnes – if they want to make the top eight then they have to pick up points from teams around them – or, in London's case, teams below them. Widnes know that the pressure is on them and they have to perform.
Prediction: I am going to go for Widnes to win by 20 points.
Barrie says:  London lost one of the most exciting players in Super League at the moment in Mason Caton-Brown. That will leave a dent in an already depleted side. Widnes did some good things against Leeds last weekend – not enough to get the win but they looked good in parts of the game. They have their eye on the Catalan Dragons in eighth spot and will be looking to close that two point gap.
Prediction: Widnes to go to the capital and win by 16 points.
Castleford v Salford: 7pm, Sat 
Terry says: Against St Helens I think Cas switched off at vital times of the game which I have not seen from them this season. I am not saying that they looked sluggish but they did not look like the Cas we have come to expect. They broke through Saints on 12 occasions but could not finish it off – they were either trying to force the pass and seemed to be panicking. Salford's problem is that while they can score, they need to sort out their defence. It's no good scoring and then conceding on the very next set of six. Salford really need to focus on their defence. Rangi Chase is once again showing just how magical his touches are – he was phenomenal last week against Warrington. He will be going back to Castleford where he made a name for himself which will be really interesting.
Prediction: I think this will be a brilliant game. I just think Castleford will want to go and show Rangi Chase why he should not have left. Cas to win by 18 points.
Barrie says: Salford are a funny team – they don't seem to be wracking those competition points up that we expected them to. They gave Warrington a real shake last week, though, and they are really confident for this fixture. Cas are still in the top four despite that loss to Saints but with the Challenge Cup semi-finals just around the corner, it could play on their minds a bit.
Prediction: I still think that Castleford will have just enough to get over the Salford Devils by the smallest of margins. Cas by four points.
Leeds v Catalans: 3pm, Sun
Terry says: Everyone raises their game when they pay against Leeds and Catalans will be no different! The Rhinos had a good win against Widnes last week but Kevin Sinfield took one heck of a clattering! I am sure his head will still be ringing if he plays this week! Leeds will be hoping that Jamie Peacock and Kylie Leuluai will be fit for this game. Ryan Hall will be fit though – he is 108kg and plays on the wing, when I played wingers were about 60kg, he is a wrecking ball! Hall and Tom Briscoe were superb last week. The Dragons have lost all their games at Headingley but I think they will go to this game full of confidence. They were impressive against Hull and I just have a feeling that they can do this.
Prediction: I'm going to tip Catalans; Leeds have had some tough encounters recently and it's tough to keep on getting up. I think Catalans by 10 points.
Barrie says: This is going to be a pretty historic game with the Tour de France coming to Yorkshire. Everything around this fixture has a nice celebration feel about it. Leeds were not as clinical as they would have liked to have been against Widnes last weekend while Catalan did enough against Hull FC but their report card for that game would have read 'must try harder.'
Prediction: This should be a highly entertaining game but I think Leeds will win by eight points.
Warrington v Bradford: 3pm, Sun
Terry says: I would love to see Warrington with a high completion rate. I know they don't mind not having that high completion rate because they have the stars out there to score points from all over the field. But if they have the energy and keep hold of the ball then I think they would blast teams away! Warrington have won their last five home games against Bradford. This will be James Lowes' first match in charge of Bradford – his dream job! It's a tough ask for him and this is going to be a real baptism of fire for Lowes. He was tremendous for Bradford on the pitch and I think he will be tremendous for them off the pitch, too.
Prediction: I am going to go for Warrington but I think this will be a very close game. Wolves by six points.
Barrie says: Bradford have a new coach in James Lowes – but he has not had enough time to make a difference in terms of the game plan for the Bulls. What he will do is instil some expectation as far as performance goes. During the week he would have really focussed on getting a performance out of his team – if they allow Warrington to get some momentum then it is going to be all over. Warrington do not focus on the structure and field position, they wait for the opportunities to appear and then they drop the hammer!
Prediction: I am going for Warrington to win by 12 points in what should be a fast-paced game.
Wakefield v Hull FC: 3pm, Sun
Terry says:  Wakefield were superb last weekend when they beat Wigan – surely their win of the year!  They are a different side with Tim Smith and will be full of confidence for this game. Hull FC needed a bit more composure against Catalans last weekend but they looked very good.
Prediction: It is going to be a very tough game and I'm not sure Wakefield can back up their superb win from last week – Hull FC to win by 10 points.
Barrie says: Wakefield had the upset of last weekend when they beat Wigan. I don't buy into the excuse that Wigan played three times in a short space of time – I think Wakefield fully deserved their victory. I thought the way Hull FC played in patches was good enough to test the best and this should be a fascinating game.
Prediction: I am going to go against form here and say that the Black and Whites will go to Wakefield and win by 14 points.