Barrie v Terry: Pair go head-to-head with their Super League predictions
Last Updated: 20/06/14 1:55pm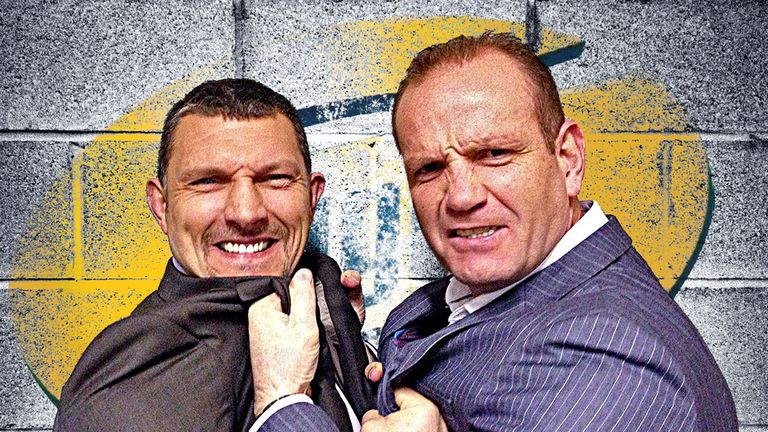 Barrie and Terry are back to tear into each other once more as they go head-to-head with their Super League predictions.
Last season Terry pipped Barrie to the post and proved to be the most successful tipster - but Barrie is determined to make amends in 2014!
Each week they will give their predictions for the Super League games - the boys will score one point for a win, while if they both pick a winner, then the pundit with the closest score gets an extra point.
Current standings
BARRIE - 92
TERRY - 96
Bradford v Hull KR: 8pm, Fri, Sky Sports 1
Barrie says: This is a hard game to call. Francis Cummins lost his job at the start of the week, much to everyone's surprise. Internally they know their reasons for getting rid of him but externally it looked like he was the glued that held them together. He has not had a fit squad available to him for the majority of the time. In my opinion the right course of action would have been to accept this year and then build a team from the bottom and take the championship by storm - the right man for that job would have been Francis Cummins for me. I think the players are as disappointed as anyone that he has gone. Matt Diskin now in temporary charge and he will have to get some team spirit and cohesion going. And he will try to take that to Hull KR, who also need the win to maintain their top-eight hopes. The emotions will be very high. If Bradford are to have any chance they need to start well and concentrate on themelves. If they don't get a good start then the quality Hull have will come through.
Prediction: Hull KR by 10 points
Terry says: Francis Cummins would probably be the last person I would say was responsible for where they are. These are desperate times for the club. They have only won four from 16; they have 11 games to go and they are eight points behind Wakefield. Something needed to happen but I am not sure that it was necessarily the coach that needed to be given the bullet. I thought it would be about getting new players in.  But you do see reactions from teams when the coach gets sacked. You have to congratulate Francis on the way he has conducted himself over the last few years. It will be a difficult game for them, in terms of the emotion, and I'd imagine they will be well and truly up for the game. Hull KR were well and truly beaten by Warrington in their last outing so Craig Sandercock will be looking for an improvement. But I am going for Bradford at home.
Prediction: Bradford by four
Huddersfield v London: 3pm, Fri
Barrie says: Huddersfield had a fabulous win over Leeds last weekend. Huddersfield, through some great efforts from the likes of Danny Brough an Brett Ferres, managed to get the two pionts. So the momentum they have got makes me think they will have enough here. We have talked about the obstacles that London Broncos have had to overcome to make even the slightest improvements. I do believe that London are getting better but they are not good enough to beat what is a quality Huddersfield side in great form. 
Prediction: Giants by 28
Terry says: If you look at who London have playing for them, if they get any good field position they have got Josh Drinkwater at half back. His kicking game was absolutely exceptional. So if they can repeat their performance against Wakefield, they have a chance. Huddersfield are one of those sides that can blow you away with a five-minute burst or they will come up with silly mistakes and give penalties away. I think we all expected a bit more from Huddersfield this year. Paul Anderson will want a huge performance against the Broncos. The Broncos have nothing to lose so they will be turning up to enjoy the occasion.
Prediction: Huddersfield by 24
Catalans v Hull FC: 5pm, Sat, Sky Sports 1
Barrie says: This is a potentially really exciting prospect. Hull were outstanding last weekend against Widnes - I must admit that I fancied Widnes to win that game and I think that most good judges would have said that Widnes would have looked after that game. Callum Lancaster scored a hat-trick and he has now scored five tries in two games. Hulll will be fully aware of the demolition job that the Dragons did on the league leaders St Helens. Catalan were unrecognisable for the five games of the season. But they were great last weekend. It was a fabulous team effort with a 48-0 demolition of what is a very good team. This is a great game and I am really looking forward to it. But I think Catalan at home are a different class at the moment, they are different gravy to everyone else and it is a pleasure to watch them play with such speed and skill.
Prediction: Catalan by eight
Terry says: Catalans were brilliant last week and defensively they were sound. That was the first time St Helens have been nilled since 2007 so that, and to score 42 points, shows how well they played. They are a phenomenal side when they play like that. Hull FC themselves posted 56 points away to Widnes. So both are coming off the back of two big performances and scoring a lot of points. There are big rumours Hull are trying to assemble a quality squad for next year. They know they need to improve and bring in some big players. Catalans have the star players. Their away performances need to be better but I think they will have another good performance at home. I cannot back against the Catalans side after their stunning performance last week. 
Prediction: Catalans by 18
St Helens v Castleford: 3pm, Sun
Barrie says: Both these teams are coming off the back of defeats, and unusual defeats. Castleford the previous week went to Wigan and won in the cup, battering them, but the week after they went back in the league and Wigan took them to task. And I have just talked about how Saints were outplayed in France and came away with nothing but a big fat duck egg. Both teams need a win. They will have both done a lot of home work. When you get beaten and beaten badly, you tend to uncovered every stone. If you narrowly win you tend to gloss over stuff and if you narrowly lose there is an inquisition but not like if you lose badly. Castleford at home are a good side and the injury to Jonny Lomax could count against Saints. 
Prediction: Castleford by eight
Terry says: James Roby only had four scoops from dummy half against Catalans which is an indicator for how the forwards played. The starting pack made a total of 280 metres – Jamie Peacock made 222 metres three weeks ago on his own. They were well and truly dusted up and embarrassed in the middle. Castleford too suffered last time out against Wigan, although they had a weakened side. It will be a total different Castleford side. But the attitude of St Helens will be totally different. The fans will have been furious with the last performance. They blew a chance last week. Losing Johnnie Lomax doesn't help Saints' cause. But I think Saints will bounce back.
Prediction: Saints by 10
Wakefield v Wigan: 3pm, Sun
Barrie says: Wigan were aweseome last weekend again. Sean O'Loughlin was really powerful in the middle and industrious. His work ethic is mirrored by the people who play alongside him, such as Liam Farrell and Jack Hughes. Wigan are in a good place, chasing that top position and they had a good victory over Widnes on Wednesday night. They are in good form and go into the game with confidence. Wakefield are still trying to get some clarity on what James Webster wants from them. So this is a game too soon for them.
Prediction: Wigan by 16 points
Terry says: The news that Joel Tomkins is coming back to the game with Wigan is great. It is great for Shaun Wayne and the Wigan club. To get someone back who was a rugby union international and playing at Saracens will be a huge benefit to the club and he will be a lot more mature. Wigan slaughtered Widnes on Wednesday night – they blew them away. Wayne gives his players the opportunity to go out there and play and be aggressive. A couple of youngsters played against Widnes and the conveyor belt is still churning out these kids. I have been up to Wakefield in a Wigan shirt and it is one of those horrible places to go. The fans are on your back and right on top of the pitch. This will bring out the best from the Wakefield players. Tim Smith is back at Wakefield after his move to Salford did not go according to plan and he is their class act. But I think the overall class will tell and Wigan will win.
Prediction: Wigan by 22
Warrington v Salford: 3pm, Sun
Barrie says: You look at the difference in league positions and you think it is Warrington at a canter. But not so. Salford have started to get a little bit better. Iestyn Harris, the coach, has made some subtle chanegs to the infrastructure of the club. It is a week too soon for Kevin Locke to be playing for the Red Devils - his arrival is imminent but it will not be this week. That should give Niall another run at full back. He is a player that I rate very highly. They will go into it with a relatively clean bill of health and be looking to give Warrington a good run. But Warrington look to good at the moment. With Chris Bridge, Stefan Ratchford, Richie Myler and Matthew Russell are all running threats, all players who take teams on, Rangi Chase will have to do the work of four of his contemporaries, which is a big job. 
Prediction: Warrington by 12
Terry says: With Warrington at home you probably have to go for them. This is the nearest derby that Salford have probably got. There players they have got in the halves for next season is great. Theo Fages, Marc Snyed, Rangi Chase, Michael Dobson coming in next year and you also have Kevin Locke. That is an incredible spine. I'm sure there will be some major signings in the next few weeks. But it is all about Warrington this year. They have won 10 games and I think this will be game 11. They are playing the attractive game that they can. 
Prediction: Warrington by 18
Widnes v Leeds: 3pm, Sun
Barrie says: Both teams are coming on the back of a loss. Widnes lost in midweek to Wigan and are really up against it this week. It is quite difficult to play Wigan and Leeds in the same seven days, as well as coming off the back of playing Hull FC. They will give it a good go and I can see it being a close game. Leeds will know exactly which threats Widnes will pose. I'm not too sure how many Widnes players would get in the Wigan side but games are not won on team sheets. Leeds will know that they face a tough task but they have enough to win, though Widnes will make it close.
Prediction: Leeds by eight
Terry says: The Widnes fans will be asking how they are going to bounce back from conceding 56 against Hull and 48 against Wigan– 104 in their last two games. And they have only scored 10 points in those games. When we talk about Widnes we talk about the free-flowing rugby they play but against Hull last week they were slow and there were a lot of carries. The changes made for the Wigan game did not change the result. Widnes are clinging on in eighth spot and no matter what happens in this game they will still be there next week. But they know they need to perform better and start picking up points. Whereas Leeds, in third, can go top if they win this game.  I expect Leeds to turn up and produce a professional display.
Prediction: Leeds by 18