Barrie v Terry: Pair go head-to-head with their Super League predictions
Last Updated: 11/06/14 4:13pm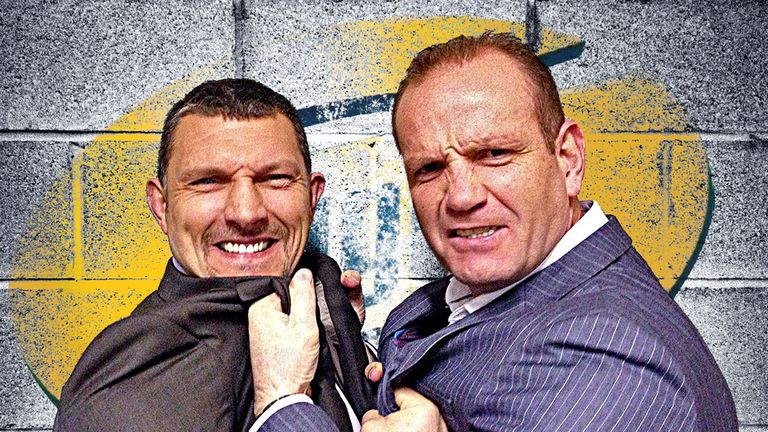 Barrie and Terry are back to tear into each other once more as they go head-to-head with their Super League predictions.
Last season Terry pipped Barrie to the post and proved to be the most successful tipster - but Barrie is determined to make amends in 2014!
Each week they will give their predictions for the Super League games - the boys will score one point for a win, while if they both pick a winner, then the pundit with the closest score gets an extra point.
Current standings
BARRIE - 87
TERRY - 91
Leeds v Huddersfield: 8pm, Thu, Sky Sports 2
Barrie says: They're always good games between these two. Huddersfield have been a bit of a bogey team for Leeds in the last few years. I was in the team that lost to them in 2003 – their first win over Leeds for 21 years – and before 2011 they hadn't won at Headingley in 51 years. Huddersfield have stuttered and stalled just a little bit recently, but Paul Anderson – who is not happy with how they've played – has made some adjustments internally and you can see how that's affecting the team and their results. Leeds have got some injuries and suspensions, which means the 1-17 is very different to the one Brian McDermott would pick at the start of the year. However, I think home advantage will help. Last week in the cup Leeds were way off their best and they'll come out in a determined frame of mind. Huddersfield, with the extra week off, will have addressed what they need to get right and it should be an outstanding game at Headingley.
Prediction: Rhinos by eight points
Terry says: Leeds have had a tough couple of games in the last few weeks – they were well and truly roughed up at the Halliwell Jones in my opinion, and I'm sure the likes of Jamie Peacock and co. would have come away from that game with some bumps. Then they had to follow that up that against Leigh Centurions in the Challenge Cup, and it was another game where they were really tested both physically and mentally. I think Leeds will be looking forward to getting back into the swing of playing in the Super League, but they're up against a Huddersfield side who beat Wigan a fortnight ago. They've got competition for places, have had two weeks off and they weren't as battered and bruised when they came away from that victory. I'm a big admirer of what's going on at Leeds, but I just think the last two games may have taken something out of them.
Prediction: Huddersfield to win by six
Hull KR v Warrington: 8pm, Fri
Barrie says: I like Hull KR this year. They've got some steel when Michael Weyman comes back and lends his weight to an already well-functioning pack. We've talked before about Travis Burns and Kris Keating in the half-back partnership that's playing exceptionally well. Warrington played last week in the Challenge Cup against a Bradford side that didn't give them much opposition, but we saw Michael Monaghan, Stefan Ratchford, Chris Bridge and Richie Myler really come to the front, and that's been the problem for the Wolves so far this year. I'm going for home advantage to count again and Hull KR should overcome the Cheshire club.
Prediction: Hull KR by 10 points
Terry says: In round eight Hull KR beat Warrington 25-12 and that was at the Halliwell Jones. Again they've had a couple of weeks off, and they've got Greg Eden back from Salford as they've got a couple of injuries in the back line. Warrington were tremendous against Leeds, tremendous in the Challenge Cup against Bradford. You look at Chris Bridge and Chris Hill in particular – those two have been outstanding. Against Leeds, Hill made 36 tackles – just one missed – as well as 22 carries and 166 metres. That's the benchmark, in my opinion, for any forward in the game. When they're working defensively they work for the full five tackles. Hull KR, meanwhile, will be looking back to that game in round eight to see where they went right and wrong. Going to Warrington and scoring 25 points means they'll be full of confidence for this fixture, but the Wolves have been excellent in the last two weeks.
Prediction: Warrington to win by 10
Wakefield v London: 8pm, Fri
Barrie says: London have had a couple of weeks like the others who aren't in the Challenge Cup, and it seems to me that the longer the season goes on the better they are getting. They're getting more continuity, more consistency in their play. The players are understanding what one another are all about, because we've said many times that this team was put together at the start of the season and as it's gone on. Time isn't on their side in terms of relegation, but they can't focus too much on that. The home side have lost their coach so there's a bit of upheaval, and I'm sure James Webster will have put some delicate tweaks into the team, but not changed things too much, so I expect a resilient Wakefield to take the points.
Prediction: Wakefield to win by 12
Terry says: Wakefield have a new coach in James Webster, so you're probably going to see a different, more expansive brand of rugby from them. We all know they're workmanlike and they are exactly what a team sport should be about – if your mate makes a mistake you back each other up. This will be a very good game – Tim Smith is back from Salford, and there's no doubt in my mind he was a better, more accomplished player at Wakefield. I think this is going to be a very good game for both sides. We're all waiting for London's first win – will it be in round 16? They've already conceded 50 points against Wakefield this year, although they did score 22 themselves. For Joe Grima it's all about defence, while Wakefield could put some breathing space between them and the bottom of the table.
Prediction: Wakefield by 30 points
Widnes v Hull FC: 8pm, Fri
Barrie says: Widnes were in action against Keighley last weekend, and one player who deserves a lot of credit was young Tom Gilmore – I really like what he does. His complementary style of play really helps Kevin Brown, who's got a very intelligent rugby brain that perhaps doesn't lend itself to sprinting at 300mph from try line to try line. Gilmore, with his youth and enthusiasm, will do that so that's good for Widnes as a team. I'm sure they're looking forward to this game against Hull, whose last game was against London and they won at a canter. Both Widnes and Hull will really relish the opposition and it's all leaning towards a great game of rugby where I think the home side will take a narrow victory.
Prediction: Vikings by six
Terry says: We've got Danny Tickle up against his old club and Aaron Heremaia against his new club because he's signing for Widnes next year. The turning point for Widnes' season last year was when they played Hull at home in front of the Sky Sports cameras and they beat them. They're better this year and they're through to the Challenge Cup semi-finals having not really been tested against Keighley last week. Kevin Brown was absolutely brilliant and I'm still getting splinters in my fingers from where I'm scratching my head over why he's not in the England squad. Hull FC, meanwhile, are big and aggressive. They'll know what they're up against – they'll be challenged, especially in the middle. When you look at the size of their forwards in Paea, Westerman and co. they look very tough. Widnes are very small – they're a compact bunch who play well at home because the i-Pitch is all about speed. The speed of the game could get Hull FC but I think they'll be ready for this, although I'm still backing the home side.
Prediction: Widnes by eight
Wigan v Castleford: 8pm, Fri, Sky Sports 1
Barrie says: This should be a cracker. One coming off the back of a win, one coming off the back of a loss, and the great thing is it was against each other last weekend, so both have something to gain or lose by this fixture. I thought Castleford were outstanding last weekend, and beat Wigan in the areas where they are normally so dominant. They were good in the contact, good in the collision – their enthusiasm, their desire for one another was superb. We saw, when Lee Jewitt scored that try, the passion for the cause and the commitment which is commendable. I think Daryl Powell's done a tremendous job, however Wigan were humiliated in front of their own fans and the people watching on TV, and for that reason I expect a response. Shaun Wane's not the type of bloke to sit and let things happen and he'll have got stuck into his team this week, so I expect them to win this one.
Prediction: Wigan to win by 16 points
Terry says: Whoever thought Wigan would get beaten by Castleford in the quarter-finals? There weren't many people apart from Daryl Powell who did. But on the last three occasions they've played Wigan they've beaten them. That is an amazing stat – the first time you play Wigan you say 'don't forget what these lads did to us last time', then there was the second and the third. That third was possibly the most important in Wigan's season because they were knocked out of the Challenge Cup at home. This, again, is going to be one of those encounters you'll be glad you're watching it – you won't want to be playing. This is a big one and a really tough call to make – I'm sure Shaun Wane will have been sharpening everything after last week, but I'm going to go with Castleford to get a shock win.
Prediction: Tigers to win by four
Catalans v St Helens: 5pm, Sat, Sky Sports 1 (Red Button)
Barrie says: Two attacking teams, without doubt – they both like to throw the ball around. They both have an attitude of playing first and asking questions later. Laurent Frayssinous has had his team all year making two steps forward and one back, and they're just as likely to give you a dour, below-par performance as they are to give you an outstanding one. They're a different team at home – they've only lost once and that was to Leeds Rhinos really early on, so I'm going to go for them to take this one even though Saints are resurgent and getting some troops back, getting near their own very high standards.
Prediction: Dragons by six
Terry says: I don't know if Catalans will be happy to have snatched a point against Widnes or will be more disappointed to have left the Select Stadium with only a draw, because there were times in that game when they were in control, but they let Widnes back into the game. Earlier this year I think the Dragons would have lost that game, though. Catalans have made their home a fortress and I think this is an intriguing fixture. St Helens are sitting pretty at the top of the table, but we've heard that apparently the club's in crisis. I don't understand how a club can be in crisis when they've blooded so many youngsters and are sitting at the top of the table – that puzzles me. This will be a huge test for the players to go down to the south of France. I think they've got the players to trouble Catalans but the game will be all about speed, and if you look at the forecast it's going to be pretty hot, so who will that benefit? I'm going to go for St Helens to keep up their good form, though.
Prediction: Saints by 12
Salford v Bradford: 3pm, Sun
Barrie says: This has a lot of impact on Bradford, and they gave themselves a real lifeline with their victory against Wakefield two weeks ago. They finally got back on to zero and recouped the six points they were docked, then with that victory over Wakefield they're in the plus column. Salford have flattered to deceive in spits and spats – they've produced some pieces of individual excellence but collectively I don't think they've quite hit their straps yet. I know the club is in a rebuilding phase that's starting at the bottom, and it will take a good few years to finally produce the reward for that effort, but I think they've got enough to get over Bradford this week, and that completes my prediction of seven home wins.
Prediction: Salford to win by 12 points
Terry says: Iestyn Harris' first game in charge of Salford was against Bradford in round eight, and that was their last win. We've been waiting for them to click and to perform more consistently. Young Niall Evalds – who will probably play full-back this week because Greg Eden's gone back to Hull KR – made 238 metres and three breaks, so he's a good player to have in. They've released Tim Smith and Shannan McPherson, and are hopefully bringing in Kevin Locke within the next couple of weeks. Bradford went down against Warrington – they went down fighting but you only have to miss six tackles and you'll find yourself 36 points behind, and that looks like the story of Bradford's season. They look like they've competed – they sometimes struggled on the edge, in reading the plays, and I think Salford will attack them on the edge because that's where their strengths lie. I'm backing Salford to get their second win over Bradford this season.
Prediction: Salford to win by 16