Barrie v Terry: Pair go head-to-head with their Super League predictions
Barrie McDermott and Terry O'Connor go head-to-head with their Super League predictions...
Last Updated: 29/05/14 5:25pm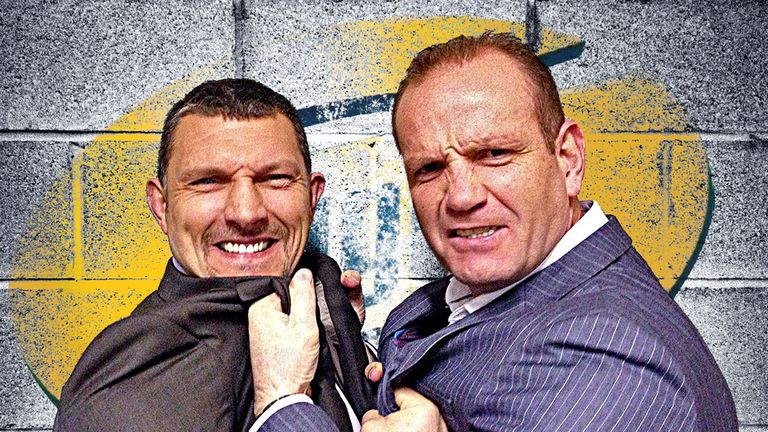 Last season Terry pipped Barrie to the post and proved to be the most successful tipster - but Barrie is determined to make amends in 2014!
Each week they will give their predictions for the Super League games - the boys will score one point for a win, while if they both pick a winner, then the pundit with the closest score gets an extra point.
Current standings
BARRIE - 82
TERRY - 86
Huddersfield v Wigan: 8pm, Thu, Sky Sports 1
Barrie says: Huddersfield were way below their best against St Helens last week. The strength of Huddersfield is that they are giants by name and giants by nature; they look to go over the top of teams. Last week against Saints the likes of Roby, Wellens and Mose Masoe just battered them down the middle. I have no doubt Paul Anderson will have looked at some things that went wrong structurally and the attitude of some of his players. Wigan's attitude has been first-class. The young kids have thrived on the big stage and you have to be impressed with the likes of Williams, Burgess, Sutton and Hampshire. Their enthusiasm is outstanding and it is a pleasure to watch them when they are far exceeding the expectations of them.
It will be a fabulous game, and I will go for Wigan because O'Loughlin is back. Although I think Huddersfield will have a response to such a poor showing last weekend and the kids at Wigan - as good as they are and as much as I enjoy watching them - they are a better team with Lockers back.
Prediction: Wigan by eight
Terry Says: The big news going into this game is that Sean O'Loughlin returns to the Wigan side. Wigan beat Salford with nine first-team players missing. This season seems to be the year of the young guns. Most clubs have injuries and the best sides keep producing stars of the future and for Wigan Hampshire, Burgess and Manfredi stood out against Salford last week. Huddersfield beat Wigan in round one against all odds. They knew then that they had to play well and I'm sure they know now they need to play even better. They were beaten last week by St Helens and looked like they lacked intensity. They went into the game on the back of five wins.
Paul Anderson has dropped two front rowers Craig Kopczak and Anthony Mullally - obviously the ex-GB enforcer is thinking his big units haven't led the way, or didn't last week. Two big wins in the last two weeks with a rack of injuries to senior boys, I see a Warriors win with O'Loughlin back in the side. He will give the side a massive lift when he pulls on the No.13 shirt.
Prediction: Wigan by 12
Warrington v Leeds: 8pm, Fri, Sky Sports 1
Barrie says: This is another marquee game and another game where all the best, most skillful and most reliant players are all on the same pitch at the same time. There are some outstanding match-ups. I am particularly looking forward to seeing Jamie Peacock against Chris Hill and the half backs, Sinfield and McGuire, against Bridge and Ratchford. Plus the backlines of both teams are electric and full of strike. It all leads towards a fast, intense and highly competitive game. I think it will be a close, high-scoring game, although both teams only shipped one try apiece last weekend. Both teams will go all-out on attack. Ben Currie and James Laithwaite have a chance to really push the older, more experienced absentees.
Prediction: Leeds by eight
Terry says: A game that gets all the neutrals interested. Warrington have lost the services of Benny Westwood for a tackle last week. It's a decision that's left Tony Smith fuming. It was a good old-fashioned dominant tackle but he did lift the player above the horizontal position. Warrington looked ruthless against Wakefield and Ben Currie was immense, he's earmarked for great things in the game. Richie Myler coming back into the side gives them more competition in the halves.
Leeds know the importance of playing well as a team, they can mix it with the best but they always remember the importance of playing. Last year in round 21 it was a one-point ball game that went in the favour of Warrington and this year in round two it was a six-point game for Leeds. These are two exceptional teams that always play entertaining rugby. Both teams can create space for each other and know the importance of playing with discipline yet aggression. My battle in this game will be between Matty Russell and Zac Hardaker, two young fullbacks with speed and skill.
Prediction: Leeds by six
St Helens v Salford: 8pm, Fri
Barrie says: Salford should have won last weekend against Wigan. They would have looked at the team sheets and thought they had more experience, more quality and more Grand Finals and international appearances behind them. But games are not won on paper and Salford came up well short. It is a slow, lengthy process for the Red Devils. Saints were outstanding last weekend, with the speed in the middle combined with the power and the guile that they showed. Luke Walsh is having a tremendous impact on their season.
Prediction: Saints by 14 points
Terry says: 18-0 after 13 mins was the response that Paul Wellens was after. He was critical after the Magic Weekend and I expected a backlash. The vision from James Roby was incredible. The lines of running from the likes of Jon Wilkin was exceptional and the line speed in defence was brilliant. The smiling assassin Mose Masoe is getting into his stride - as are St Helens - after the fall from grace over Easter.
Salford need to have - or to show - a huge improvement. If we look at them and how they performed over the first 14 rounds, they've played well and showed touches of brilliance in games but they've not managed to keep up the performances. Players are honest and the lads I've spoken with know that hard work is the key; talent can only do so much. Iestyn Harris is a very determined coach and I'm sure he can turn them around in time and with his new acquisitions for next season.
Prediction: St Helens by 18
Widnes v Catalan Dragons: 8pm, Fri
Barrie says: Catalan were not flawless when they came up against Bradford, but they did win a fixture in which they did not have to get out of third gear. The way they played last weekend will not be enough, though, against Widnes this weekend. Widnes were not at their best when they played Castleford, but they did give them a good go up until the hour mark when the Tigers pulled away. Widnes have had an amazing season, lying seventh on the ladder and are there on merit. They are very formidable side at home and they know how to play on their pitch - knowing how to use its strengths and counteract its weaknesses. Catalan will enjoy the fast track but not be able to live with Widnes in this fixture.
Prediction: Widnes by 12
Terry says: The home side have never beaten Catalan, but could this be the game? Widnes have lost the services of Paddy Flynn after he was banned for trading punches with Justin Carney (he picked the wrong Carney). Danny Galea comes back into the 19-man squad for Widnes. The black-and-whites led at half time against Castleford then conceded three quick-fire tries in a five-minute spell. A disappointing loss for the club but the focus now will be on the men from the south of France.
Catalan started well and scored a try within 40 seconds. Leon Pryce sent out little reminder of his ability, he was at the heart of everything and this pitch will suit the likes of him and Morgan Escare. I'm not sure they were tested in defence against Bradford but they did only concede four points. A very dangerous team when they play expansive and the select stadium will suit both teams. Hanbury v Escare, Brown v Pryce and Tickle v Whitehead - I can't wait.
Prediction: Widnes by eight
London Broncos v Hull FC: Sat, 3pm
Barrie says: The Broncos are still learning and still developing. I don't think it is anything to do with the change in coaching. I think it is just the fact that this team was assembled just after Christmas. Each training session, each game they play, they will be getting a little bit closer and getting to know each other more. They are getting better but I don't think that it will be enough in a week when Hull really do need to get out of the rut that they are in. If they are not careful they could be dragged into that bottom of the table dogfight. I know there were difficult conditions last week but they had a lot of fight in them and if they turn up with the same fight and the same resilience, and add that quality that Lee Radford is demanding of them, then they should get over the line against London. I expect the chain to come off this weekend.
Prediction: Hull FC by 22
Terry says: Many people are tipping London in this game. They are nearer to a win but when will those two points come? Hull have only had one win in the last six games and that was against London. Gareth Ellis was the best man on the pitch against Leeds and he will be frustrated that the club aren't picking up valuable league points. The Broncos need a touch of class or brilliance. If they can slow the game down and make it messy without giving away penalties they have a chance. Playing a game like that sometimes infuriates the opposition as they want to play a high tempo game. Good sides know if they play with speed they will get teams that are near the foot of the table as they are not used to the speed.
Both coaches and fans will be hoping for a win. Who can handle the pressure? Performances are what you get paid for and you want to leave the game knowing you have given it everything and you'd obviously rather remember the wins than the losses (Barrie still breaks down now and again when he looks back at his career). I think with Westerman Houghton, Paea and Ellis, Hull have enough class.
Prediction: Hull FC by six
Bradford v Wakefield: Sun, 3pm
Barrie says: This is not the most glamorous tie, but it is the one with the most at stake. Bradford are still waiting to hear whether they will get the points deduction re-addressed. But the players and coaching staff will not be too concerned about that. They will be more concerned with getting things right on the pitch. Bradford have won three this year, Wakefield have won four. That is how close these two teams are, although there is a greater points difference in the league ladder.
The quality of both sides is quite similar - Bradford were well beaten last weekend and looked a demoralised side over at Catalan, while Wakefield were taken apart by a quick and ruthless Warrington side. It is about what you turn up with on the day and what you are willing to give. Although we are only in round 15 this is a season-defining weekend for both clubs. It is difficult to predict a winner but I just feel that the composure is with Wakefield and the desperation is with the Bradford side.
Prediction: Wakefield by 10
Terry says: It's not many times I get disappointed with a team but I was last week when I watched Bradford. I've stuck up for them and looked for reasons why they haven't performed but that performance last Saturday was embarrassing. Catalan scored after 40 seconds at the start of the game and then scored within one minute of the restart in the second half. That's what gave me the hump, Bradford's coach had given his instruction pre-game and at half time and they served up that. That's not anything to do with fatigue, that's desire and attitude!
Wakefield have a big two games ahead of them that could see them playing in Super League in 2015. If they win this game along with next week's game against London I could see them securing their future. That will see them with six wins from 16 games. They played well last week against Warrington and even in defeat you could see a lot of positives. The forwards played well but it was on the edge that they made the wrong choices in defence. That will be an area that Bradford will focus on and I'm sure Wakefield know they need to improve.
Prediction:
Wakefield by 10
Castleford v Hull KR: Sun, 3pm
Barrie says: Another great game. Round 15 is a really good round with some tight contests, some really evenly matched outfits going up against each other. This is no different. Castleford are an outstanding team and Daryl Powell has done a first-class job. It is very early to talk in terms of who should win the end of season awards but for me Jamie Peacock is the man of steel and Powell is the coach of the year so far. I feel he has done the most with what he has had available to him. He has bought well in Liam Finn and Marc Sneyd.
Hull KR, although they have had a lot to contend with, their half backs in Keating and Burns have been excellent this year. It is the best that I have seen Travis Burns play since he has arrived in this country from Penrith. The argument could be decided in the half backs. I always believe that the middle men will have a bearing on the game but it is the intellect and the decisions - good and bad - in the half backs that could decide this. I am going with home advantage.
Prediction: Castleford to win by 12 points
Terry says: No tank on the flank this week for Castleford but plenty more players who have a focus. Another game at home for classy Cas, another game that will see Lynch and Huby leading from the front. Both have played exceptionally well this year. I don't want to focus on Daryll Clark's departure at the end of the year, but he will be missed he is a sensational player and it's his time to shine on the international scene. He will rival Roby and McIlorum for the international No.9 shirt at the end of the year. You can go through the side and pick out star players, anyone who disagrees only has to look at the league table they are a quality side.
Travis Burns - as I said on Fulltime - is a goer. You can then throw in Ben Cockayne and Josh Hodgson, all of a sudden you are seeing the brains of the side playing well together. They also have a big mobile pack that can play rough yet still have enough skill to create chances for the backs. The forwards will work hard for each other supporting each other and using little two's plays between each other. Costigan and Weyman, ex-State of Origin, are the headline grabbers. How good is the Frenchman Kevin Larroyer on the right side! It was a shrewd and excellent piece of business from the Robins. A great game in prospect, but at the minute you can't see past Castleford.
Prediction: Castleford by 12