Barrie v Terry: Pair go head-to-head with their Super League predictions
Barrie McDermott and Terry O'Connor go head-to-head with their Super League predictions...
Last Updated: 22/05/14 12:52pm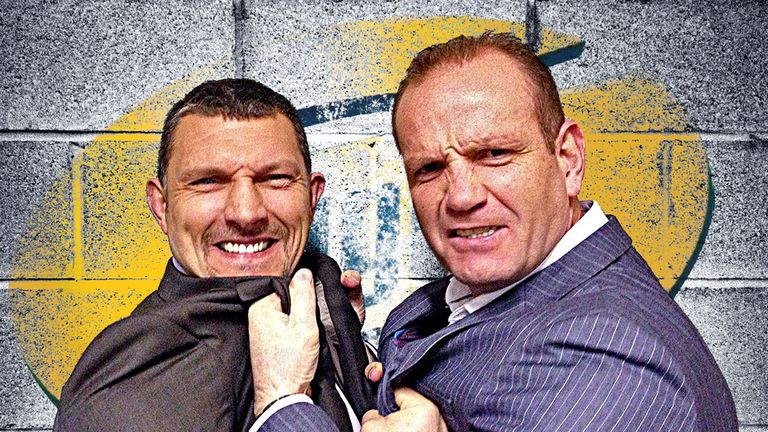 Last season Terry pipped Barrie to the post and proved to be the most successful tipster - but Barrie is determined to make amends in 2014!
Each week they will give their predictions for the Super League games - the boys will score one point for a win, while if they both pick a winner, then the pundit with the closest score gets an extra point.
Current standings
BARRIE - 74
TERRY - 77
Salford v Wigan: 8pm, Thu, Sky Sports 3
Barrie says: Harrison Hansen, Logan Tompkins, Martin Gleeson, Gareth Hock and Stuart Howarth won't need any more motivation for this one with all wearing the cherry and white colours at one time. Wigan were absolutely ruthless last weekend and I suspect that will have taken a lot out them both physically and mentally. Salford will be reeling after another below-par performance against the impressive Widnes. Speaking to people in the camp at Salford, they feel a good performance is just around the corner and with the drama of our game always at the forefront I think The Red Devils will have just enough.
Prediction: Salford to win by eight
Terry Says: I didn't see that one coming!!!! How does a side missing so many senior stars turn over a team that is sitting pretty at the top of the ladder. Leeds had conceded on average just over eight points in their 12 SL games this year yet against an under-strength Wigan side they conceded 18. Shaun Wane has lost Matty Bowen, Blake Green and John Bateman for this battle but all that means is that's it's another talented kid who will get a chance to improve.
Salford will be hoping for a win against the champions. They have a number of ex-players along with a coach that was recently apart of the cherry and white fabric. Salford are without a win in six games having lost five and drawn one. Can they fire for one huge effort past this young Warriors side? I think it will take 13 elephant guns to stop the Warriors winning this fixture.
Prediction: Wigan by 18
St Helens v Huddersfield: 8pm, Fri, Sky Sports 3
Barrie says: Saints were well short in their match against the Wolves and Paul Wellens' post-match interview was an honest appraisal of where they feel they are at the moment. I also believe that in Nathan Brown they have the right man to make the right calls at the right time. Huddersfield were too much for Bradford and looked almost back to their best and with the back three of Ukuma Ta'ai, Brett Ferres and Jason Chan, they have plenty of ball runners to compliment Danny Brough and Luke Robinson's guile.
Prediction: Saints to bounce back and gain a narrow home win by six
Terry says: Harsh words from Paul Wellens on Sunday in the game that closed the magic extravaganza about his side's performance. Saints have slipped since the Easter period and in this game they let in eight tries which is the most they've conceded all season. I think a bounce back from the early pacesetters in the season will occur on Friday, but don't forget round 1 in 2013 when the giants rocked into Langtree and drove off into the sunset with a convincing 40-4 victory.
Prediction: St Helens by eight
Leeds v Hull FC
Barrie says: Hull were desperately disappointed last week and could welcome back Richard Horne, Ben Crooks and Jordan Thompson this week to bolster their firepower and creativity for the tough trip to Headingley this week. Eighteen-year-old former Normanton Knights hooker Robbie Ward has been added to the squad after impressing in the under-19s and could fit into the troubled hooking spot with injuries to Paul Aiton and Rob Burrow causing Leeds to move several players around since the cup match against Saints last month. This will be a tough battle in the middle with a return for old boy Gareth Ellis.
Prediction: Leeds by 10
Terry says: Over the years this game has produced some entertaining battles. Hull beat the Rhinos last year in round 17 by 18-6 but they know that they need two league points urgently because at the halfway mark they find themselves in 10th place with five wins and eight losses. The signing of ex-Catalan playmaker Setaimata Sa will give Lee Radford a huge boost especially since he's lost the services of Jason Crookes who has picked up a two game ban. The Rhinos even in defeat showed how quickly they can score tries against the best sides.
Prediction: Leeds by 20
Catalan v Bradford: 2pm, Sat, Sky Sports 3
Barrie says: The Bulls were outmuscled in the engine room last week and could welcome back Antonio Kaufusi and Jamal Fakir, plus the two new recruits Mason Tonks and Jordan Baldwinson will give them a bit more size in the ranks. Catalan did enough against London last week but were very lose with the ball and got frustrated giving too many penalties away for their coaches' liking. Dry and fast conditions will play right into the hands of the Dragons and they will put the Bulls to the sword.
Prediction: Catalan by 14
Terry says: Both sides need this win. The men from Perpignan play well at home and will be looking at back-to-back wins. Although they beat London last week they will need to improve and play a more consistent brand of rugby. They looked like they lacked leadership and direction throughout the London game. If the bulls fail to get the correct result it makes it a tougher prospect in their fight to stay in Super League for 2015. In the last five Super League games Francis Cummings men have let in 262 points, they know that's not good enough. Teams will set themselves goals of not conceding more than 12 points in a game, if they reach that target they have a chance winning. If it's up near the 52 mark (what they've conceded in last five) they will end up with another loss.
Prediction: Catalan by 12
Castleford v Widnes
Barrie says: Cas were very impressive last week and they look a very well drilled outfit. In Marc Sneyd they have an exciting prospect who is enjoying his rugby league at the minute. Darrel Clark is a quality threat at hooker and Justin Carney is a bulldozer on the fringe and ridiculously big and strong! Widnes were at their delightful best and three of my highlights from the Saturday at Magic were the performance of Kevin Brown, the try from Rhys Hanbury and the Widnes fans that sang and cheered for their match all the way through until the end of the Leeds against Wigan match several hours later!
Prediction: Castleford to win at home by eight
Terry says: The game of the round in my opinion. They are the two standout improvers in Super League. Both sides play exciting rugby league and they look like they are enjoying themselves every time they take the pitch. Darryl Powell has instilled a confidence and discipline into the Tigers and Marc Sneyd is one of the signings of the year. Widnes are guided around the field by the impressive Kevin Brown, he was top drawer again against Salford. His ability to breakdown the opposition is incredible. He is set to play in his 250 career game, I'm sure he is more concerned about a win than his milestone. Flip a coin and call it. Will the small pitch suit the Tigers along with the home advantage? I'm sure Tigers fans will be confident. Widnes may have some players back to bolster them and give them a lift.
Prediction: Widnes by six
Hull KR v London
Barrie says: The Robins were very impressive last week and the middle unit was integral to the win - Josh Hodgson, Neville Costigan, Michael Weyman and co were the difference between the two teams last week. The mobile and intelligent pack of forwards gained ground and found offloads to unlock FC's defence on regular occasions. London were much improved last week with Mason Caton-Brown excellent in defeat but it is a huge challenge to go to HKR and come away with anything.
Prediction: Hull KR to win by 18
Terry says: The Robins have lots of stars but the one star that stood out last Saturday was Travis Burns. He is a brilliant competitor. I think lots of lads play well when a team-mate puts up his hand and says "follows me", and the lads followed Burns. If they can get a few more wins and build in the second half of the season they will make the top eight and compete. The one thing and it's a big thing they need to improve is their defence. I'm not saying that it's a problem they just seem to concede a few soft tries every game. The Broncos can score tries but they need to focus on the things they don't like doing. The majority of players like playing with the ball because they're in control. Defence is something you need to do and sometimes it hurts. You cannot hide or take a minute as you'll then become the weak link in the chain. I'm hoping the men from London can get a win soon to lift spirits in the dressing room; I'm not sure when it will be though.
Prediction: Hull KR by 26
Wakefeild v Warrington
Barrie says: Warrington's performance against Saints was their best of the year so far and their defence was super intense and particularly brutal with Ben Westwood leading from the front ably followed by Chris Hill and Anthony England. Wakey were another team that failed to deliver on magic Sunday and that will hurt the players and fans of the Wildcats who will demand better application at home.
Prediction:Warrington to win by eight
Terry says: Warrington have won their last eight meetings with the Wildcats and they have also won their last four visits to the home side. Tony Smith was surely impressed with the way his side destroyed Saints in the final game of the Magic weekend. Ben Westwood came back from injury and didn't look like he'd missed a game, incredible effort from the inspirational forward. Richard Agar's men didn't perform; 22-0 down at half time and then losing after 80 mins by 50-12. That was a derby on the back stage. If they couldn't get up for that game they'd struggle to get up for most. Smith will want to put one over his old mate Richard Agar and I think the bragging rights will go to Smith.
Prediction: Warrington by 22